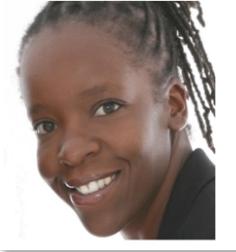 Zandi, a British expat living in Cape Town, looks like a South African – but isn't, hails from the East End of London, and isn't afraid to tell it like it is. As she says, it's the only way she knows how. Black. British. 30-something. Married. Confused. But living in Cape Town.
For more information about expat life in Cape Town, visit the Expat Arrivals city guide to Cape Town or read more expat experiences in South Africa.
About Zandi
Q: Where are you originally from?
A: I was born in Brighton, on the south coast of England, and grew up in London.
Q: Where are you living now?
A: I'm living in Tamboerskloof, Cape Town.
Q: How long you have you lived here?
A: I've lived in Cape Town for four months. I have also lived in the beautifully rural Eastern Cape as well as the fast-paced metropolitan City of Gold – Johannesburg.
Q: Did you move with a spouse/children?
A: Yes. I'm here with my husband.
Q: Why did you move; what do you do?
A: My husband was offered a job in Cape Town which we simply couldn't turn down! (People kill to live in Cape Town). I'm a freelance consultant and blogger!
About Cape Town
Q: What do you enjoy most about Cape Town, how's the quality of life in South Africa?
A: I love Cape Town. It's a beautiful, cosmopolitan city rich in history and diversity. The sea, the mountain and the winelands – there is so much to see and do. It's paradise for those who enjoy laidback, outdoor living or for those who simply like to sit in quiet contemplation surrounded by beauty.
Q: Any negatives? What do you miss most about home?
A: The only negative I've experienced so far is that it can be tricky making new friends. People here are lovely but, dare I say it, 'cliquey'. I miss my friends and family the most – although I'm a great holiday destination for them and we've already had our fair share of visitors. I also miss Christmastime (the cold, the madness of Hamley's Toy Shop and Christmas carolling), bassets jelly babies and chocolate hob nobs!
Q: Is Cape Town safe?
A: Yes. It's certainly as safe as most cities. One just has to be sensible.
Living in Cape Town
Q: Which are the best places/suburbs to live in Cape Town as an expat?
A: When we first arrived, we stayed with friends in Paarl, in the heart of the winelands. It's about 45 minutes' drive from central Cape Town – a beautiful place to visit, not live. It's mainly Afrikaans speaking, although everyone can pretty much converse in and understand English. It's a wee bit isolated if you like the buzz of city living.
We also spent a couple of weeks living at a friend's place in Plumstead, in the southern suburbs. It's described by the locals as being more English speaking, and that certainly seemed to be the case. I'd say that the older, leafy suburbs of the south are much more suited to the expat – particularly if you're coming with your family. Having a car is a must.
We have settled in the centrally located Tamboerskloof in the City Bowl. It's fabulously convenient! From our flat, we have a view of Table Mountain and are a short drive away – literally over the hill – to the beautiful Camps Bay. We're a 20-minute walk to town. We've got supermarkets, DVD shops, cinemas, gym, chemist, bars and restaurants all within a one-mile radius. As an expat, I'd suggest renting a place in the City Bowl while looking for something more 'permanent'. It's a great place to get your bearings; you can access everywhere and everything and just be in the thick of it!
Q: How do you rate the standard of accommodation in South Africa?
A: I'd give it a four out of five. We live in a one-bedroom flat, which to some may be a tad on the small side, but for us, it is just what we need. We've put all our other stuff in self-storage just down the road. The flat is in a small block – about 30 flats – and has a garage. (Off-street parking is a bonus!) We could probably have gotten more for our money living further out in the suburbs, but decided that access to the city was higher on our list of priorities than a large living space and a humungous garden.
Q: What's the cost of living in Cape Town compared to home? What is cheap or expensive in particular?
A: I always find when I go back to London that things are massively expensive there. Here, in comparison, things are reasonably priced. Particularly the wine! I find that books are expensive, but I've recently bought a Samsung Tab and have access to Amazon Kindle – much more reasonable, plus it doesn't take up any space at all.
Q: What are the locals like; do you mix mainly with other expats?
A: The locals in Cape Town are friendly, laid back and very approachable. They love having foreigners visit and are very proud of their beautiful country. I have a mixture of South African and expat friends. The local friends are always introducing us to new things.
Q: Was it easy meeting people and making friends?
A: I've not found it easy to randomly make friends. I've recently joined a couple of social groups, and that seems to work best. I've already met a couple of really lovely people doing that.
Working in South Africa
Q: Did you have a problem getting a work visa/permit?
A: I didn't have a problem getting a work permit as I came through a UK organisation who arranged the visa for me. It was easy to extend the visa, and I was recently granted permanent residency.
Q: What's the economic climate like in Cape Town, is there plenty of work?
A: There seem to be a lot of jobs advertised in various places (local newspapers and online) as well as recruitment agencies. However, bear in mind that preference is given to locals. Where a company would like to recruit a foreigner, they would be required to prove that they have not received a suitable application from a South African.
Q: How does the work culture differ from home?
A: In Cape Town, in particular, the work culture is much more relaxed than London. As an example, in my husband's first week at his new job, he played golf one day and went 4x4 sand-duning the next!
Q: Did a relocation company help you with your move?
A: No. I came with a 20kg backpack and have accumulated an entire household worth of stuff over the years.
Family and children
Q: Did your spouse or partner have problems adjusting to their new home?
A: No. My husband loves it here.
Q: How would you rate the healthcare in South Africa?
A: Private healthcare here is excellent – but expensive, so signing up with a good health insurance provider is a must. I wouldn't recommend going the public healthcare route.
And finally…
Q: Is there any other advice you'd like to offer new expat arrivals?
A: A few tips:
Give yourself time to adjust to living here. It took me about three months before I settled down and got into the South African spirit of things. Bring lots of pictures of your friends and family. It's nice to be 'surrounded' by family.

Try and make friends with the locals – all races – they'll be more than happy to show off their beautiful city to you. South Africa has so much cultural richness – try and learn a couple of greetings in different languages. It's a great way to connect with people.

Take an open-top hop-on, hop-off bus tour – it's a great way to quickly get to know the city.

Make sure you pack a warm coat/jacket, raincoat, umbrella and good walking shoes!

Enjoy living here – it's a special city that few get to live in!
~Interviewed April 2011