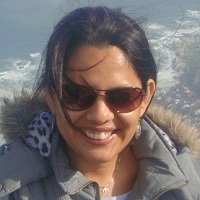 Namrata is an Indian expat living in Johannesburg, South Africa. She quit her job with an asset management firm and followed her husband to the Rainbow Nation, deciding to pursue the life of a trailing spouse.
When not travelling or exploring new areas of Johannesburg, she blogs about her experiences on Mia Musings.
About Namrata
Q: Where are you originally from?
A: I am an Indian expat from New Delhi.
Q: Where do you live now?
A: Johannesburg, South Africa
Q: When did you move here?
A: My husband and I moved to Joburg in February 2011.
Q: Why did you move; what do you do?
A: My husband was offered a very good opportunity to work with one of the leading consumer healthcare companies here in South Africa, so we decided to take it and explore a new country. I just followed him!
In India, I used to work with an asset management firm but unfortunately, visa regulations in SA have made it impossible for me to get a job here.
Living abroad
Q: What do you enjoy most about your host city? How would you rate the quality of life compared to your home country?
A: The wonderful weather! Weather-wise, Joburg is one of the best places to live in. It doesn't get too hot in summers – maximum around 25˚C to 30˚C (77˚F to 86˚F) with some awesome thunderstorms; and winters are warm and sunny, with the minimum falling to around -1˚C (30˚F) at night.
Another thing is that Johannesburg is very green, with large open spaces everywhere. So you can spend a lot of time outdoors, walking and just soaking up the sun.
Compared to New Delhi, I would say that the quality of life is very good here. Residential areas in the suburbs are quiet, big and leafy, with most modern amenities available close by. The water and air quality are really good and, in general, living here has been great so far.
Q: Any negatives? What do you miss most about home?
A: Well, when you land here for the first time, all the high walls, electric fences and security signs kinda make you a little wary of the place. Most of us are not used to living in gated compounds with 24/7 security guards etc. So you do feel like you have landed in some sort of a war zone! But, as you settle in, you get used to these things and realise that these measures are mostly deterrents, and it's not as bad as it looks.
What I miss most about home is the proximity of friends and family. We have no family in South Africa and at times you really miss it.
Q: What are the biggest adjustments you had to make when settling into expat life here? Did you experience any particular elements of culture shock?
A: When we decided to move here, we knew that getting a job would be difficult for me. But what we did not realise was that local laws make it almost impossible. So not being able to work has been the biggest adjustment for me, and even after almost a year and a half, I am still trying to come to terms with it.
South Africa is very similar to India in terms of the culture and people. So settling in was not really a huge problem. In addition, English is spoken widely, so that removes any language barrier to speak of. Local people are very warm and friendly and put you at ease almost immediately.
Q: What's the cost of living compared to home? What is cheap or expensive in particular?
A: Living expenses are almost similar to living in any big city in India – Delhi or Mumbai. Depending on the area one chooses to live in, rentals may be a tad higher, but a lot of suburbs are really affordable with good facilities.
Eating out is almost the same as in Delhi, but alcohol is really cheap here. South Africa wine is some of the best I have had anywhere in the world.
The things that are expensive as compared to India are jobs that require labour such as plumbing, carpentry, odd jobs and house help. However, these are relatively cheap compared to the US or Europe.
Q: How would you rate the public transport? What are the different options? Do you need to own a car?
A: Public transport is quite non-existent in Johannesburg. Most of the city is serviced by small minivans known as taxis, but they only go from point to point, and you may require several changeovers to get to a particular destination. This, although cheap, can be quite time-consuming. In addition, it's difficult to figure out the hand signals that the drivers use in order to indicate where they are headed!
The Gautrain is another form of public transport. These are super-fast trains but do not service the entire city. They are generally used to travel from the airport to Sandton, a business and residential suburb, or to go to Pretoria.
Driving and owning your own car is thus a necessity here, in order to go anywhere. Most households need at least two cars. Also, investing in a good GPS is advisable.
Q: How would you rate the healthcare in your city? Have you had any particular experiences with regards to doctors and hospitals? Are there any hospitals you would recommend?
A: Private healthcare in South Africa is rated very highly. I have not personally used it yet, but from what I am told, it's expensive but good. It's important to get a comprehensive health insurance from your firm.
Q: What are the biggest safety issues facing expats living in Johannesburg? Are there any areas expats should avoid?
A: Safety issues exist everywhere in the world. The same is true for Joburg, and it's not just for expats but for locals as well. It's advisable to be alert and conscious of your whereabouts at all times and one should not flash expensive items whilst driving or leave them in plain view in the car – such as cell phones, laptops, handbags, etc.
When we came here, we were told about several no-go areas. But since then, we have been to all of them with no untoward incidents. Alexandra, Hillbrow and Central Johannesburg may be some of the areas that expats are warned against when they first come here. But in reality, most of what one hears or reads about these places tends to be exaggerated.
Q: How do you rate the standard of housing in the city? What different options are available for expats?
A: Housing standards are really good. Depending upon your budget, you could choose anything from two-bedroom apartments to huge sprawling mansions with private pools and golf courses! So, it all depends on personal choice.
Q: Any areas or suburbs you'd recommend for expats to live in?
A: Dainfern in Fourways is quite popular with American and European expats. Other very nice suburbs to live in include Bedfordview, Edenvale, Sandton, Bryanston and other areas of Fourways.
Meeting people and making friends
Q: How tolerant are the locals of foreigners? Is there any obvious discrimination against particular religions or social groups such as women?
A: Locals are really warm and welcoming. South Africa is quite a melting pot of cultures, and the locals are very used to having foreigners in their midst. We have never faced any discrimination or ill-treatment, nor heard of any from our friends.
Q: Was it easy meeting people and making friends? How did you go about meeting new people?
A: It's not easy making new friends, and that is not because you are an expat! Even South Africans who move from other cities face the same challenge. In our busy lives, people you normally meet will be the ones at work. However, joining social clubs and groups such as the gym, expat groups or hobby classes are also good avenues for meeting new people.
Q: Have you made friends with locals or do you mix mainly with other expats? What advice would you give to new expats looking to make friends?
A: My husband and I have made both local as well as expat friends. We feel that in order to really 'live' in a new country, one must know local people! And being as nice and friendly as South Africans are, we have not found it very difficult to mix with them.
About working in Johannesburg
Q: Did you have a problem getting a visa or work permit? Did you tackle the visa process yourself or did you enlist the services of an immigration consultant?
A: It is advisable to get a job and a work permit before actually coming to South Africa. Local unemployment is high and local labour laws are very stringent. Unless you fall under the 'scarce skills' category, it's possible to get a work permit only if you have been offered a job and if the hiring firm is ready to undertake the application process. It's a long-drawn process – taking up to eight months at times – when applying from within South Africa. It's much faster when you apply from another country.
The hiring company usually employs a consulting firm to deal with the visa process.
Q: What's the economic climate like in the city? Do you have any tips for expats looking to find a job there? Which resources did you find most useful?
A: Like most developing countries, SA is going through a slack phase. But, having said that, this does not imply that jobs are scarce. In fact, it's the skills that are scarce. But as I said before, it is better to come with a job.
Family and children
Q: Did your spouse or partner have problems adjusting to their new home? Do you think there are any specific challenges for a trailing spouse?
A: As mentioned earlier, SA is a warm country. Settling in was hardly an issue. Of course, there are the usual headaches of setting up a house, but nothing out of the ordinary.
Dealing with government agencies for things like registering your car and getting a permit can be quite frustrating, though, and nothing gets done in one trip alone! So just be prepared for that.
And finally…
Q: Is there any other advice you would like to offer new expat arrivals?
A: Please do not believe everything you read or hear about Johannesburg. There is crime, like everywhere else. All you need is a little vigilance and common sense!
Come with an open mind. The city and country have a lot to offer, but only if you are willing to explore – It's a truly wonderful place.