Stef is a Dutch expat living in Italy. He moved to the town of Montecalvo Versiggia, in the Lombardy region, with his husband in 2008 to start a bed and breakfast. Although they miss not seeing their family and friends on a regular basis, they've enjoyed their expat experience thus far, and are especially enjoying the climate, food and lifestyle of northern Italy.
Read more about Italy in the
Expat Arrivals Italy guide
or read more
interviews with expats living in Italy
.
About Stef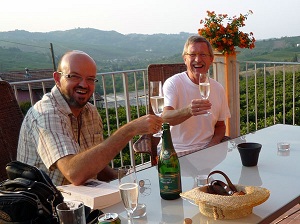 Q: Where are you originally from? 
A: The Netherlands.
Q: Where are you living now? 
A:  Montecalvo Versiggia, Lombardy, Italy.
Q: When did you move to Italy? 
A:  2008.
Q: Did you move alone or with a spouse/family? 
A:  With my husband (we're a gay couple).
Q: Why did you move to Italy; what do you do? 
A:  We wanted to start a bed and breakfast here and that's what we do now.
Living in Italy
Q: What do you enjoy most about Lombardy? How would you rate the quality of life compared to your home country? 
A:  Climate (in summer), food, landscape are all better than in The Netherlands.
Q: Any negatives? What do you miss most about home? 
A: It is more difficult to find outdoor activities, cultural life is far less intense and very traditional, and of course the opportunity to frequently see friends and family is a negative. We miss the possibility of cycling for shopping or whatever, as it is hilly over here so involves much more effort and the streets are horrible.
Q: What are the biggest adjustments you had to make when settling into expat life here? Did you experience any particular elements of culture shock?
A: Learning the language and learning to understand what people are saying in group discussions. The laissez-faire mentality of the Italians: you agree on things to do and then nobody follows up on the agreement ... sigh. It's difficult to get used to.
Q: What's the cost of living in Italy compared to home? What is cheap or expensive in particular? 
A: Supermarkets are at least as costly as in The Netherlands, probably somewhat more expensive. Eating out, however, is much cheaper here; I'd say about half as expensive. Heating your house is much more expensive, also because the houses are far less insulated. 
Q: How would you rate the public transport? What are the different options? Do you need to own a car?
A: Car only. Public transport is far too infrequent. We even bought an extra car in case of emergency.
Q: How would you rate the healthcare in Italy? Have you had any particularly good/bad experiences with regards to doctors and hospitals? Are there any hospitals you would recommend?
A: There are horror stories around but we only have good experiences with the hospitals in Broni-Stradella, and Pavia as well. In some cases our experience is even better than with Dutch healthcare.
Q: What are the biggest safety issues facing expats living in Italy? Are there any areas expats should avoid?
A: Being ripped off by locals that think every foreigner is rich. Paying higher prices for goods than the Italians do. 
Q: How do you rate the standard of housing? What different options are available for expats?
A: There are mainly houses for sale in the hills, no rentals. 
Q: Any areas/suburbs you'd recommend for expats to live in?
A:  In the hills instead of the plane.
Meeting people and making friends
Q: How tolerant are the locals of foreigners? Is there any obvious discrimination against particular religions or women etc.?
A: We, as a gay couple, have no bad experiences and the subject is not a taboo issue among our acquaintances. But bullying at schools and universities (Pavia) does occur and in many families coming out will still be a struggle against traditional, Catholic values. 
Q: Was it easy meeting people and making friends? How did you go about meeting new people? 
A: We made friends along the way, owners of restaurants, members of a choir, wine producers, but do not have frequent contact with neighbours, as people tend to be rather on their own.
Q: Have you made friends with locals or do you mix mainly with other expats? What advice would you give to new expats looking to make friends? Any social/expat groups you can recommend?
A:  We did meet some Dutch people in the region yes, but there are no active groups. For this you would need to go to Milan.
Working in Italy
Q: Did you have a problem getting a visa or work permit for Italy? 
A: As EU citizens there were no visas needed.
Q: What's the economic climate like in Montecalvo Versiggia? Do you have any tips for expats looking to find a job there? Which resources did you find most useful?
A: It would be very difficult finding a job here now, but we do not need this as we are self-supporting in running our B&B.
Q: How does the work culture differ from home? Do you have any tips for expats doing business in Italy?
A: Forget about deadlines, do not trust agreements, keep in constant personal contact with your partners; networking is the one and only method here.  
And finally…
Q: Is there any other advice you would like to offer new expat arrivals?
A: Start learning the language at home, way before coming here. Not even English is spoken here.
~ Interviewed January 2014
> Are you an expat living in Italy? We'd love to hear your story, so please
contact us
to share your expat experiences in Italy.