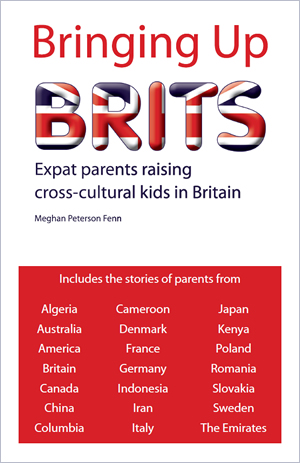 Being a parent is challenging enough, but for those raising their children in a country that is foreign to them, a whole new level of difficulty is introduced. Meghan Peterson Fenn is an American who married an Englishman. She has three children, all of whom were born in Britain and through Bringing Up Brits she shares the range of emotions and social experiences she went through, and to a certain extent, is still going through today.
I am a British mother who married a British husband and lives in England. This is a very normal situation but something that I am grateful for after reading this book, because it has kept my, my children's and my family's life simple and happy with family being close by. I have spent time living in the USA as a parent of a pre-school age child, but it was only ever a temporary situation and that time constraint saved an awful lot of thoughts, worries and longer-term complexities. Reading this book demonstrated to me that living abroad permanently or for the majority of your children's youth is not just a physical relocation decision; it's a decision that also changes your extended family's lives and the people your children will ultimately become.
Meghan covers topics in Bringing Up Brits: Expat Parents Raising Cross-Cultural Kids in Britain that may often be overlooked within the subject of cross-cultural parenting; the difference in real and emotional identities, the accessibility of cultural traditions and parenting children that may not recognise their nationality as part of their own identity. Through the thoughts of many other men and women raising cross-cultural kids in Britain and Meghan's portrayal of real-life misunderstandings, this book brings some reassurance, humour and appreciation to those amidst the task!  Its intention is not to be a literary masterpiece, but rather to bring some solace to expat parents whilst opening the minds of those that are parenting in the UK as their home country. It does just that and therefore this book is definitely worth a read, whether you have become or are considering becoming an expat parent in Britain.