How often have you experienced situations of uncertainty that left you with emotions so strong that you were not able to think clearly?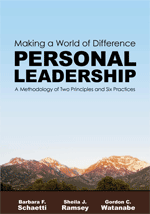 In our daily lives, particularly as expats, we are constantly facing an unending stream of events and circumstances that awaken instinctive gut reactions. These situations often challenge our emotions, trigger our judgement, and even induce a physical sensation of unease. This often results in confrontations, feeling misunderstood or at odds with the world, and feeling depressed and having a hard time integrating in the social setting to which we wish to belong.
The book Making a World of Difference – Personal Leadership is a masterful methodology of how to find peace, achieve balance and use reasoning to choose a more appropriate response to stressful circumstances. This resource integrates an assortment of practices into a powerful process that allows expats to become the leader of their own emotional experience during times of uncertainty.
Personal Leadership is the result of the co-operation between three authors with experience in expatdom and inter-cultural relations: Barbara F. Schaetti, a dual American and Swiss citizen who was raised in 10 countries; Sheila Ramsey, who currently lives in Washington state but has also lived in Japan; and Gordon Watanabe, who is a third generation Japanese-American.
In the book, all three authors share generously from their own personal experiences to illustrate the concepts they present. The stories they tell are similar to the ones that the readers may encounter in their daily lives, and in turn, they stand to offer insight into the fact that, as humans, we all struggle in navigating through difficult times. It is refreshing to read such honest, personal stories, and these narratives help readers reflect on the theory presented.
Personal Leadership is written primarily with the expat in mind. They are the population that encounters most uncertainty and difference in their lives. It is a deep and powerful tool for any expat who wishes to truly benefit from the richness of diversity they encounter in their travels.