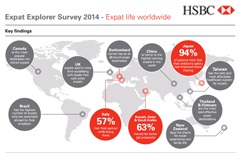 The 2014 HSBC Explorer Survey has been released. Using feedback from 9,300 expats worldwide, the report reveals the best countries for expats to live in, using criteria such as raising children and climbing the corporate ladder.
The survey contains rankings and detailed reports for 23 countries on six continents. Switzerland is ranked as the best place to live in the world, providing its expat residents with a balance between economic satisfaction, a healthy lifestyle, natural beauty and a safe environment to raise children.
---
High earners head to Asia
With six countries in the top 10, Asia is the best region for expats wanting to earn more. Around one-fifth of expats have an annual salary of more than 200,000 USD, while 65 percent have more disposable income since moving to Asia.
Singapore is ranked second overall, attracting expats with its high quality of life, economic opportunities and, according to 74 percent of respondents, the diverse range of food.
China tops the league table for Expat Economics, with around a quarter of expats earning more than 300,000 USD per year and more than half of respondents spending less on the cost of living across the board.  
---
Move to the Middle East to advance your career
With 74 percent of expats satisfied with their host country's economic future, Middle Eastern countries continue to attract expatriates looking to earn more and increase their income. Fifty-six percent of expats move to the region for better job opportunities and 35 percent move for higher salaries.
Beating out big-hitters like Qatar and the UAE, Bahrain comes fifth in the overall league table.  While performing well in economic terms, expats are even more enamoured by their experience of the country.  Sixty-two percent of expats find that their work life balance has improved but it seems that expats in the Kingdom are satisfied on a deeper level – 67 percent of expats have strong ties to their new country, and it is second overall for making friends.
---
Parents prefer New Zealand
Even though it comes last for disposable income, New Zealand ranks an impressive sixth overall largely because it comes first in both the Expat Experience and Raising Children Abroad league tables.
Expats who move to New Zealand eat healthier, play sport and 84 percent report that they enjoy a better environment than in their home countries. On the other hand, 87 percent of expats say their children have a better quality of life while more than three quarters of expats finding it easy to integrate into the local culture, with Maori culture being integrated into the school curriculum.
According to Dean Blackburn, the Head of HSBC Expat, "This year's Expat Explorer league table shows that there are many countries that offer a good balance, providing expats with a rewarding and exciting experience"