After some years spent teaching English in Japan, Jared, an American expat, moved to rural New Zealand with his partner CJ. Since then, they've shed their city skins, rolled up their sleeves and have built their own stretch of paradise on a farm an hour outside of Wellington.
Read about Jared's journey and farming exploits on his website.
Learn more about New Zealand in the Expat Arrivals New Zealand country guide or read more expat experiences in New Zealand.
About Jared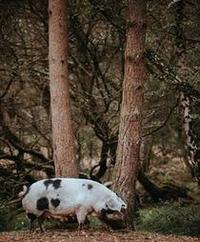 Q: Where are you originally from?
A: Michigan in the US
Q: Where are you living now?
A: In the Wairarapa Valley outside Wellington, New Zealand
Q: When did you move to New Zealand?
A: We moved to New Zealand in 2003, and to the Wairarapa in 2006.
Q: Did you move to New Zealand alone or with a spouse/family?
A: I moved here with my partner, CJ.
Q: Why did you move to New Zealand and what do you do there?
A: CJ and I had been living in Japan for four years. CJ was working for a Japanese architectural firm. At the time, I was teaching English. We were keen to explore a new place. We knew a lot of New Zealanders in Japan, and we knew a lot of Americans who had travelled here and loved it, so we decided to check it out. We thought that we'd try it for a year. That was 15 years ago.
Living in New Zealand
Q: What do you enjoy most about rural life in New Zealand? How would you rate the quality of life in New Zealand compared to the US?
A: Our tiny olive farm is just over an hour's drive outside Wellington. Wellington is a charming city and much smaller than sprawling Chicago and Tokyo, where we've lived previously. Wellington is a very liveable city, with great cafés and restaurants.
But we're living in New Zealand because we've found our paradise. Our 20-acre property has about 500 olive trees and a trout stream just out the bottom gate. Plus we have heaps of other fruit and nut trees – apricot, peach, pear, plum, chestnut, almond, pine nut, feijoa, and even a quince tree. We even have cattle which graze in our paddocks.
On our farm, there's also a two-bay hay shed with a million dollar view, a veggie garden, greenhouse, flower garden, native garden, some very well-fed chickens, and some pet kunekune pigs.
Q: Are there any negatives to life in New Zealand?
A: Until recently, finding good Mexican food in New Zealand was nearly impossible! Now there are a few good spots in Wellington.
Q: What are the biggest adjustments you had to make when settling into expat life in New Zealand? Did you experience any particular elements of culture shock?
A: CJ and I were both city boys when we moved out to the countryside in 2006. We had no idea what we were doing. Our rural neighbours took pity on us, helped us, and generally saved our lives.
For our first four years here, we were on a very steep learning curve. We made so many hilarious mistakes, all of which inspired the book that I eventually wrote, called An Olive Grove at the Edge of the World.
Q: How tolerant are New Zealanders of foreigners? Is there any obvious discrimination against particular religions, women or identities?
A: New Zealand is a remarkably accepting country. There's discrimination, as there is everywhere, but it doesn't seem to be as strong and pervasive as other places I've lived. There's a good deal of religious tolerance here. Maori culture is celebrated. We have strong female leadership. In fact, currently, we have an unmarried Prime Minister who has just given birth, whose partner is a stay-at-home dad. Enough said.
New Zealanders are friendly, laid back, and practical. CJ and I realized early on that if our rural neighbours were going to have a problem with us, it wasn't because we were gay or American. It was because we didn't have a tractor.
Q: Did you have a problem getting a visa or work permit to live in New Zealand? Did you tackle the visa process yourself or did you enlist the services of an immigration consultant?
A: We applied for residency while living in Japan, and we did it ourselves. This was 15 years ago, of course, and the process has changed somewhat. It was a lot of work, but well worth it. It took nine months for the application to be processed, and we feel very fortunate that we were accepted. We love it here.
~Interviewed May 2018