Fiona Gilston is a Scottish expat living in New Zealand. She moved to Christchurch in search of a change from her life in Scotland, and with no specific plans on where to settle, she met a Kiwi and has now made Christchurch her home. Fiona has come to love Christchurch and the more relaxed lifestyle and various outdoor activities that the city has to offer.
Read more about the country in the Expat Arrivals New Zealand guide or more Expat Experiences in New Zealand.
About Fiona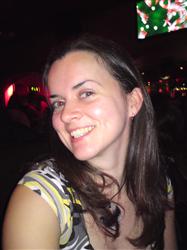 Q: Where are you originally from?
A: Glasgow in Scotland, UK
Q: Where are you living now?
A: Central Christchurch, New Zealand
Q: When did you move to New Zealand?
A: February 2012
Q: Did you move with a spouse/children?
A: No, I moved on my own.
Q: Why did you move; what do you do?
A: I moved to NZ as I wanted a change from my current life in Scotland. I had no specific plans on where exactly to settle when I got here, but after meeting a Kiwi, I settled in Christchurch to be with him. I work as a vet, filling temporary positions as a locum.
About Christchurch
Q: What do you enjoy most about Christchurch; how's the quality of life?
A: I've come to love Christchurch over this year because of its resilience after the earthquakes, and I love watching the city evolve as time goes by. I love the more relaxed way of life here. I enjoy walking and biking around the various parks and reserves, and it is a handy location for the beautiful Banks Peninsula.
Q: Any negatives? What do you miss most about home?
A: Due to the need to import a lot of goods, I find many things expensive, especially books, DVDs and electronics.
Q: Is Christchurch safe?
A: I have never felt unsafe whilst out and about; however, my partner's vehicle was broken into last year.
About living in Christchurch
Q: Which are the best places/suburbs to live in Christchurch as an expat?
A: I live within the CBD, and there are a few expats living close by. It is close to everything I need: work, shopping, nightlife and entertainment. Riccarton, Papanui, and Sydenham are all locations that are beginning to thrive again after the earthquakes
Q: How do you rate the standard of accommodation in Christchurch?
A: I rent a lovely two-bedroom flat that I am very happy with. I did, however, spend a few months living in a converted hotel through the winter, and it was deathly cold with no central heating.
Q: What's the cost of living in Christchurch compared to home? What is cheap or expensive in particular?
A: Rental costs are less than back home, but I latterly lived in Aberdeen which was very expensive in relation to the rest of Scotland. I find eating out is delightfully affordable, but yet my supermarket bills are dearer. Petrol is cheaper, but electronics are more expensive.
Q: What are the locals like; do you mix mainly with other expats?
A: Kiwis are very friendly and generally very approachable. As my partner is a Kiwi, I mix mainly with Kiwis outside of work, and mainly with Kiwis within work.
Q: Was it easy meeting people and making friends?
A: Everyone I know in New Zealand I have met through my work or my partner. So far, the only social thing I've had time to do outside of these two aspects is attending a Zumba class and there are plenty of them about.
About working in Christchurch
Q: Did you have a problem getting a work visa/permit for New Zealand?
A: I arrived on a working holiday visa which was granted within three days of applying for it. I extended my visa whilst within New Zealand which was a bit more involved, but this was still issued within three weeks of starting the application process.
Q: What's the economic climate like in Christchurch, is there plenty of work?
A: The situation in Christchurch does not reflect the situation in the country as a whole. There is currently a great need for construction and related occupations, and this will be the case for the foreseeable future. It was recently reported that there was a shortage of people to work in the food services industry as new cafés and restaurants start to (re)open their doors across the city.
Q: How does the work culture differ from home?
A: I generally work fewer hours in Christchurch than I did in Scotland, and I get more public holidays here. Having said that, I did not work as a contractor in the UK, so it is not a true comparison.
Family and children
Q: Did your spouse or partner have problems adjusting to their new home?
A: My partner is originally from Auckland, and therefore, he is relatively new to Christchurch too, but he has also settled in very well
Q: How would you rate the healthcare in New Zealand?
A: I have used both general and out-of-hours clinics since I've been here, and was seen to promptly and efficiently on all occasions. Despite having to pay for my health care, unlike in the UK, I haven't found it particularly expensive, and my out-of-hours visit was subsidised by the ACC scheme (accident insurance for personal injury).
And finally…
Q: Is there any other advice you like to offer new expat arrivals?
A: With regards to New Zealand as a whole, expect to be met by a rather friendly bunch of people, full of banter. With regards to Christchurch, come with an open mind – the current state of the city can be a bit of a shock on first arrival, but it is a fantastic place to be once you submerge yourself into all it has to offer.
~ Interviewed February 2013