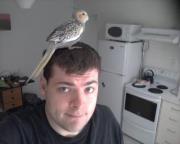 Jimmy is a self-proclaimed country boy who followed his sweetheart to New Zealand from North Carolina. The sweetheart left but he found a new love: the city of Auckland itself. Read all about his experiences of moving to Auckland below.

Read more about New Zealand in the Expat Arrivals New Zealand country guide or read more expat experiences in New Zealand.
About you
Q: Where are you originally from?
A: I'm originally a country boy from Georgia; however my mom lives in North Carolina. So I've spent most of my life living in two places.
Q: Where are you living now?
A:  Auckland, New Zealand.
Q: How long have you lived in Auckland?
A: I moved to Auckland four years ago now. Cripes – time really flies!
Q: Did you move with a spouse/ children?
A: I moved by myself.
Q: Why did you move; what do you do?
A: I met a girl from New Zealand and followed her over here. That turned out to not be the best of ideas, as she broke up with me after six months on the week of Christmas. However, I've absolutely fallen in love with New Zealand and decided not to leave. I work in sales, but enjoy writing on the side.
About Auckland
Q: What do you enjoy most about living in Auckland, how's the quality of life?
A: Auckland really is an amazing place to live. Being from the country, I was concerned that I would struggle adapting to the big city in another country. However, as far as cities go, Auckland is pretty mellow. The people here have been fantastic and welcoming, and I can drive for just half an hour to an hour and be out in the wops again. It's really great.
Q: Any negatives? What do you miss most about home?
A: The biggest thing I've struggled with is holidays. Being from a tight-knit Southern family, I was used to a big get-together on Thanksgiving and Christmas. They don't celebrate Thanksgiving here, so I always miss out on that one. However, my friends have been kind enough to invite me to their family's Christmas most years. Still feels like I'm out of place though.
Q: Is Auckland safe?
A: Auckland is as safe as you make it; it's certainly not as dangerous as somewhere like Atlanta or DC. The key is to avoid certain parts of the city after certain hours, but that's true of any city.
About living in Auckland
Q: Which are the best places/suburbs to live in Auckland as an expat?
A: I've mostly lived in Central and East Auckland and those suburbs have been fantastic. Central Auckland is quite lively with heaps of things to do and explore, while East Auckland has a strong Asian cultural presence. Some of the food is pretty strange, but I've loved most of it.
Q: How do you rate the standard of accommodation in Auckland?
A: Hotels are pretty standard – similar to what I was used to. Rent can be quite dear living in the city though.
Q: What's the cost of living in New Zealand compared to home? What is cheap or expensive in particular?
A: Oh geez, everything is so expensive here! My family is always in shock when they come to visit or when I tell them about rent. The average rent here for a one-bedroom apartment is something like 1000 NZD a month, while back where I lived in Georgia it was only around 500 NZD or so. You really do pay for the convenience of living in the city I guess.
Q: What are the locals like in Auckland; do you mix mainly with other expats?
A: All of my friends are either Kiwis or Asian expats so far. I've met a few American expats that were great, but our interests were dissimilar enough to keep things cordial. The people here in general are pretty friendly; there have been the odd exceptions, but overall I really enjoy meeting people here.
Q: Was it easy meeting people and making friends in Auckland?
A: I'm pretty outgoing, so this was easier for me than some. I love to get out there and meet new people and make friends. I've met all my current friends out at restaurants, bowling or the like.
About working in New Zealand
Q: Did you have a problem getting a work visa/permit for New Zealand?
A: I was a special case as my partner initially sponsored me, so it was pretty easy.
Q: What's the economic climate like in Auckland? Is there plenty of work in New Zealand?
A: The climate is decent at the moment. It's harder to get a job than it was four years ago, but as a contractor I've not had much trouble finding work.
Q: How does the work culture in Auckland differ from home?
A: I actually wrote about this on my blog recently. There's a mindset here known as tall poppy syndrome. A lot of Kiwis have the mindset that no one is better than them. So even if you're doing your job really well, you're still likely to be shown with indifference.
Q: Did a relocation company help you with your move to Auckland?
A: I did everything on my own.
Family and children in New Zealand
Q: Did your spouse or partner have problems adjusting to their new home?
A: I moved alone, so this wasn't really an issue. My family had a lot of trouble accepting my move though. My mom wouldn't even talk to me for six months, and she believed I had abandoned my family.
Q: Did your children settle in easily?
A: No children yet!
Q: What are the schools like, any particular suggestions?
A: I've not experienced any schooling here, but from what I've seen and heard, Auckland has some first-rate institutions.
Q: How would you rate the healthcare in Auckland?
A: Healthcare is fantastic, actually. A trip to the doctor's office doesn't cost more than 30 or 40 dollars, and prescriptions are only 3 dollars a pop. Better still is if you get seriously injured, emergency medical assistance is free. They do charge you for the ambulance ride though!
And finally…
Q: Is there any other advice you like to offer new expat arrivals in Auckland?
A: If you're moving out alone then it's absolutely imperative to get out there and meet people. The feeling of isolation you will get being so far away from old friends and family can be absolutely overwhelming. Building up a strong friend base really helped me to push through the hard time and keep my head up. It's so important to know that you're not alone. Good luck!
~Interviewed in August 2012