Abigail immigrated to New Zealand from England with her family at the age of ten. She shares her experiences of growing up as an expat child. Her candidly amusing answers reveal how she has not shaken off her British humour, despite living in New Zealand since 2001. Find her on Twitter @Not_Australia where she tweets interesting and relevant articles about New Zealand from her website Not Australia. She is also the creator of Poms Away, an insightful blog that details her experiences and advice about living in New Zealand.
About Abigail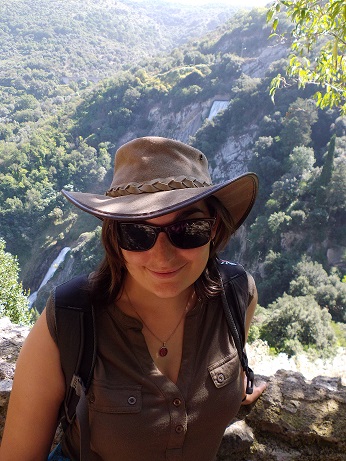 Q: Where are you originally from?
A: Retford (a market town north of Sherwood Forest), England
Q: Where are you living now?
A: Hamilton, New Zealand
Q: When did you move to New Zealand?
A: I moved to Waiuku, a small town in New Zealand, in 2001. I have since lived in Tauranga and Auckland, and moved to Hamilton with my boyfriend six months ago.
Q: Did you move to New Zealand alone or with a spouse/family?
A: I was ten years old when we moved to New Zealand; I came with my mum, dad and little sister. My Nana joined us a few years later.
Q: Why did you move; what do you do?
A: I am a writer, marketer and website maker, but of course I wasn't when I moved here, being ten. (Although I had already started writing stories.) My parents were high school teachers and fed up with living in England. My mum taught for a year in Singapore before I was born, and I think they always talked about emigrating, just not in front of me. They looked at a few different countries, from Canada to Brunei, but New Zealand was the one that happened. They said they wanted less stress and a better life for my sister and I.
Living abroad
Q: What do you enjoy most about New Zealand? How would you rate the quality of life compared to England?
A: As a city, Hamilton isn't anything to write home about, although it does have nice river walks and an AMAZING collection of gardens. It's got a bad reputation within New Zealand, though – everyone mocks it just for being Hamilton! Waiuku is your typical New Zealand town; relatively boring, but with nice scenery close by. Tauranga is a small city and the best place I've ever lived. My family love it there. Auckland is New Zealand's biggest city and, while a great place to go, it's far too expensive to live in. I only went there for university. The main reason my boyfriend and I moved to Hamilton after we'd finished university was, so we could find a decent place to rent that was actually affordable. The quality of life in New Zealand compared to England, however, is VASTLY superior.
Q: Any negatives? What do you miss most about home?
A: That's easy. The thing I miss most about England is old buildings. New Zealand doesn't have any. It had one nice cathedral, built in the late nineteenth century, but that was destroyed by a succession of earthquakes. Apart from the lack of old buildings, the main negatives to living in New Zealand are the price of books and the lack of good television. Both of these things can be fixed with the Internet.
Q: What are the biggest adjustments you had to make when settling into expat life here? Did you experience any particular elements of culture shock?
A: New Zealand culture is fairly similar to British culture. The Kiwi accent was the hardest thing to get used to. Oh, and I had to tone down my use of sarcasm, as most of my classmates thought I was being serious. I suppose Tall Poppy Syndrome is a bigger thing in New Zealand than elsewhere. It's a good thing, because it means that people are down-to-earth and unpretentious, but it also means that high achievements are subconsciously discouraged, except in sports.
Q: What's the cost of living compared to home? What is cheap or expensive in particular?
A: When my family first moved to New Zealand, the cost of living was significantly lower for us. For example, we bought a large and very nice house; the likes of which we would never have been able to afford in England. Over the last decade, though, property prices have risen alarmingly, especially in Auckland. Basically everything is more expensive here. There's a flat tax on all items, from essential food stuffs to televisions. Luxury goods are significantly more expensive. I mentioned earlier that I hate how expensive books are here.
Q: How would you rate the public transport? What are the different options? Do you need to own a car?
A: Public transport in New Zealand is fairly rubbish. There isn't a national railway service. The only way to get between cities are pre-booked coaches. How good buses are varies from city to city. Auckland has some trains, but they're not that great, and ticket prices have gone up again. You pretty much need a car. My boyfriend and I don't have one at the moment and, although it's not impossible, it's rather inconvenient.
Q: How would you rate the healthcare in Hamilton? Have you had any particularly good/bad experiences regarding doctors and hospitals? Are there any hospitals you would recommend?
A: Healthcare in New Zealand is pretty much the same as England. Hospital visits are free, and doctor visits are subsidised. I have no complaints. I even got money from the government for a few chiropractic appointments after I slipped in the shower a few years ago, with no effort at all. I haven't been to the hospital in Hamilton yet, and fingers crossed I won't have to.
Q: What are the biggest safety issues facing expats living in your New Zealand? Are there any areas expats should avoid?
A: New Zealand is officially one of the safest countries in the world. Of course, you might possibly get mugged in South Auckland if you're walking around on your own at night. And you might experience an earthquake if you live around Wellington or Christchurch. And you might have your back garden blown up by an unexpected geyser eruption if you live in Rotorua. And then there are the volcanoes. But in the event of a world climate catastrophe or nuclear war, New Zealand is pretty much where you want to be.
Q: How do you rate the standard of housing in the city? What different options are available for expats?
A: The standard of housing in New Zealand, let alone Hamilton or any of the other places I've lived, varies greatly. As a general rule, anything built before 2000 is poorly insulated and shoddy; anything built after 2000 is fine. Be warned that not many houses have built-in radiators, so you'll have to purchase some freestanding ones for winter.
Q: Any areas/suburbs you'd recommend for expats to live in?
A: Tauranga. Tauranga is a fantastic place to live.
Meeting people and making friends
Q: How tolerant are the locals of foreigners? Is there any obvious discrimination against particular religions or women etc.?
A: New Zealanders are really friendly. There isn't any real, widespread discrimination against religions or women or anything like that. Most people here are immigrants, or were less than a few generations back. It can be hard to break into social groups, though.
Q: Was it easy meeting people and making friends? How did you go about meeting new people?
A: It was hard for me to make friends, but that's because I'm not good at making friends generally. It should have been easier, as I was put straight into the local primary school. As for my parents, they were teachers at the local high school and quickly made friends with fellow teachers. Most of their friends were English immigrant teachers like themselves, but we had Kiwi friends too.
Q: Have you made friends with locals or do you mix mainly with other expats? What advice would you give to new expats looking to make friends? Any social/expat groups you can recommend?
A: Since moving to New Zealand, quite a lot of my friends have been English expats. We're just drawn to each other because we understand each other's humour. My boyfriend, though a Kiwi, is the son of German immigrants, so we have a similar experience, especially in our values and appreciation of New Zealand as a country. I don't know what advice to give – how do people usually make friends? My friends are either people I was at high school with, people I lived with at university, or people I met through joining the university role-playing club and LARPing – Live Action Role-Playing. The New Zealand LARPing community is wonderful. If you have just moved to New Zealand and have an interest in LARPing, I'd really recommend finding your nearest LARP – you'll make friends in no time.
About working in New Zealand
Q: Did you have a problem getting a visa or work permit? Did you tackle the visa process yourself or did you enlist the services of an immigration consultant?
A: As I was ten years old when we moved here, this wasn't a problem for me. By the time I was old enough to look for work, I was already a permanent resident, my parents having sorted everything for me. They didn't enlist the services of an immigration consultant. I gather it was a frustrating process at times, but as not difficult as I hear it is for some people, as New Zealand was crying out for high school teachers.
Q: What's the economic climate like in Hamilton? Do you have any tips for expats looking to find a job there? Which resources did you find most useful?
A: Jobs seem to be quite difficult to come by in New Zealand at the moment. Most jobs are in Auckland. Hamilton is growing, though. My boyfriend found a job here very quickly, but he's a computer person. Everyone wants computer people. The most common places people search for a job in New Zealand are on trademe.co.nz and seek.co.nz.
Q: How does the work culture differ from home? Do you have any tips for expats doing business in the city/country?
A: The work culture is much more relaxed in New Zealand than it is in England. People work fewer hours and aren't so uptight. My advice for someone doing business in New Zealand would be to give people a bit of slack. Be friendly rather than coldly professional.
Family and children
Q: Did your spouse or partner have problems adjusting to their new home? Do you think there are any specific challenges for a trailing spouse?
A: This question doesn't really apply to me. I suppose my mum was the "trailing" spouse, as my dad was the one who got the job in New Zealand. She had to give up her full-time teaching job in England and has been a substitute/relief teacher ever since. My mum never had any problems with it, though.
Q: Did your children settle in easily? What were the biggest challenges for your children during the move?
A: This question certainly does apply to me, as I WAS one of the children in question. The answer is no: I did not settle in easily. I was wrenched away from my friends, my grandparents, my hometown AND my hobbies. (My hobbies were dancing and playing the violin, and the small town we moved to had neither dance school nor violin teachers, so that was that. In my loneliness, I took up writing with abandon.) I was distraught. Years later, I still suffer the psychological effects of being forced into a life in which I did not fit. I don't mean to sound like an ungrateful brat, but I finally saw a doctor for my depression a few years ago: I was given drugs and referred to a counsellor. The counsellor told me that it's common for immigrant children to experience depression. My sister fared better: she was only seven when we emigrated and didn't have any friends or hobbies that she cared about leaving. She was too young to properly miss England.
Q: What are the schools like, any particular suggestions?
A: Schools are okay. No better or worse than in England, my parents say. The national exams are a bit of a joke, though, and at times it feels like there's a bigger focus on sporting achievements than academic ones. I was bullied a lot.
And finally…
Q: Is there any other advice you would like to offer new expat arrivals?
A: Try not to appear pretentious. Just go with the flow. If something goes wrong, say "she'll be right" and have a beer. And if someone invites you somewhere with the instructions "bring a plate," that means bring a platter of food to share, not an empty plate because they don't have enough in the house! Both my mum and my boyfriend's mum made this mistake when they first arrived here, and I've heard stories of other immigrants doing the same. Forgive us, New Zealand!