Julia is an American expat who has been living in Portugal since 2019. She first visited Portugal in 2017 and quickly fell in love with not only Portugal but a Portuguese man as well. After two years of being apart, Julia made the move to join her boyfriend in Lisbon. She currently works for a Portuguese company and has a YouTube channel on moving to, living in and travelling around Portugal. You can also follow her adventures on Instagram: @juliarochelleabroad.
To learn more, read our Moving to Portugal guide.
About Julia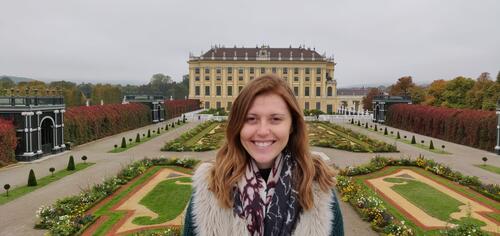 Q: Where are you originally from?
A: From Houston, Texas.
Q: Where are you currently living?
A: Lisbon, Portugal.
Q: When did you move here?
A: In 2019.
Q: Is this your first expat experience?
A: Yes.
Q: Reason for moving?
A: I moved to be close to my boyfriend. We had been in a long-distance relationship for two years, and I was ready to end that phase and live in the same place. I was also ready for an adventure.
Living in Portugal
Q: What do you enjoy most about Lisbon and Portugal in general?
A: Other than being with the love of my life, the history and the food.
Q: Have you had any low points? What do you miss most about home?
A: Yes, I (still) have days when I feel like nothing is clicking. Fortunately, these days are not frequent and have become even less so over time. Making new friends can be difficult, and the pandemic only made this worse. With the situation improving over the last several months, I've had opportunities to get back out there and meet people, and it's been fun. There are tons of international people in Lisbon in addition to the wonderful locals.
What I miss most about home is my family and friends, and I wish they were able to visit more. I also really miss fried pickles and hot wings. You can find most 'American' foods in Lisbon, but I've never come across these two.
Q: What are the biggest adjustments you had to make when settling into expat life here? Did you experience culture shock at all?
A: The bureaucracy is real, and getting paperwork done is no easy feat. In the government offices, there are often times when no one speaks English and it's difficult to explain what you need. The lines at public offices are long, and the processing of documents is often slow. There's a lot of paperwork to get done in the beginning, and it can be frustrating.
Also, the life here is not always so 'free' as it is in the United States. For example, I was working as a freelancer when I moved to Portugal. In the United States, you can just start working as a freelancer. Here in Portugal, you have to register before starting work as a freelancer.
Other things I have had to adjust to are fewer options when shopping for certain things, the bed and bedsheet sizes, the slower mail system, and the language. Learning Portuguese is not a necessity per se; you can get around in Portugal with only English. However, learning the language is a huge plus.
Q: What are your favourite things to do on the weekend? Any particular places or experiences you'd recommend to fellow expats?
A: I like going for walks. Along the Rio Tejo, especially in Belém, you have some of the best spots for this!
Q: What's the cost of living compared to home? Is there anything especially expensive or cheap in Portugal?
A: Compared to Houston, Texas, the cost of living in Lisbon is less, but not by as much as you might think. The apartments in Lisbon have gotten quite expensive, especially if you want comparable luxuries to those in the States (new builds, modern fixtures, air conditioning, etc.). Food, wine, cellphone service, public transportation, and many other things cost less than in the United States. Gasoline, highway tolls, and electricity are expensive.
Q: What's public transport like in Lisbon?
A: In Lisbon, you have many options for public transportation: the metro, buses, trams and trains. The metro gets criticism from locals, but I find it quite reliable. I've had a few issues with the metro breaking down and being late, but overall, it's quite good. Many people use the buses and trams, but I personally don't find the schedules reliable. You may need to arrive early to make sure you can catch one within a reasonable time. I try to take the metro or train if I can because they come more frequently and tend to be on time. In terms of safety, most of the public transportation options are good. However, there are a few train lines you would want to avoid late at night.
Outside of Lisbon and Porto, there is less transportation. You can get between large cities by train or bus. Within smaller cities, you have buses. There may be towns without public transportation, but I'm not sure.
Q: What do you think about the healthcare available in Portugal? What should expats expect of local doctors and hospitals?
A: I haven't had to use the healthcare system much since I moved here. With residency, you can get a health number and have access to the public healthcare system. You can also purchase private healthcare insurance, which ranges in price but is much cheaper than in the United States. If you are young and healthy, you can get a comprehensive plan for around 30 euros per month.
Q: What's the standard of housing like in Lisbon? What different options are available?
A: In Lisbon, there is definitely a range. Most of the apartments I have been in are comparable to the United States, although they may be in older buildings.
Q: Any areas or suburbs you'd recommend for expats to live in?
A: Setúbal is a nice option, as it's a large city with a little bit cheaper housing than Lisbon. It has beautiful beaches and the Serra da Arrábida, and you are only a one-hour train ride from Lisbon.
Meeting people and making friends
Q: Was meeting people and making friends easy? How did you go about meeting new people?
A: To be honest, making friends has not been the easiest. It's hard to put yourself out there as an adult and meet new people. There are many events in Lisbon to meet people, and it takes time to find people you connect with and build true friendships. I met some great women at a book club and in my Portuguese class. I also met some friends online through Facebook groups for people who were moving to Portugal.
Q: Have you made friends with locals, or do you mix mainly with other expats? What advice would you give to new expats looking to make friends with the locals?
A: I have both expat and local friends. I have made some friends with locals through my boyfriend. I am still working on making 'my own' local friends. The language difference can play into this. I can hold a conversation in Portuguese, but I tire easily, and it's the same for many of the locals with English. My goal is to keep working on my Portuguese; I'll get there some day!
Working in Portugal
Q: Was getting a work permit or visa a relatively easy process? Did you tackle the visa process yourself, or did you enlist the services of an immigration consultant?
A: 'Easy' is never a word I would use with immigration. Compared to other countries, Portugal may have a relatively easier process, but it's not without its headaches. I didn't hire anyone, but I wouldn't say I did the process exactly by myself. I found a wonderful Facebook group that had lots of resources about moving to Portugal. I also chatted with other people in that group who were moving, and we tried to figure some things out together.
Q: What is the economic climate in Lisbon like?
A: I'm no expert in economics. It appears that the economy in Portugal is more or less stable. It's not one of the wealthiest countries, and it can be difficult to find employment, especially for non-EU citizens.
Q: How does the work culture differ from home?
A: Compared to the work culture in the United States, the work culture in Portugal is more relaxed, and there is a greater appreciation for work-life balance. Typical workday attire is less formal in Portugal. The hours for office work are usually 9:30am to 6pm with a 30-minute lunch, although many take an hour-long lunch. In my experience, Portuguese people are hard workers. There is a respect for the hierarchy and the seniority of workers within companies. There are 22 days of vacation and 14 national holidays. Additional days are given for marriage, maternity leave, deaths in the family, etc.
Final thoughts
Q: Is there any advice you would like to offer new expat arrivals to Portugal?
A: Keep an open mind. Know that it will be hard, but if it's the right thing for you, it's worth it. Living abroad is a worthwhile experience, and Portugal is an excellent place to live. Portuguese people are usually welcoming. Learning the local language and trying to understand the culture can help you acclimate better.
►Interviewed in November 2021