Mihaela, originally hailing from the winter wonderland of Transylvania, moved to crowded Istanbul in 2016. A highly creative and people-orientated person, Mihaela enjoys learning new languages, eating chocolate, "smiling at dogs and babies" and generally expanding her horizons whenever she can.  
Mihaela's website, Have Some Color, follows her travels and shows off her expert photography skills. 
For an overview of moving to the country, read the Expat Arrivals Turkey country guide or read more expat experiences in Turkey.
About Mihaela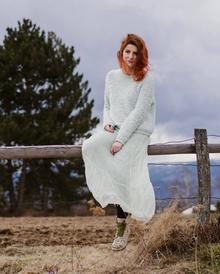 Q: Where are you originally from?
A: Cluj-Napoca, Romania
 
Q: Where are you living now?
A: Istanbul, Turkey
 
Q: When did you move to Istanbul?
A: I moved here in 2016
 
Q: Did you move to Istanbul alone or with a spouse/family?
A: I moved to Istanbul by myself.
 
Q: Why did you move to Turkey and what do you do?
A: I moved here both to explore a new country and for work. I am a marketing specialist and a freelance photographer.  
Living in Turkey
Q: What do you enjoy most about Istanbul? How would you rate the quality of life in Turkey compared to Romania?
A: I love discovering new places and Istanbul is a massive city, filled with personality. I'm still surprised daily by seeing something new. 
It wouldn't be fair to compare my home city of 400,000 people with Istanbul, which houses 15 million people. In Cluj, people are friendly, relaxed and the city is safe at any hour. Istanbul has fast and great services, you can find delicious food at any time and the beautiful blues of the Bosphorus can make you forget all about the people and traffic jams.
 
Q: Are there any negatives to your life in Istanbul? What do you miss most about home?
A: For me, the worst parts about living in Istanbul are the very crowded public transportation and the trash that people so carelessly leave behind. 
I miss the relaxed and friendly atmosphere at home and my mum's delicious food.
 
Q: What are the biggest adjustments you had to make when settling into expat life in Turkey? Did you experience any particular elements of culture shock?
A: The biggest adjustment was needing to plan for everything. I am a spontaneous person, but living in Istanbul has turned me into a planner. If you don't have a route in your mind, then the traffic might just steal half of your day away. 
 
Q: What's the cost of living in Turkey compared to Romania?
A: The cost of living is a bit higher in Istanbul, especially the transportation costs and rent. However, food and most services are cheaper in Istanbul. 
 
Q: How would you rate the public transport in Istanbul?
A: Public transport is sometimes crowded and at other times it's very crowded. The bright side is that you always have a transportation option, be it by bus, metro, taxi, ferry, funicular, or even scooter taxi. I wouldn't suggest driving a car in Istanbul, as the traffic here is crazy and local drivers are not very patient. However, renting a car to explore areas outside of the city is a great idea.
 
Q: How would you rate the healthcare in Istanbul? 
A: The hospitals are in a great condition and doctors are highly professional. I have never had any bad experiences, although it's extremely useful to be able to speak some basic Turkish in order to get treatment.
 
Q: Are there any areas or suburbs in Istanbul that you'd recommend for expats to live in?
A: The best areas to live on the European side are Cihangir, Nişantaşı, Beşiktas, Ortaköy, Yeşilköy, or on the Asian side, Kadıköy.
Meeting people and making friends in Turkey
Q: How tolerant are the locals of foreigners? Is there any obvious discrimination against particular religions, women or identities?
A: Most of the Turkish people are welcoming and love to introduce the Turkish culture to foreigners. I haven't noticed any discrimination, but if you clearly have different features than most Turks, then you might attract some innocent or even appreciative looks. Women are cherished and protected in Turkey, but it still feels like a male-dominated society. 
Q: Was it easy meeting people and making friends in Istanbul? How did you go about meeting new people?
A: I made a great group of friends through my Turkish class. Also, there is a foreign women of Istanbul group on Facebook and the ladies there are very helpful and friendly.
And finally…
Q: Is there any other advice you would like to offer to any new expat arriving in Turkey?
A: Try to join a Turkish course as soon as you arrive. Being able to have a basic conversation will make your day-to-day living so much more enjoyable, especially as most people don't speak any English outside the main tourist areas. It is also a great opportunity to meet other expats and make friends. 
Find a home close to your workplace as traffic during rush hour is dreadful in Istanbul.
Most importantly, enjoy the overall experience of living in such a unique and diverse city.
~interviewed May 2018