Samantha has recently returned to her home country of Canada after two years of living in South Korea, where she taught English and travelled extensively throughout Asia. Samantha enjoys sharing her expat experiences and her expert writings serve to both inspire and inform travellers and expats.
Samantha's website, Expat and the City, chronicles her travels through Asia, life in South Korea and now her triumphant return to Canada.
For an overview of moving to the country, read the Expat Arrivals South Korea country guide or read more expat experiences in South Korea.
About Samantha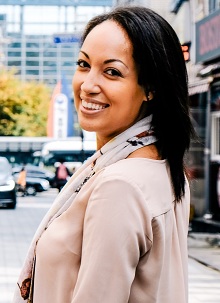 Q: Where are you originally from?
A: Canada
 
Q: Where are you living now?
A: I used to live in Busan, South Korea.
 
Q: When did you live in South Korea?
A: I lived there from 2015 to 2017.
Q: Did you move to South Korea alone or with a spouse or family?
A: Alone
 
Q: Why did you move to South Korea?
A: For a sense of adventure, to do something outside my comfort zone, and to develop my professional career.
Living in South Korea
Q: What do you enjoy most about Busan, your host city? How would you rate the quality of life compared to Canada?
A: I enjoyed the beautiful beaches, the mountains to go hiking in… basically the outdoors! However, in Asia the air quality is very poor (most people wear masks) so as much as I love the outdoors, there are problems with it in South Korea as well. I love the friendliness of Koreans and locals, and the amazing transportation system. Plus the nightlife is great!
 
Q: Were there any negatives to life in South Korea? What did you miss most about home?
A: I missed the comforts of home (as we always do when we travel or go somewhere that's not familiar). I missed having home-cooked meals and celebrating big holidays such as Christmas.
Q: What are the biggest adjustments you had to make when settling into expat life in South Korea? Did you experience any particular elements of culture shock?
A: I personally did not experience too much culture shock. South Korea has more instances of English than many people think – especially in the bigger cities like Seoul and Busan. The biggest adjustments would be the last minute change of plans that would usually occur for school events. As well as people spitting on the streets (I never really understood that)!
Q: What's the cost of living in South Korea compared to Canada? Is anything cheaper or more expensive in particular?
A: The cost of living is great. I was able to save money ($10,000 in my first year!). Cellphone bills are relatively the same, electric and gas bills are cheap, but fruits and other items that need to be imported are expensive. Eating a meal at a restaurant is cheap though.
 
Q: How would you rate the public transport in Busan? What are the different options? Do you need to own a car?
A: Public transportation is amazing in South Korea! The subway system is fast and reliable. You can basically get anywhere in Busan with the subway. The KTX (rapid fast train) gets you from Seoul to Busan in a couple of hours. I used the bus a lot and my transportation card, which I was able to top up at stations and at many convenience stores, functioned for both the bus and the subway. I also used taxis (services like Uber and Lyft are not yet available there). 
 
Q: What are the biggest safety issues facing expats living in Busan or, more generally, in South Korea? Are there any areas expats should avoid?
A: I always felt extremely safe in South Korea, especially as a black female. Actually, I felt even safer there than I did in my own home country! Of course, I would use my common sense and not walk along the streets at night (unless I was with a group of people). Because, no matter where you go in the world, even in the safest of places, there can be dangerous people.
 
Q: How do you rate the standard of housing in Busan? What different housing options are available for expats?
A: Most expats – especially English teachers like me – will be put up in an apartment provided by their school or employer. Most live in high rise studios but I happened to live in a one-bedroom villa.
Meeting people and making friends in South Korea
Q: Was it easy meeting people and making friends in South Korea? How did you go about meeting new people?
A: It was very easy making friends! The expat community in Busan is great. I met my group of friends through orientation for the EPIK program (English Program in Korea, for teachers). There are also plenty of meetups for those who express a variety of interests. 
Q: Have you made friends with locals or do you mix mainly with other expats? What advice would you give to new expats looking to make friends in South Korea? Are there any social or expat groups that you can recommend?
A: I made a few local friends. But most of my friends were expats. I saw social groups advertising language exchanges, where you can meet not only expats but Koreans who want to make friends with foreigners as well.
About working in South Korea
Q: Did you have a problem getting a visa or work permit for South Korea? Did you tackle the visa process yourself or did you enlist the services of an immigration consultant?
A: No I did not have a problem getting a visa. Once I signed my contract for my teaching job, I went to the Korean consulate in Toronto, which processed my visa application. It was exceptionally easy and I was provided with the information to get the visa through my agency.
And finally…
Q: Is there any other advice you would like to offer to new expats arriving in South Korea?
A: Don't have any expectations going into a new life abroad. Be open to everything and anything. Get out there and make friends! It's okay to miss your family and friends and life back home, but they will be there with open arms waiting for you when you get back! Travel around a lot if you can (I visited almost every country in east and Southeast Asia while I was there!). Enjoy your time – trust me, you won't regret a thing!
– Interviewed August 2018