From a small oil city in Scotland to a sprawling metropolis in America, Victoria Smart made a life-changing decision to move to Houston, Texas two years ago. As a real estate consultant in Houston, her aim is to help others avoid the potential property pitfalls that can be encountered by expats. Read on to find out more about her expat experience of life in the USA.
About Vicky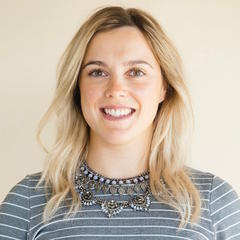 Q: Where are you originally from?
A: Aberdeen, UK.
Q: Where are you living now?
A: Houston, United States of America
Q: When did you move here?
A: 2016
Q: Did you move here alone or with a spouse/family?
A: With my spouse.
Q: Why did you move; what do you do?
A: I come from an oil and gas city so naturally that's where I established my career. I worked in corporate communications but I left when my husband's frequent travel to Houston turned into an opportunity we couldn't turn down. I'm lucky enough to now help other people with their moves, as a real estate consultant. 
Living in Houston
Q: What do you enjoy most about Houston? How would you rate the quality of life compared to the UK?
A: The weather. It's a stark contrast from the British weather, which in turn, has increased our quality of life significantly, owing to the fact you can be outside most of the time. The food is exceptional in Houston so if you're moving here, bring your appetite. 
Q: What do you miss most about home?
A: Aside from family and friends, the Scottish countryside. It's pretty flat so don't be expecting to see rolling hills.
Q: What's the cost of living in the US compared to the UK? What is cheap or expensive in particular?
A: Overall I would consider the cost of living to be far more expensive than back home in the UK, particularly for certain insurances, such as car, and grocery shopping. And while fuel might be cheaper you will use a lot more of it.
Q: How would you rate the public transport in Houston? What are the different options? Do you need to own a car?
A: You most definitely need at least one car per household given the size of Houston and the likely day-to-day distance you will travel. Uber is definitely the next best option, and depending on where you live, you can take the METRORail.
Q: How would you rate the healthcare in Houston? Have you had any particularly good/bad experiences with regards to doctors and hospitals? Are there any hospitals you would recommend?
A: My experience has been very positive, with Houston considered one of the best places in the world for medical care, thanks to the Texas Medical Center. It's important to do your research to make sure you're seeing the right kind of doctor, which you can do by asking colleagues, expat forums and your neighbours. One thing you will need to be mindful of when selecting doctors and hospitals is ensuring they are in-network, in other words, covered by your insurance provider.
Q: What are the biggest safety issues facing expats living in Houston? Are there any areas expats should avoid?
A: Although I feel safe in Houston, it is still a major city in America and unlike the UK, it's a country whose citizens have the right to own guns. And not unlike other parts of America, there is also a pretty serious homeless problem in some areas of Houston.
It's about using common sense. There's nowhere in the world where you couldn't find yourself in an unsafe situation, it's all about using best judgement. 
Q: How do you rate the standard of housing in Houston? What different options are available for expats?
A: There is no shortage of housing options in Houston making it a rather competitive market with the expectation of higher standards. For expats, it really depends on your length of stay and what kind of property will meet your needs and the needs of anyone else who accompanies you. The choice is endless, with apartments, townhouses, condominiums and single-family homes, there really is no shortage of lease or purchase options. Again it's about making the right choice, which a good realtor should be able to help with.
Q: Any areas/suburbs you'd recommend for expats to live in?
A: Absolutely; however, before I tie anyone into an area it's important to assess case-by-case needs. In general, if it is inside 'the loop', I would recommend Montrose, Museum District and The Heights. Katy, the Woodlands and Sugarland are three suburbs very popular with expats.
Meeting people and making friends in Houston
Q: How tolerant are the locals of foreigners? Is there any obvious discrimination against particular religions or women etc.?
A: Texas is Southern hospitality at its best. I think you find as long as you don't impose your views on someone, they're likely to not do the same.
Q: Was it easy meeting people and making friends? How did you go about meeting new people?
A: It's never easy to replace the friends you leave behind but there are ways of meeting people. For example, the website Meetup is great for finding groups of people who share the same interests as you. There's also Nextdoor which connects you to your neighbours.
Q: Have you made friends with locals or do you mix mainly with other expats? What advice would you give to new expats looking to make friends?
A: We're fortunate to have struck up great friendships with both fellow Brits and Americans; however, this didn't happen overnight. We've found Americans, as well as expats, are much more open to inviting others into their circle. The key is to network, whether that be with colleagues or social groups. It's also worth reaching out to your own network to see if any introductions can be made in your destination city. 
About working in Houston
Q: Did you have a problem getting a visa or work permit for the US? Did you tackle the visa process yourself or did you enlist the services of an immigration consultant?
A: This is a very frustrating process for any expat to go through, especially if you are attached to your spouse's visa and have the right to work but require an additional permit, which in most cases is going to be an EAD (Employment Authorization Document). It can take anywhere from three to six months to come through once you've filed an application with immigration. In some circumstances, I have heard of it taking longer. The application is straightforward but you'll find this can be supported by an immigration lawyer. 
Q: What's the economic climate like in Houston? Do you have any tips for expats looking to find a job there? Which resources did you find most useful?
A: Houston, being such a dynamic and diverse city, is not reliant on one particular industry which makes it great for jobseekers in this buoyant and growing economy. Unsurprisingly, Houston is now the fourth most populated city in America. As for resources, in the first instance, I would reach out to your existing network to see if any introductions can be made with recruiters and/or employers here.
Family and children in Houston
Q: Did your spouse or partner have problems adjusting to their new home? Do you think there are any specific challenges for a trailing spouse?
A: A real challenge can be formulating a new routine and creating structure in your new life. It's important to do that quickly to avoid becoming isolated in your new surroundings. 
Q: What are the schools like, any particular suggestions?
A: Like any major city, the schools will vary from excellent to pretty poor. This is when a realtor comes in handy again, because as part of the home lease or purchase process, finding a home in the right school district can be made the leading objective. It's also worthwhile making appointments to visit the schools before finalising your decision.
And finally…
Q: Is there any other advice you would like to offer new expat arrivals?
A: Yes, jump into the experience with both feet. You can't make this move half-heartedly.
– Interviewed in April 2018