Anna is a Russian expat who moved to Spain's south eastern city of Alicante for an internship. Anna enjoyed the small-town feel of Alicante and the friendliness of the locals, who would invite her to eat tapas and enjoyed a good party. However, Anna found that it was essential to learn Spanish in order to communicate and better adapt to life in Spain.
Read more about expat life in Expat Arrival's guide to Spain or read more expat experiences in Spain.
About Anna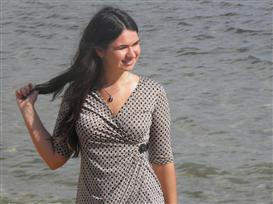 Q: Where are you originally from? 
A: Saint-Petersburg, Russia
Q: Where are you living now? 
A:  Alicante, Spain
Q: How long have you lived here?
A:  Four months
Q: Did you move with a spouse/children?
A:  No
Q: Why did you move to Spain; what do you do? 
A:  I found an internship that was a valuable professional experience for me and also a way to learn the Spanish language.
About Alicante
Q: What do you enjoy most about Alicante, how's the quality of life? 
A:  Since I have been living in a huge city almost my entire life, in Alicante I enjoy the atmosphere of a little town, the friendliness of people and affordable prices. In addition, Alicante is located on the seashore and I always feel like I am on vacation (even though I work 10 hours a day). The architecture and atmosphere of the old part of the city is amazing. There are ancient churches, a cathedral, small houses and a nice park there. You can climb the hill and enjoy the view of the town in front of the seashore.
Santa Barbara Castle in the mountain is the main attraction and one of my favourite places in the city. Even though the elevator is available it's an unforgettable experience to go there by foot. There are small museums telling the history of the city there. You can see black and white photos, coat of arms and fragments of architecture.
Q: Any negatives? What do you miss most about home?
A: Spanish food doesn't fit me much because it's fatty and Russian women are generally very concerned about being in good shape. Another thing I couldn't get used to in the first week is that everybody is very loud in Spain. However later I had an amazing experience of Spanish parties, where everybody feels free to do silly things and you are always welcome to join.
Q: Is Alicante safe? Are there any areas expats should avoid?
A: Definitely yes. I feel safe 24 hours a day since Spanish people go out for the whole night and sometimes at night time there are even more people on the streets than during the day.
Q: How would you rate the public transport in Alicante? What are the different options? Do you need to own a car? 
If you only stay in Alicante you can walk or use buses. Since I did my internship in a village close to Alicante called San-Vicente I had to walk 30 minutes in an industrial area every morning and having a car would have saved much time. 
About living in Alicante
Q: Which are the best places/suburbs to live in Alicante as an expat?
A:  Staying close to the beach always sounds perfect but this area is more expensive of course. A good option could be an apartment close to Luceros or Plaza de Torres.  
Q: What's the cost of living compared to home? What is cheap or expensive in particular?
A:  Everything is significantly cheaper, especially clothes. Food is also cheaper; the only expensive thing is electricity and water as I mentioned.
Q: What are the locals like; do you mix mainly with other expats?
A: I mainly spent my time with locals and we became true friends. What impressed me a lot is that Spanish people are always willing to help. For example, if you ask on the street to show a road, people often walk with you to make sure you will not be lost. It's crucial to learn Spanish, however, because very few people speak English; another reason is that you will adapt much faster. With the basic knowledge you are fine because Spanish always seek to understand foreigners.
There are many expats from Russia and Eastern Europe and from Germany to mix with. A good way to meet internationals is to check events at the University of Alicante. There are many courses and trips organised for Erasmus students.
Q: How does the work culture differ from home?
A:  It´s very relaxed, people don´t rush and are not stressed. Even though I heard about it, first I was surpriswed and a bit irritated, but later the philosophy to live the day and enjoy it made me feel good. 
About working in Alicante
Q: Did you have a problem getting a work visa/permit for Spain?
A:  It was a little bit stressful because I needed to do visa very fast and the process took about a month. Since I did the visa application not in my home country but in the country of residence (Italy) the instructions were not always clear.
Q: What's the economic climate like in Alicante, is there plenty of work?
A: The economic situation is even worse than newspapers tell. There are plenty of announcements from Spanish people who are looking for any jobs (cleaning, taking care of elderly people etc). There is a strong tendency among young people to go abroad to look for a job. 
Q: How does the work culture differ from home?
A:  It's very relaxed and slow. People don´t rush and are not stressed. It was really hard for me to get used to so calm tempo of life.
Q: Did a relocation company help you with your move? 
A: Not really, they only sent me a "survival guide" with basic information about the city, living costs, transport etc. 
And finally…
Q: Is there any other advice you would like to offer new expat arrivals?
A: 1. Learn Spanish as much as you can. 
2. If you like dancing, going to salsa classes is a good idea not only to have fun but also to meet local friends. 
3. Bring small souvenirs from your country, Spanish people appreciate gifts.
~Interviewed November 2012
>Are you an expat living in Spain? We'd love to hear your story. Contact us to share your story.