Lisa Sadleir is a British expat who has been living in Spain for the past 20 years. She lives just outside Mijas Pueblo, in the Malaga province, with her husband and two children, who were both born in Spain. Lisa now considers Spain to be her home country, and runs a number of websites about life in Spain, providing valuable information and relocation services for those moving there. You can read more about her expat life in Spain on her family's blog: www.familylifeinspain.com
Read more about expat life in Expat Arrival's guide to Spain or read more expat experiences in Spain.
About Lisa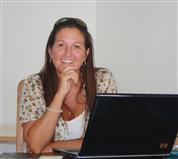 Q: Where are you originally from?
A: I was born in Liverpool and grew up in a small village called Lowton. Aged 18, I went to university in France and I haven´t really been back to the UK since then.
Q: Where are you living now?
A: We live just outside Mijas Pueblo in the Malaga province, southern Spain.
Q: How long have you lived in Spain?
A: We have lived in different parts of Spain and the islands for over 20 years. We have been in our current location for just over four years now. We recently bought our new home and are not planning to move.
Q: Did you move with a spouse/children?
A: I met my husband in Andorre when we were both travelling. Ten years later we were married and both our children were born in Fuerteventura before we moved back to mainland Spain.
Q: Why did you move; what do you do?
A: We decided to move to mainland Spain for many reasons. It is so much easier to have a great quality of life in Spain. Material possessions are not important, or at least they don't have to be. The Spanish people are so welcoming and family life is very important to them. Provided you make the effort, it can be easy to become part of your local community. Travelling to and from Spain is very easy and affordable thanks to the frequent flights and the road and rail alternatives.
About Mijas
Q: What do you enjoy most about your host village, how's the quality of life?
A: We love living in Mijas. As our children are still young, five and seven, the village offers a safe and friendly environment for them. We enjoy a wonderful quality of life. The village is small enough to get to know lots of people but big enough to not feel like living in a goldfish bowl.
Q: Any negatives? What do you miss most about home?
A: To be honest, I consider Spain as my home country and think I always will do. Our memories of the UK are those of beautiful clear days in the green countryside, tea rooms with homemade cakes and scones. Pubs with beer gardens and pub lunches. When we lived in Fuerteventura we also missed some of the foodstuffs we ate as children, but here in Malaga we can enjoy all the little tastes of the UK if we want to and we can even enjoy a traditional British Sunday Roast in an English-run pub if we wanted to. However, you are more likely to find us enjoying a seafood Sunday lunch on the beach in one of the many Spanish chiringuitos.
The only negative about the village is the severe lack of parking. 
Q: Is Mijas safe? Are there any areas expats should avoid?
A: Mijas is safe for all ages. We have not experienced any problems here. 
Q: How would you rate the public transport? What are the different options? Do you need to own a car?
A: Public transport is not needed to get around the village. There is a reliable public bus service that runs to and from Fuengirola, the nearest town. From Fuengirola you can take the bus or overground train to most places.
Q: How would you rate the healthcare in Spain?
A: As I am self-employed, my family is covered by the state health service. We have had no reason to complain at all.
About living in Spain
Q: Which are the best places/suburbs to live in Malaga as an expat?
A: The Malaga province is a wonderful part of Spain. There are so many places to choose to live:  from tiny Spanish-only-speaking villages to the better known cosmopolitan resorts along the Costa del Sol. If you are thinking of moving over here, I would be happy to share my local knowledge with you and give advice on what area betters suits what you are looking for.
For us, Mijas Pueblo is a perfect place for our children to grow up. There is always something happening. The ferias are small enough that we do not worry about losing them (unlike when we venture down to the larger ferias on the coast). Anytime we wander around the village their friends call out to them … it is a lovely, safe, family environment. Imagine going to school in a village where you can get stuck behind horse and carriages and donkey taxis … it´s almost a fairy tale for a child!
Q: What are the locals like; do you mix mainly with other expats?
A: We are now fully integrated in the village amongst the Spanish community. It has, however, taken a couple of years, despite being completely fluent in the language. I assist with school activities whenever possible so am also accepted by the parents. Again, I think this is due to the locals seeing so many foreigners come and go.
We have both Spanish and expat friends, of many different nationalities. There are numerous networking groups and clubs in Malaga. Meeting people is not a problem. Finding time to attend all the events is more of a challenge!
Family and children
Q: Did your children settle in easily? What are the schools like, any particular suggestions?
A: Both our children were born in Fuerteventura and so have grown up in Spain. They are great little travellers and adapt very well to new environments. However, one of the main reasons for choosing Mijas as our family home was the fact that the schools in the village here have a  good reputation. There is a primary/junior school and also a secondary school. The children are extremely well integrated in the village and it is a wonderful place for them to grow up.
In Mijas pueblo, there is only one state-run nursery; however, there are numerous options, both Spanish and bilingual, in the immediate surrounding areas. The primary school is great. The school was our main reason for relocating to this area. As we never intended for our children to attend international schools, we researched schools before deciding where to live. We are very happy with the standard of education and support given to the children. There is also an Instituto in the village which means the children can be educated here for the next ten years. After that, we will see!
And finally…
Q: Is there any other advice you like to offer new expat arrivals?
A: From our many years in Spain, we feel that too many people buy a property in Spain without really doing their homework and doing enough research, usually for fear of losing "an unmissable bargain". I always encourage people to rent for at least 12 to 18 months to really experience living, rather that holidaying in Spain. Buying a home is not the same as buying a holiday home. Although a lot milder than the UK, winters in some parts of Spain are a lot more severe than some people expect or are lead to believe.
Moving to Spain with older children, particularly aged 10 to 16, i.e. whilst education is compulsory, can be a lot more traumatic experience than anticipated. Planning the time of your relocation is fundamental to its success.
Moving to another country with children can be difficult, particularly if you do not speak the language. Before you move, do plenty of research and do not believe everything you hear on the grapevine. I have helped families with very young children and people with teenagers who have moved to this area and are very happy. However, I have met families that rushed over and have lived to regret it. 
My three top tips to get the most out of living in the southern part of Spain are:
1. Be prepared to slow down. Get ready for a more relaxed pace of life. If it doesn't get done today, it will get done tomorrow…or maybe the day after! Stressing about it will not get it done any faster.
2. Forget the "but in England, they do it this way...." attitude.
3. Don't be afraid to ask for help and advice, but beware of the bar stool grapevine. Our business website ccbspain.com is full of important information relevant to living in Spain and if the information is not there, we will happily find it for you.
~ Interviewed September 2012
Are you an expat living in Spain? We'd love to hear your story. Contact us to share your story.