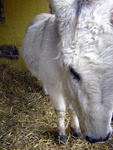 Asproulla, a British expat living in Cyprus, met and married a local Cypriot and mothered her kids on this small island. Though English by birth, her allegiances lie neither with the Queen nor with the Greeks or the Turkish. She merely recommends expats moving to Cyprus learn the local language and give her blog, Little White Donkey, an occasional glance.
Read more about Cyprus in the Expat Arrivals Cyprus country guide or read more expat experiences in Cyprus.
About Asproulla
Q: Where are you originally from?
A: I was born in the UK.
Q: Where are you living now?
A: Nikokleia village in the Paphos district, Cyprus
Q: How long you have you lived here?
A: In Cyprus, 18 years. In this house, four years.
Q: Did you move with a spouse/children?
A: Not to Cyprus. My husband is a Cypriot. I met and married him here.
About living in Cyprus
Q: What do you enjoy most about Cyprus, how's the quality of life in Cyprus?
A: No crime. Good quality of life. Even in the cities, life is slow-paced compared with the UK. The weather is pretty good most of the time (summer gets a little warm, but good beaches are seldom far away). Local food is cheap and generally of good quality – if you want imported non-perishables, you pay. Imported fruit and veg are often inferior quality, but cheap.
Q: Is the city safe?
A: Yes.
 
Q: Which are the best places/suburbs to live in Cyprus as an expat?
A: Anywhere, really. Some villages have become almost completely expat – English, primarily, though there are many Swedes and quite a few Germans. That said, I can't speak for the Turkish occupied North. Anyone who buys land there is asking for trouble due to the political situation.
 
Q: How do you rate the standard of accommodation?
A: In Cyprus, you can find anything from a shack to a villa to a palace. Many people build their own houses, and it follows that the quality of construction varies according to what you're willing to pay. Expats also need to be wary that there's great controversy surrounding property title deeds in Cyprus; in some cases this has even resulted in defrauding and civil law suits.
 
Q: What are the locals like; do you mix mainly with other expats?
A: Friendly locals, but with the reserve of a traditional conservative society behind them. It is possible to live here as an expat speaking exclusively English – but you miss out on a lot if you do.
Q: Was it easy meeting people and making friends?
A: Yes, but I married a local and my friends are usually foreigners married to Cypriots. Most of them I have met through my children – schools, kindergartens, sports. I have no idea how a retired couple would socialise or how easy it would be for them to make friends, either with their own kind or with English-speaking Cypriots. It would all depend on how outgoing they are. Cypriots are friendly and welcoming, but can be reserved.
About working in Cyprus
Q: Did you have a problem getting a work visa/permit?
A: Easy for Europeans and other members of the EU who are free to live and work anywhere within the member countries. Difficult for Americans and other non-Europeans.
Q: What's the economic climate like in Cyprus, is there plenty of work?
A: There is plenty of work available in some sectors. That said, with the economy dependent on tourism, there is a downturn. It is also much easier if you speak another language in addition to English – Greek or perhaps Russian.
Family and children
Q: What are the schools like, any particular suggestions?
A: Luck of the draw. Private English language schools in Nicosia are good. Private English language schools in Paphos are not as good. The Cypriot system used to be one of the best in Europe but is no longer. I would suggest putting small children in Greek language kindergarten, elementary school age – if you're in a village – in the local school (the ones in the towns are very big and they might not get the attention they need). Older children would need fairly good Greek to adapt to local school.
Q: How would you rate the healthcare in Cyprus?
A: It's okay. I've heard horror stories, but then I've heard horror stories about the UK's as well.
And finally…
Q: Is there any other advice you like to offer new expat arrivals?
A: Most important advice I could give – especially for children – but also for adults who want to get the most out of time here: learn Greek. Take classes at a real language school to make real progress, not at one of the adult education classes offered by the state. If you do not learn Greek, you will find yourself living in an expat bubble (which is what some people want).
The expats who do not learn Greek scorn and are scorned by the locals, so by choosing your own path in this respect you can really choose your experience. It's not easy – the language spoken on the streets is not Demotic Greek but Cypriot dialect, so relating what you hear in class to what surrounds you is a hard slog but well worth the effort. Also, all Cypriots speak and understand Modern Greek so they will understand you, but you will have a harder time understanding them. Even if you attempt the language though, people will appreciate you so much more...
~ interviewed March 2011 
> Are you an expat living in Cyprus? We'd love to hear your story. Open the questionnaire here, copy into an email and send it back to info@expatarrivals.com