Chris Gerakiteys is an Australian expat who spent four years in the Ghanaian capital of Accra before recently returning to Australia. The opportunity to relocate to West Africa came as a result of her husband's work but Chris also wanted an adventure of her own. In her interview with Expat Arrivals she talks about the pros and cons of life in Ghana and the unpredictability of the place she came to love.
To learn more about Chris and her adventures check out her blog: www.sixdegreesnorth.me
Read more about Ghana in the Expat Arrivals Ghana country guide or read more expat experiences in Ghana.
About Chris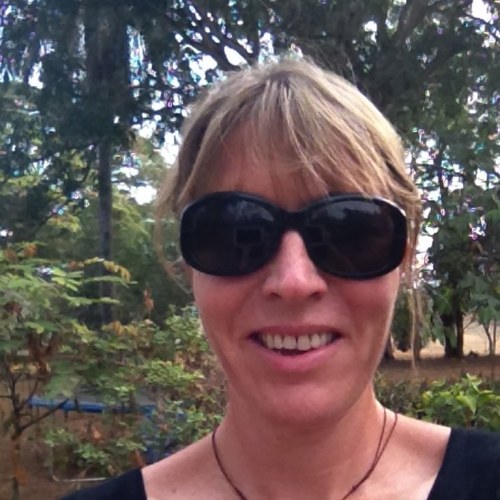 Q: Where are you originally from?
A: Newcastle, New South Wales, Australia  
Q: Where are you living now?
A: Ballarat, Victoria, Australia (previously Accra, Ghana)  
Q: When did you move to Accra?
A: We moved to Ghana in 2012, we left in June 2016  
Q: Did you move to Ghana alone or with a spouse/family?
A: With my family  
Q: Why did you move; what do you do in Ghana?
A:  For my husband's job, and for an adventure away from suburban routine.
Living in Accra
 Q: What do you enjoy most about Accra? How would you rate the quality of life compared to Australia?
A: Accra is a vibrant, loud, dirty city. It has an energetic vibe: from street bars to sophisticated restaurants. West African music is fabulous. There is a very friendly, large expatriate community, with expats from all over the world. My favourite part of living in Ghana is the unpredictability… You never know what you will see from day to day.
 
Q: Any negatives? What do you miss most about home?
A: This unpredictability can also be frustrating. Living in Accra is not without its challenges. The costs of utilities and first-world standard accommodation rent is quite high, and imported groceries are expensive. While there are a number of large supermarkets, the quality and variety of goods available are often variable. Health care is of variable quality, and I strongly recommend good expat health insurance. Power outages are very, very common, and I would recommend accommodation with a backup diesel generator. Overall, things just take a bit longer to get done here, so patience in daily life is key.
 
Q: What are the biggest adjustments you had to make when settling into expat life in Ghana? Did you experience any particular elements of culture shock?
A: While Ghanaians are on the whole very friendly, it is still a male-dominated society, so it is sometimes frustrating to get things done as a woman. In a similar vein, it is also still quite a conservative society, with most people in the south of the country devoutly Christian. Politeness and manners are still very important. On the practical side, as I mentioned above, daily errands, like paying utility bills, can take a lot longer to get done, and so patience is paramount.
 
Q: What's the cost of living in Ghana compared to home? What is cheap or expensive in particular?
A: First-world standard accommodation can be very expensive, and is typically charged in US dollars. Electricity has increased in cost significantly over the last few years, and with frequent power outages, diesel fuel for back-up generators is an extra cost. Imported groceries are expensive. However, locally grown fruit and vegetables are very affordable. Ghana has wonderful bananas, pineapples and avocados, all available for a fraction of the cost compared to home. Similarly, local cafes are cheap.
 
Q: How would you rate the public transport in Accra? What are the different options? Do you need to own a car?
A: Public transport is not well developed in Ghana. There are some local buses and a train from Accra to the port of Tema. However, the majority of Ghanaians catch local mini-buses, tro-tros, which, although crowded, are very cheap. Taxis are very common, but as they do not have meters, I would strongly recommend fixing the price with the driver before taking a taxi. If you find a good taxi driver, I would recommend asking for his name and number, as they will often come and collect you. Uber has recently arrived in Ghana.
 
Q: How would you rate the healthcare in Accra? Have you had any particularly good/bad experiences with regards to doctors and hospitals? Are there any hospitals you would recommend?
A: Healthcare is very variable in Ghana. I would highly recommend joining WARA (West African Rescue Association). WARA are both an ambulance service and a GP clinic. They have excellent facilities. They also have close associations with the major hospitals and can ensure you are seen by a trusted physician, and they will also follow up with your healthcare. There are a number of clinics throughout the city, including Akai House and Lister Hospital. For dental care, I recommend Platinum Dental or Beaver Dentist.
 
Q: What are the biggest safety issues facing expats living in Ghana? Are there any areas expats should avoid?
A: While I always felt safe in Accra, petty crime is common and is typically opportunistic theft. So it is important to ensure your house is locked. I would take the usual precautions of not walking at night-time, and if possible, to avoid catching taxis at night (especially if you are alone), unless you know the driver. Almost all compounds have security staff, but this does not preclude theft from your house. Also, road safety can be an issue. Traffic can be chaotic and busy, and taxis may not have seatbelts. If you feel unsafe, ask the driver to slow down or change rides.
 
Q: How do you rate the standard of housing in Accra? What different options are available for expats?
A: The standard of housing is very variable. There are many, many compounds and freestanding houses which are good quality, with back-up generators, back-up water supplies, and swimming pools. They are clearly the most expensive, and even in these high-end places you may find issues which need attention. If you are looking for cheaper options, there are many regular houses available, but these probably will not have back-up generators. On the cheapest end, it is possible to rent a single room. There are many real estate agents available online, but I found the most effective way to secure accommodation was to directly ask at the compound you are interested in. For expats being transferred by a company or government mission, they will usually have a trusted estate agent to secure accommodation. It is not uncommon for rent to be paid several months/years in advance, which will secure the accommodation, and (particularly in the case of freestanding houses), ensure any renovations are carried out prior to moving in.
 
Q: Any areas/suburbs of Accra you'd recommend for expats to live in?
A: I would recommend living near your place of work or your children's school, as traffic can be tedious. Having said that, the best areas are Airport Residential-Dworlulu-Roman Ridge area, Cantonments-Osu-Ridge areas and East Legon (if your workplace/school is in East Legon, otherwise traffic in and out of this suburb can be very bad).
Meeting people and making friends in Ghana
 Q: How tolerant are the locals of foreigners? Is there any obvious discrimination against particular religions or women etc.?
A: Ghanaians on the whole are very polite and friendly, and they (rightly) pride themselves on accepting people across religious and cultural differences. However, if there are large discrepancies in socioeconomic status friendships can be challenging and care should be taken to build trust. Single foreign women can be a target of male attention, but I would just recommend following usual safety precautions.
 
Q: Was it easy meeting people and making friends in Accra? How did you go about meeting new people?
A: As we have school-aged children, we met most of our friends though the school community. There are a number of expat Facebook groups and societies in Accra. I would recommend NAWA (North American Women's Association), who accept members from all over the world, BIGS (British in Ghana Society) and ANZEC (Australian and New Zealand Expat Community).
 
Q: Have you made friends with locals or do you mix mainly with other expats? What advice would you give to new expats looking to make friends in Ghana? Any social/expat groups you can recommend?
A: Although we have both expat and local friends, the majority are expats. This is due to the relatively short expat cycle in Ghana (most expats stay for 3-5 years). To make friends I would recommend accepting all invitations! While it can be hard to walk into a room of total strangers, it really is the only way to meet people. As mentioned above, there is a huge number of expat Facebook groups in Accra, which are the best place to start if you don't have school children.
 
About working in Ghana
 Q: Did you have a problem getting a visa or work permit for Ghana? Did you tackle the visa process yourself or did you enlist the services of an immigration consultant?
A: The work visa and resident visa process can take a long time. Even visa renewals can take several months. I would not recommend coming to Ghana to find employment. Expats in Ghana typically are transferred or employed first, and then move to Ghana. Companies and overseas government agencies will assist with work and resident visa. If you are looking to move to Ghana to set up your own business, this can be done directly through Ghana Immigration.
 
Q: What's the economic climate like in Accra? Do you have any tips for expats looking to find a job in Ghana? Which resources did you find most useful?
A: Most expats are employed prior to moving to Ghana, and if married, the trailing spouse is given a resident spouse visa, which does not allow for in-country paid employment, However, some trailing spouses find short-term employment (typically at local-hire wage rates) through embassies and NGOs, who then organise employment visas. This short-term employment is sometimes advertised on embassy/NGO web and social media pages, or found though in-country networking.
 
Q: How does the work culture differ in Ghana from home? Do you have any tips for expats doing business in the Ghana?
A: While there are definitely opportunities to start businesses in Ghana, the process can be long and patience is required. Some industries may require a local partner.
 
Family and children in Ghana
Q: Did your spouse or partner have problems adjusting to their new home? Do you think there are any specific challenges for a trailing spouse?
A: As for all trailing spouses, the challenges come in being unable to find paid employment. However, there are many opportunities for volunteer work in Ghana, and with a little effort, you can have a very rich social life. The main problem is adjusting to the challenges of running a household. For example, weekly grocery shopping requires trips to several stores. Also adjusting to the length of time it takes to get things done or repaired around the house or dealing with bureaucracy can be challenging. Many people have house help, which can be a wonderful assistance but also requires people management skills.
 
Q: Did your children settle in easily? What were the biggest challenges for your children during the move?
A: Finding the right school was key to our children settling in to their new lives. They initially attended a private Ghanaian school, and there were significant challenges in the style of teaching and social interactions. However, they also attended an international school with a wonderful welcoming community, where they were very happy and settled.  
 
Q: What are the schools like in Accra, any particular suggestions?
A: Schools are very variable in Ghana, and many are private schools. In Accra I would recommend Lincoln Community School (aged 4-18 years), or Ghana International School (GIS, aged 4-18 years). For French speakers there is also the Lycée Français d'Accra Jacques Prévert Ghana.
And finally…
 Q: Is there any other advice you would like to offer new expat arrivals in Ghana?
A: Life in Ghana can feel chaotic, hot and frustrating. But the secret to enjoying your new life in Ghana is open-mindedness and patience. It is important to manage your expectations as to what you can achieve in a day, and to embrace all that is unique about this peaceful West African country. 
► Interviewed in November 2016