As a Ghanaian-born naturalised Brit, David has a unique perspective on expat life. He holds dual citizenship and has been back home in Ghana since 2010, where he runs a successful international trading business.
Read more about Ghana in the Expat Arrivals 
Ghana country guide
 or read more 
expat experiences in Ghana
.
About David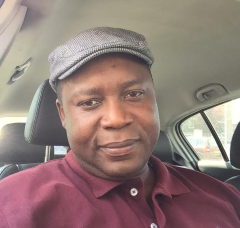 Q: Where are you originally from?
A: I was originally born in Ghana and lived in United Kingdom since I was 18 years old.
Q: Where are you living now? 
A: Accra, Ghana.
Q: When did you move here? 
A: I moved to Ghana in 2010.
Q: Did you move to Ghana alone or with a spouse/family? 
A: I moved here alone.
Q: Why did you move; what do you do? 
A:  I moved because of thriving business opportunities and also be closer to family. My company is known as Overlands Trading and I am into international trades i.e. import and export.
Living in Ghana
Q: What do you enjoy most about Accra? How would you rate the quality of life compared to the UK? 
A: Ghana is a country with tons of opportunity because it is a developing country as compared to the UK which is developed. The social life in Ghana is by far better than the UK because of the open arms approach taken by most people. The climate in Ghana is sunny and more favourable.
Q: Any negatives? What do you miss most about the UK? 
A: I miss the well-structured way of life in the UK.
Q: What are the biggest adjustments you had to make when settling into expat life in Ghana? Did you experience any particular elements of culture shock?
A: The business culture is very challenging in Ghana and it took a lot of effort and endurance to adjust. Because I have lived in Ghana during my teens, I was already used to the culture and ways around. Also because I speak and understand most of the local languages, it made it quite easy to settle in again.
Q: What's the cost of living compared to the UK? What is cheap or expensive in particular? 
A: Cost of living in Ghana is very high as the minimum wage does not meet the basic standard of living in any way. However, there are opportunities to engage in small-scale businesses to make ends meet. Cost of living in the UK on the other hand is way better as it's contrary to the above. 
Q: How would you rate the public transport in Ghana? What are the different options? Do you need to own a car?
A: No, public transport is very good in Ghana and one can find transport to almost any point within the country, especially Accra.
Q: How would you rate the healthcare in Accra? Have you had any particularly good/bad experiences with regards to doctors and hospitals?
A: Private healthcare is good but unfortunately only available to the middle-income earners because it's quite expensive. There is the NHIS (National Health Insurance Scheme) for the below average so basic care is okay but critical care becomes a challenge for them.
Q: What are the biggest safety issues facing expats living in your Ghana? Are there any areas expats should avoid?
A: Ghana is generally a peaceful country and there are no dangerous or out of bounds areas. However, there are occasional armed robbery and petty theft incidents reported. It's therefore advisable to have extra security personnel if you live in a secluded area, or you may consider living in a gated community. 
Q: How do you rate the standard of housing in Accra? What different options are available for expats?
A: Property development is thriving in Ghana so accommodation is in abundance and the standards are quite acceptable. Expats may consider apartment rental which ranges in price depending on location preferred. Living within the airport area of Accra is expensive whereas living further away gets cheaper. It may be advisable to consider living further from the city to save money since transportation is quite reliable.
Q: Any areas/suburbs you'd recommend for expats to live in Accra?
A: Prampram is a seaside town which is 30 minutes from the city and it is very peaceful and nice. The beach in the town makes it attractive for expats and there are quite a number of expats living there. Tema is a harbour city and it's part of greater Accra. It is a lovely city as well and cost of rental is moderate. Krokrobete is also a seaside town and it's very nice and quiet but it is out of town so expats who are in the country for work in the city would need to have their own vehicle.
Meeting people and making friends in Ghana​
Q: How tolerant are the locals of foreigners in Ghana? Is there any obvious discrimination against particular religions or women etc.?
A: Nooo! Ghanaians are generally very warm and welcoming people. There isn't any sign of racism, religion or sexism prevalence. 
Q: Was it easy meeting people and making friends in Ghana? How did you go about meeting new people? 
A: The social life is excellent as people are friendly. There are many beach resorts and pubs so making friends is quite easy. I met many friends from social gatherings and then met friends of friends.
Q: Have you made friends with locals or do you mix mainly with other expats? What advice would you give to new expats looking to make friends? Any social/expat groups you can recommend?
A: Since I am originally from Ghana, I have mixed friends. I have expat friends and also local friends. There are websites in Ghana that link expats and also organise events for expats.  AccraExpat for instance is a website that has many links to these events. Local friendships must be done with caution because there may be some locals with ulterior motives.
About working in Ghana​
Q: Did you have a problem getting a visa or work permit? Did you tackle the visa process yourself or did you enlist the services of an immigration consultant?
A: Obtaining a visa or work permit in Ghana is a simple process in theory. However, the bureaucracy makes it difficult to process. It is advised that patience is needed when applying. For myself, on the other hand, having dual nationality meant I didn't need to apply for any. There are a few consultants available but it is advisable to self-apply.
Q: What's the economic climate like in Accra? Do you have any tips for expats looking to find a job there? Which resources did you find most useful?
A: Ghana is a developing country with loads of opportunities. Expats looking to work in Ghana should look into housing, real estate and production. Medical professionals are needed and setting up a medical centre would not only help the people of Ghana but would be profitable as well.
Q: How does the work culture differ from the UK? Do you have any tips for expats doing business in Ghana?
A: Business culture in Africa is very different from the Western culture. I advise expats to take time to adapt and learn the culture before engaging in business. There are so many to list but one example is the preference for "gentleman's agreement" type dealings which are not advisable. Also, obtaining finance, as in loans, is difficult and there are limitations as to what business an expat can engage in.
And finally…​
Q: Is there any other advice you would like to offer new expat arrivals?
A: Yes. Ghana is a very lovely and peaceful place to visit and live. However, it has its challenges just like many other countries. Please take your time to understand the country in terms of its cultural, social and economic structures before you finally decide to move. Tourists are advised to stay in registered accommodations and ensure that all vaccinations are well taken in advance. There are a few foreigners from other African countries that have moved to Ghana and are engaging in fraudulent activities so transacting business or buying should be done with caution.

► Interviewed in September 2016