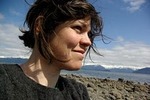 Molly, an American expat living in New Zealand, has found it challenging to deal with the distance of her new life from her Alaskan hometown and adjust to a space without access to the mountains she feels closest to. She chronicles the complexities of her journey and the highs and lows of her time abroad in her blog "Bring a Raincoat".
Read more about New Zealand in the Expat Arrivals New Zealand country guide or read more expat experiences in New Zealand.
About Molly
Q: Where are you originally from?
A: The USA. I grew up all over the USA – primarily in Missouri and Utah. I moved to Alaska in 2001 and it is the place I feel is 'home' to me.
Q: Where are you living now?
A: Dunedin, New Zealand.
Q: How long have you lived here?
A: On and off over seven years – this is my fourth year here, but not consecutively.
Q: Did you move with a spouse/ children?
A: I originally moved to New Zealand on my own, but met my husband here. He's from Dunedin.
Q: Why did you move; what do you do?
A: I moved to New Zealand for a year of graduate study. I've worked a couple of different jobs here, but am back in school again – this time working towards a PhD in Social Anthropology at the University of Otago. I also work part-time as a teaching fellow there.
About New Zealand
Q: What do you enjoy most about Dunedin, how's the quality of life in New Zealand?
A: Dunedin has a nice, funky vibe. Of its small population of 120,000 people, 20,000 are students at the university here. The south of the south island is otherwise quite a rural area, so Dunedin still feels like a small farming town in a way, but with a lot of great cafés and restaurants and a good arts and culture scene. The weather is pretty average, but the city sits right between the ocean and big, green hills. On a sunny day, it's a pretty stunning little city. It's a safe place, for the most part, too. The cost of living is rising but remains more reasonable than in New Zealand's other cities.
Q: Any negatives? What do you miss most about home?
A: Sure, doesn't any place have a few negatives? Sometimes I get a bit frustrated by the size – 120,000 is too small to have the perks of a big, thriving city – the diversity or nightlife and more... But, at the same time, it feels much bigger, and far less remote than the Alaskan towns I have come to love and call home.
In that way, I miss being able to walk from my front door out along a few blocks, onto a trail, and into the remote wilderness the way that I could in Juneau, Alaska. To get to the same sort of mountainous wilderness I have to drive out of Dunedin for a few hours. Since spending time in the mountains and valleys is a huge and important part of my lifestyle, I wish, at times, Dunedin was smaller and more remote. That kind of place is a whole different feel and I miss that incredibly.
Q: Is the city safe?
A: Yes, in a word. But of course, there are some issues. There's some racism in Dunedin with many Asian English-language students reporting some harassment. And with quite a big and rowdy drinking scene, there are alcohol-related crimes – fights and unprovoked attacks. I don't walk around by myself at night, unfortunately.
About living in New Zealand
Q: Which are the best places/suburbs to live in the city as an expat?
A: This is totally a matter of opinion.
St. Clair is lovely and right by the beach. Some folks live out along the Otago Peninsula, some up on the hills above town. I would strongly recommend avoiding "student-ville" right around the University unless you want to be surrounded by a 24-7 party scene and all that comes with the territory. There are no ethnic enclaves in Dunedin at all, so there's no area where more of a certain nationality or ethnicity lives.
Q: How do you rate the standard of accommodation in New Zealand?
A: Largely poor, unfortunately, but you can find nice places if you know what to look for.
Houses here typically are not insulated and are often without heat. Don't let the marketing fool you, this is NOT the lovely climate you think of when you think South Pacific. You'll need heat, and electricity is expensive, so you need to be wise about your heating. Look for these things when seeking accommodation: a heat source such as a heat pump or wood-burning stove, sun exposure, and a sense of dryness in the place (no mould or musty smell). Ask the landlord or realtor about insulation (most won't have it, it's a bonus if they do), double-glazed windows and the electricity bill. Avoid student-ville – in addition to the parties, these places are largely unmaintained by the landlords. Standards are rising and you can find a nice place, but you should be picky and ready to pay a bit more for something better.
Q: What's the cost of living in New Zealand compared to home? What is cheap or expensive in particular?
A: The cost of living is much higher here than in America in most ways, though not all. All goods are expensive – electronics, outdoor gear, some clothes, a lot of food, furniture – "stuff." Rent or mortgage payments are often a bit lower with monthly phone and power bills being higher. Car and home insurance is far less expensive than in the states and you don't really have to have health insurance, unless you choose to. So that's great. It's the day-to-day stuff that's more costly – food, gas, power, stuff you need to buy... My husband (a kiwi) and myself, both find it easier to save money in America than here.
Q: What are the locals like; do you mix mainly with other expats?
A: The locals are, for the most part, lovely people, but they are reserved and I will clearly state that it takes quite some time to get to know people here. That's coming from an American perspective, however. I'm more used to people chit-chatting about anything and everything with anyone. I mix with both expats and locals. I find expats easier to get to know and start friendships with for sure. But, expats being expats, they often come and go. So over the years I have also sllllooooowlllly developed a few casual friendships with locals too. I'm very grateful for both.
About working in New Zealand
Q: Did you have a problem getting a work visa/permit?
A: No. I originally came on a student visa. Then I transferred that to a seasonal work permit that allows you to help with the fruit-picking season. The next time I came back, I got a Working Holiday visa, available to Americans under the age of 30 to come and work casual jobs for a year. After that, due to my relationship with my soon-to-be-husband, I had earned temporary residency. I'm now a permanent resident.
Q: What's the economic climate like in New Zealand, is there plenty of work?
A: That depends on what you do. New Zealand has been hit by the worldwide economic crisis too. There's less work than a few years ago. One tricky thing about finding work in Dunedin is that a lot of it is not advertised – you have to know someone who knows someone who knows someone. It's tricky.
Q: How does the work culture differ from home?
A: People take more breaks here – morning tea, lunch and sometimes afternoon tea. Being a workaholic isn't too important here. There's far less pressure to put in the extra hours here than in the USA. People here, workers and employers alike, seem to appreciate the importance of a work-life balance and some time off. People rarely go around expressing how busy they are over and over again, the way they do in the states. Hard work is greatly, deeply valued here, but so is having a life outside. I believe the base holiday time for any job is now 4 paid weeks per year. Some employers might let you take some unpaid time too.
Family and children
Q: Did your spouse or partner have problems adjusting to their new home?
A: I have had a lot of challenges adjusting to life in New Zealand – it has been full of ups and downs and overall has not been easy. I think I have turned a corner now, however, and it is no longer such a struggle. The process of turning it into my "home" in a spiritual, emotional, and mental sense, though, will continue for quite some time. Being far from family and the familiarity of the culture you grew up with can be quite hard, even if things are good in the host country too. Basically, my blog is all about this process.
Q: How would you rate the healthcare?
A: Hm, well, like any system, it has its pros and cons. It is a public system so it is quite affordable, particularly if you are injured in some sort of accident. I have found the quality of care here to be good – not excellent but not bad at all. You can choose to get private insurance and that would take away the problem of 'waiting lists' for some medical needs. That said, you can also just go to a private clinic and pay for whatever service you need, if you don't want to wait. Myself and my husband have never found the wait times to be unreasonable, when they exist at all. I've heard some really terrible stories about health care in NZ from Americans and NZers both, and that makes me nervous at times. I have also heard plenty of good stories. My limited experience has been all good.
And finally…
Q: Is there any other advice you like to offer new expat arrivals?
A: The only thing that comes to mind is to realize that everywhere has its pros and cons. I think NZ has done a great job of marketing itself as it actively pursues certain types of migrants that are needed here. It is a form of migrant recruitment which can make NZ look like paradise. New Zealand is a wonderful place but is not necessarily a paradise. There's lots to love about it here, just don't expect it to be all perfect or easy. It takes time to settle in, with ups and downs along the way, and it can take quite some time to get to know New Zealanders. That being said, the natural beauty here is quite something and the laid-back, unassuming lifestyle can be a desirable reprieve.
~ interviewed March 2011