Francesca is a British expat living in Australia. She moved to Sydney when her husband was transferred there with his company. Although she misses her family and friends and London fish and chips, Francesca is enjoying the relaxed atmosphere of Sydney and the quality of life that it offers.
About Francesca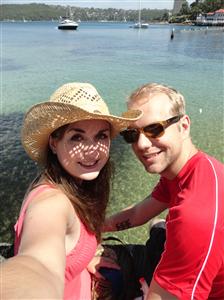 Q: Where are you originally from? 
A: London, UK
Q: Where are you living now? 
A:  Sydney, Pyrmont
Q: How long have you lived in Australia? 
A:  I've lived in my apartment for 8 months.
Q: Did you move with a spouse/children? 
A:  I moved with my husband.
Q: Why did you move; what do you do? 
A:  My husband got a permanent contract and was transferred with his job.
About Sydney
Q: What do you enjoy most about Sydney, how's the quality of life? 
A: I love this city already. I love exploring new areas and all of the events that go on. I live very close to Darling Harbour and most weekends there are different events and things to go to. There's a different atmosphere to London and it feels much more relaxed and less pressured. The weather helps as well!
Q: Any negatives? What do you miss most about home? 
A:  All I miss about home is of course family and friends and London fish and chips. 
Q: Is Sydney safe? Are there any areas expats should avoid?
A: I find the city very safe and I feel that I can walk around alone at any time of the day.
Q: How would you rate the public transport in Sydney? What are the different options? Do you need to own a car? 
I haven't used public transport a great deal as I walk to work but buses to the beach and trains to get in and around Sydney in my experience have been very reliable and very easy to work out. I think owning a car is quite expensive and for me living so close to the CBD, parking etc is an additional cost. The only method of transport that I find a bit unnecessary is the monorail but it does give a good loop around Chinatown.
Q: How would you rate the healthcare in Australia?
A:  Medicare has been great for me so far. 
About living in Sydney
Q: How do you rate the standard of housing in Sydney?
A: I think housing is great and I think I've had a different experience as some of my colleagues do say that it's expensive to rent here. I think that as I lived in central London, for me, the rent here is on par with London prices so it's not been a big wrench for me. Plus here there are no extra charges such as council tax, which makes renting quite straightforward. There's plenty of decent accommodation.
Q: What's the cost of living compared to home? What is cheap or expensive in particular?
A:  I think the cost of living is pretty similar to London. Alcohol and food is more expensive here I think, especially eating out. 
Q: What are the locals like; do you mix mainly with other expats?
A:  No, all of my colleagues are from Sydney and we have only met a handful of British expats through friends from back home.
Q: Was it easy meeting people and making friends?
A:  Making friends can be difficult but it is important to push yourself and put yourself out there. I've found it easy to make friends at work and so has my husband. These things do take a bit of time.
Q: Did your spouse or partner have problems adjusting to their new home?
A:  My husband is quite easy going and took to moving here like a duck to water.
About working in Sydney
Q: Did you have a problem getting a work visa/permit for Australia?
A:  No, my husband's company sponsors us both.
Q: What's the economic climate like in Sydney, is there plenty of work?
A: I found a job within 2 weeks of being here and I had a few interviews in that time. I think there's plenty of good jobs here and a lot of opportunities to develop your career.
Q: How does the work culture differ from home?
A:  It's definitely more relaxed and the work/life balance is much better. 
Q: Did a relocation company help you with your move? 
A:  We only packed five boxes of clothes and keepsakes between us and shipped them over a few months after we arrived.
And finally…
Q: Is there any other advice you would like to offer new expat arrivals?
A:  Just enjoy it and make the most of it! Sydney and Australia has so much to offer and there are some beautiful places to visit. It is important to try and find hobbies to meet people and try different things.
– Interviewed November 2012