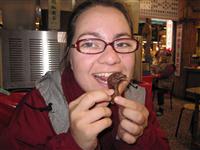 India, from California in the USA, travelled to Taiwan to teach English and stayed for two years while maintaining a blog about her experiences. Read India's advice about the best areas to live in Taipei, the cost of living in Taipei compared to LA and the standard of healthcare in Taiwan.
Read more about Taipei in the Expat Arrivals Taipei city guide or read more expat experiences in Taiwan.
About India
Q: Where are you originally from?
A: I grew up in southern California.
Q: Where did you live?
A: I lived in Xinzhuang City, Taipei County, for a year, and then in the Datong district of Taipei City. Xinzhuang is now a district of New Taipei City.
Q: How long did you live in Taiwan?
A: I lived in the country for 13 months and in the city for 11 months.
Q: Why did you move; what do you do?
A: I wanted to live in another country, and in Taiwan I could make a decent living teaching English.
About Taiwan
Q: What do you enjoy most about Taiwan? How's the quality of life?
A: Coming from California, I'm in awe of the public transportation: I can get around the city, I can get out of the city... I can do anything! I also love the ubiquity of tiny restaurants.
The cost of living is very reasonable, and I don't have any problems with cleanliness or anything. After LA, it's like paradise with slightly subpar architecture.
Q: Any negatives? What do you miss most about home?
A: I hate the tile buildings. They're so tacky looking.
Q: Is Taipei safe?
A: I never felt unsafe there.
About living in Taiwan
Q: Which are the best places/suburbs to live in Taipei as an expat?
A: In New Taipei City, Banqiao is pretty well-regarded because it's not very far out and is well-served by the public transportation systems. Muzha is a little further out but more pleasantly green and spacious, and also has a university or two with good Mandarin programmes. Danshui (or Tamsui, as they're trying to insist it should be romanised) is a really charming district, along with Beitou.
Within the city itself, I really enjoyed living in Datong: I was very close to an MRT hub, and the buses going into and out of the city were very convenient. It's a little bit older, though, and most older expats live in Shilin and Tianmu.
I would basically live anywhere but Wenshan, Nangang or Neihu. They're just too far out.
Q: How do you rate the standard of accommodation in Taiwan?
A: I'm not picky. I saw a few places before I chose my first apartment that were a little shocking in terms of how dirty they were, but then I found out that it's standard to clean when you move in, not when you move out. I liked both places I lived, although the first was definitely nicer and more spacious because it was not in Taipei City.
Q: What's the cost of living compared to home? What is cheap or expensive in particular?
A: The cost of living is much cheaper than at home. Even with occasional travel around the island and outside it, I managed to sock away a sizable amount of money. Food (good food!) is pretty cheap, and shopping for it in the street markets is very pleasant. Western food items are a little more expensive, and quality electronics are about the same as at home.
Q: What are the locals like; do you mix mainly with other expats?
A: I found most people very friendly and prone to complimenting the slightest hint of Mandarin ability. I felt comfortable asking most people for help when I needed it to get around or conduct daily business.
Q: Was it easy meeting people and making friends?
A: I found a fun group of people in the China Hash (chinahash.org), part of an international running and drinking club. There was a good mix of expats and locals, which really brought me out of my shell.
Family and children
Q: What are the schools like in Taipei? Any particular suggestions?
A: From what I could tell as a cram school teacher, they're pretty high-stress environments. There doesn't seem to be a stigma attached to earning good grades and being a good student, though, and that is not a bad thing!
Q: How would you rate the healthcare in Taipei?
A: Absolutely fantastic for the basic stuff, which was all I ever needed. I recommend going to smaller clinics rather than hospitals. There are a lot of extra charges tacked on there...
And finally…
Q: Is there any other advice you would like to offer new expat arrivals?
A: Be very sure of your bank. There are relatively reasonable charges associated with sending money home, but when I went home and my visa ran out, I think something happened to my bank account, which was remaining open to get my tax refund. Also – learn the language.
~ Interviewed in August 2012