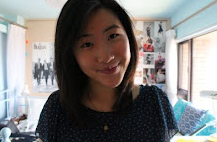 Adrienne was born in Taiwan but raised in California. She moved with her family back to Taiwan four years ago and is now studying at the American International School. Her life is a lot like that of a typical American teenager – but with some exotic twists!
Read more about Taipei in the Expat Arrivals Taipei city guide or read more expat experiences in Taiwan.
About Adrienne
Q: Where are you originally from?
A: I was born in Taipei, Taiwan, but my family immigrated to the United States when I was three. Whilst there, we lived in Arcadia, California, a suburban city located near Los Angeles.
Q: Where are you living now?
A: I am currently living in Shi Lin District, Taipei.
Q: How long have you lived in Taipei?
A: I have lived in Taipei for four years.
Q: Did you move with your family?
A: Yes. I moved to Taipei with both of my parents.  
Q: Why did your family move?
A: Primarily, we relocated to Taipei because of my father's job.
About Taipei
Q: What do you enjoy most about Taipei? How's the quality of life?
A: When I was living in California, I felt that I did the same activities week after week. In Taipei, I feel like every day unearths something unique and different; one day, I'll find a café tucked in a shady alley, and the next, I'll discover an art gallery housing the best Taiwanese artists. Taipei is a great city to live in, and the government is constantly improving and renovating to make it of the utmost quality.
Q: Any negatives? What do you miss most about home?
A: Of course, with any relocation, missing friends and family is perhaps the greatest negative. Taipei, like any other metropolitan city, can get extremely crowded. Especially during rush hour, the MRT stations and buses can get filled very quickly. Taiwan, being a tropical island, can also get very humid and hot during the summertime. Mosquitoes are very annoying during these summer months! In the first year I was here, I was constantly plagued with itchy mosquito bites.
Q: Is Taipei safe?
A: Taipei is one of the safest cities that I've ever lived in. I think a major contributor to this is that local Taiwanese people are very conscientious about the well-being of themselves and their neighbours. This state of mind is well translated through most Taipei citizens.
Q: How do you get around in Taipei? How does this differ from home?
A: The MRT (Mass Rapid Transportation), or subway, is my favourite way to get around the city. With a couple more lines being added in the upcoming years, the MRT is definitely an economical and eco-friendly method of transport. Back at home, I barely took public transportation. Being driven by my parents was my sole means of getting from place to place.  
Q: What do you do for fun in Taipei? How has your lifestyle changed since you moved?
A: My friends and I enjoy going to Shi Da night market. There, we usually grab a bite to eat at one of the various snack vendors and go shopping in the never-ending rows of clothing shops. At the end of the day, however, we do enjoy the same hobbies and activities as the typical American teenager. We go out for frozen yoghurt (which actually is quite popular in California at the moment), watch the latest movies and play soccer on our school's turf field.
I think that expat children, like me, are in their own separate category; we're not locals, yet we're not Americans. We live a lifestyle that melds these two cultures together. It's always interesting to see what we pick up from both the local Taiwanese culture and that of California, which is where I originally was from.  
About living in Taipei
Q: Which area of Taipei do you live in? Are there lots of other expats in your area?
A:  I live in Shi Lin, which is extremely close to an area in Taipei called Tien Mu. Both Shi Lin and Tien Mu are filled with expats and foreigners due to the presence of two of Taipei's largest international schools: Taipei American School (in Tien Mu) and Taipei European School (in Shi Lin).
Q: What is your accommodation like? How would you compare it to home?
A: Currently, I live in a high-rise building. When I was living in California, I lived in a single-storey house. Living in more cramped conditions was initially quite a challenge for me. I constantly kept thinking, "How am I going to fit everything that I own into such a small space?" Now, I've learned to adapt; we've sold all of our old furniture and belongings and purchased new ones here.
Q: What are Taiwanese locals like, or do you mix mainly with other expats?
A: The locals in Taiwan are extremely friendly and interested in Western culture. Though I am of Asian descent, many Taiwanese locals will stop me in the streets and casually strike up a conversation with me because they hear me speaking English with my friends. Most of my friends are like me, the children of expat parents.
Q: Was it easy meeting people and making friends in Taipei?
A: Because I'm attending an international school here in Taipei, making friends was definitely easy.
About school in Taipei
Q: Did you or your family have trouble finding a school you liked?
A: No. Since I couldn't speak or read Chinese fluently, there were very few schooling options open to me. Attending an international school was my first choice.
Q: Do you go to an international or local school in Taipei? Why did you go to your school in particular?
A: Yes, I am currently attending an international school that offers grades K through 12. Because I couldn't read or speak Chinese fluently, it was in my best interest to attend an English-speaking school. The curriculum that we follow mirrors what American teenagers are currently learning as well.
Q: How does the school culture differ from home?
A: Attending a private international school in Taipei is definitely different to the education in the public school system in Los Angeles. Here in Taipei, our campus is fully stocked with the latest technology (we all tote around personal Lenovo laptops). We also have two turf fields, perfect for the many sports offered. Teachers are attentive and helpful, and all of our facilities are well-kept.
Q: What are the schools in Taiwan like generally? Do you have any advice for children moving to Taipei from another country?
A: I'm not very familiar with the public school system here in Taiwan, but I know that there are a couple of international schools here in Taipei. Many of them do require students to hold an international (non-Taiwanese) passport. If you are planning on attending an international school, you should feel right at home with the English-speaking environment and American/European style of teaching.
Family and children
Q: Did a relocation company help your family with the move to Taipei?
A: No, we organized all of our belongings ourselves.  
Q: Did your family have problems adjusting to their new home?
A: We originally lived at my grandmother's house the first year we moved to Taiwan. Looking for a house was relatively easy, but it did take quite a lot of time. Since our high-rise is new, we didn't encounter any problems moving in.
And finally…
Q: Is there any other advice you would like to offer new expat arrivals to Taipei?
A: Moving to a new city, a new state, or a whole new country may seem daunting at first, but with an open heart, you'll learn to slowly accept your new environment. Be daring and immerse yourself in the local culture. Take a plunge and try something that you've never done before. When moving somewhere new, I always try to embrace anything that life throws at me.
~ Interviewed in July 2012