Jennifer Sikes is an American expat living in Brazil's southeastern city of Belo Horizonte with her husband and dog. Jennifer loves living in a city that is largely unknown on the tourist or expat map and finds Belo Horizonte a very liveable city, with friendly people, good restaurants, and, of course, less crime than many other Brazilian cities. 

Read more about the country in the Expat Arrivals Brazil guide or read more expat experiences in Brazil.
About Jennifer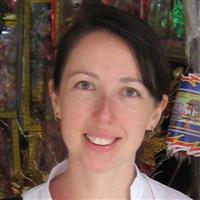 Q: Where are you originally from?
A: Seattle, Washington, in the United States
Q: Where are you living now?
A:  Belo Horizonte, Brazil
Q: When did you move to Brazil? 
A:  October 2011
Q: Did you move with a spouse/children? 
A:  I moved with my husband and my dog.
Q: Why did you move to Brazil; what do you do?
A:  We moved here for my husband's work. Previously, I worked in operations for a large non-profit in the US. However, I do not have a work visa in Brazil (a common situation for spouses here), so I have been writing, reading and volunteering.
About Belo Horizonte
Q: What do you enjoy most about Belo Horizonte, how's the quality of life? 
A:  Belo Horizonte is Brazilian to the core. There aren't a lot of other expats here, nor does the city receive very many foreign tourists. To be honest, I hadn't even heard of it before we moved here! I love having the experience of living in a city that is largely unknown in the US. And Belo Horizonte is a very liveable city – the people are friendly, there are good restaurants and bars, there are parks and cultural attractions, and it has less crime than many other large cities in Brazil.
Q: Any negatives? What do you miss most about home? 
A:  The biggest challenge to living in Belo Horizonte is one that exists throughout Brazil: the infrastructure. The sidewalks are rough, the roads have potholes, the wireless phone network is overloaded, and the airports are undergoing constant renovations.

Make no mistake – Brazil and Belo Horizonte are working very hard to improve their underlying infrastructure in all of these areas. But they are starting so far behind the current size and demands of the population, that they have a long way to go. It's manageable, but a definite challenge.
I enjoy our life in Belo Horizonte, so the things I miss most about home tend to be family and friends and then the little things like favourite foods and TV shows. 
Q: Is Belo Horizonte safe? Are there any areas expats should avoid?
A: Belo Horizonte is a relatively safe city versus other large cities in Brazil. While the city does have a high violent crime rate, that crime is concentrated in neighbourhoods with the most intense drug trade. Expats should use common sense when exploring the city. Ask locals before visiting unfamiliar areas, avoid wearing nice jewellery or carrying obviously expensive items, and be aware of your surroundings. The most immediate safety concern for most expats will be crossing the street – cars often disobey traffic rules and pedestrians need to be cautious.
Q: How would you rate the public transport in Belo Horizonte? What are the different options? Do you need to own a car? 
A: Public transportation in Belo Horizonte is not great. If you live in a neighbourhood a bit outside of the city centre and are travelling downtown, a bus can be a convenient option. However, buses can be overcrowded, slow, and unsafe during off hours. The city is also building a light rail system, but it's still years away from completion. 
Traffic in Belo Horizonte is terrible, and it is getting worse as the number of cars increases. Taxis are plentiful (except during rush hour), safe, and not terribly expensive. Expats will probably want their own cars, even if they are living in walkable neighbourhoods.
Q: How would you rate the healthcare in Brazil?
A:  I've had great experiences with Brazilian doctors and pharmacies. That said, I've heard terrible stories about emergency situations in which it took hours for an ambulance to arrive due to a lack of sufficient services and traffic congestion. If you're looking for routine care, simple prescriptions, and otherwise basic services, I expect you'll find exactly what you need here in Belo Horizonte. If you need specialist or trauma care, the healthcare may not be what you need it to be.
About living in Belo Horizonte
Q: Which are the best places/suburbs to live in Belo Horizonte as an expat?
A:  There are lots of great neighbourhoods in Belo Horizonte, and the best one for you is going to depend on your particular interests and needs. For expats looking for an urban experience like we were – a high-rise apartment building with shopping, restaurants, and bars in easy walking distance – then neighbourhoods near the city centre like Lourdes and Savassi are a great option. A bit further from downtown, Anchieta and Sion are a little quieter, but still have a lot of activity. In more outlying neighbourhoods like Pampulha or Belvedere, you can find more space and quiet, but you'll likely be further away from services as well. All of these neighbourhoods tend to be rather expensive, so expats on a budget will want to look for bargains or get advice from realtors about nearby alternatives.
Q: How do you rate the standard of housing in Belo Horizonte?
A:  Overall, housing is good, but expensive. With a sufficient budget, you can find an apartment or house with all the amenities that you would find in any major developed city in the world. High-rise apartment complexes typically have a pool, an exercise room, a playground, and other conveniences. However, even in high-end housing, you'll encounter occasional problems with utilities and construction, and the frequency and severity of those problems will increase as your budget decreases.
Q: What's the cost of living compared to home? What is cheap or expensive in particular?
A:  The cost of living in Brazil is quite high. Manufactured goods are extremely expensive, and wealthy Brazilians in Belo Horizonte take shopping trips to Florida to save money. However, services (e.g. housekeeping, hairstyling) are much less costly here than in the US.
Q: What are the locals like; do you mix mainly with other expats?
A:  Belo Horizonte, and Brazil in general, have a very family-oriented culture, so the majority of residents were born in the region and have stayed here. But while locals may not be accustomed to encountering many foreigners, they are very hospitable. When I first arrived in Belo Horizonte, I encountered a lot of very patient people who were willing to let me muddle through conversations in broken Portuguese! I've had the opportunity to get to know both locals and expats, which is one of the benefits of Belo Horizonte's small expat population.
Q: Was it easy meeting people and making friends?
A:  When we arrived, I discovered that I stuck out for what felt like the first time in my life (brown-haired women named Jennifer are hardly unusual in the US). Here in Belo Horizonte, an American woman walking around with a large, black dog is a bit unusual! I found that it was fairly easy to meet people because Brazilians are very friendly. However, it was a little bit harder to make close friends.
About working in Belo Horizonte
Q: Did you have a problem getting a work visa/permit for Brazil?
A:  I was unable to get a work visa. My husband has one through his employer, but Brazil is not one of the countries that allow spouses to work automatically as well. It was a difficult transition, since my work has always been very important to me.
Q: What's the economic climate like in Belo Horizonte, is there plenty of work?
A: The unemployment rate here has been quite low for the last several years in all areas of the employment spectrum. However, as Brazil's growth has slowed, the job market has cooled as well. Anecdotally, I hear that it is getting more challenging to find new employment. 
Q: How does the work culture in Brazil differ from home?
A:  I'm not working here, but my volunteer activities have brought me in contact with a number of large employers so I do have some perspective on work culture in Brazil. There are significant differences from the United States in terms of structure and culture. From a structural standpoint, labour restrictions, business regulations, and the tax code are all more bureaucratic here, adding a layer (or several layers!) of complexity to doing business. Culturally, Brazil is socially very hierarchical and communication tends to be indirect, versus the US's direct approach. Not to mention, from a gender perspective, while women are increasingly common in professional circles, there is still a strong fragmentation of the labour market along gender lines.
Q: Did a relocation company help you with your move? 
A:  We received assistance from a relocation company plus support from my husband's employer directly. 
Family and children
Q: Did your spouse or partner have problems adjusting to their new home?
A:  My husband and I had different experiences getting used to our new home given that he was working full-time from the start, but we still had many of the same challenges. The biggest hurdle for both of us was learning the language. Having already taken some Portuguese classes before we left, he already has some basic language skills when we arrived, but we both struggled day-to-day for a while!
Q: What are the schools like, any particular suggestions?
A:  Belo Horizonte has two English-language schools where most of the expat children I know are enrolled. There is an American School for K-12 as well as a Canadian school (called Maple Bear) for K-8. Brazil has notoriously bad public schools, so families of means send their children to English schools or private, Catholic schools.
And finally…
Q: Is there any other advice you would like to offer new expat arrivals?
A:  As everyone knows, soccer or futebol is Brazil's national sport, so a soccer metaphor will always serve you well here. The Portuguese verb chutar means "to kick," like kicking at the goal, and I'd encourage expats arriving in Belo Horizonte to chutar (metaphorically) as much as possible, putting themselves out there. Try out your new language skills, sample new foods, meet new people, and have patience with yourself and your failures in the process!

~Interviewed May 2013