Jennifer is an American expat living in Indonesia with her husband and daughter. They moved to Bogor, on the island of Java, when Jennifer was offered a position to teach English at a school in the city. They enjoy life in Bogor, which Jennifer finds to be a very family oriented city that offers many indoor and outdoor activities, along with amazing people, food and a convenient geographical location for exploring the region.
Read more about Indonesia in the Expat Arrivals Indonesia country guide and other expat experiences in Indonesia.
About you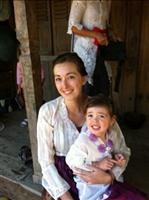 Q: Where are you originally from? 
A: Portland, OR, USA
Q: Where are you living now? 
A:  I live in a gated community in Bogor, West Java, Indonesia
Q: When did you move to Indonesia? 
A:  June 2012
Q: Did you move with a spouse/children? 
A:  Husband and four-year-old daughter
Q: Why did you move to Indonesia; what do you do? 
A:  I got a M. Ed in TESL a few years ago and as a part of my practicum, I taught and conducted research in a reading class at an international school in Bali. I fell in love with Indonesia and vowed to return. I applied for teaching positions all over the country and accepted a High School English Teacher position at a National Plus school in Bogor last year.
About Bogor
Q: What do you enjoy most about Bogor, how's the quality of life? 
A:  Before moving here, I talked to several classmates in my Masters programme about where they have taught and which places they most enjoyed. Bogor was one of the few Indonesian cities discussed, as it has a reputation of being quiet, green, and a bit cooler than other places on Java. After moving here I would agree to those points and add that the city is very family oriented. There are a ton of indoor and outdoor activities close by and other beautiful locations only a quick plane ride away, specifically Bali.
Q: Any negatives? What do you miss most about home? 
A:  We live in a large gated community, so we feel safe. There are security guards at every entrance and gates at the end of each driveway. Our daughter plays outside with friends and neighbours tend to look out for each other. However, we do feel a bit isolated living in this community. It's not easy to walk to the store or mall, so for the first year we lived here, we were dependent on ojeks (motorcycle taxis) and taxis to get us around Bogor. Going from a very independent lifestyle in Portland to a very dependent one here was and still is a big challenge for us. 
This past month we got a car, which has really improved our quality of life here; both for my husband and his daily commute to Jakarta for work and for us to get around on the weekends. Even with a car, we miss how everything in Portland is only 15 minutes away. You can sit in traffic for hours if you make the wrong turn in Bogor.
Q: Is Bogor safe? Are there any areas expats should avoid?
A: The city is relevantly safe. We were here during the anti-American protests in Jakarta last year, which was a little scary. We try to be culturally sensitive and as a precaution, we registered with the embassy so we get alerts if there are any travel alerts in the area.
Q: How would you rate the public transport in Bogor? What are the different options? Do you need to own a car? 
A: Public transportation is pretty poor here. Granted I come from Portland, OR, where the bus and max rails are cheap and reliable. The trains here are extremely unreliable and overcrowded, as is the case for buses. The bus to the airport is excellent, and so are taxis, when you can find one. It's not like Jakarta where you can hail a taxi. You really need to call and order them in Bogor, and even then they can be "habis" (empty/not available).
Now the most common form of public transportation here is the ojek (motorcycle taxi). These guys zip through traffic and can be found pretty much anywhere. The only real concern here is your safety!
Q: How would you rate the healthcare in Bogor?
A:  Poor. I hear there are nice hospitals in Jakarta, but based on my own experience, the doctors in Bogor really are under educated and over worked. There's a bit of a guessing game for diagnosis and you leave the hospital with a goody bag with a variety of different antibiotics and pain relievers. The visit and drugs are cheap, but it's crucial you take control of your health and double check on the Internet or with an expert back home for advice.
Personally, I call my father-in-law who is a Paediatrician in the US for advice, give the drug name to the pharmacy and pick up drugs directly. 
About living in Bogor
Q: Which are the best places/suburbs to live in the city as an expat?
A: A lot of expats who work in or around Jakarta live in specific suburbs, such as Komang and Tangerang, and about 45 minutes south, Bogor and Sentul.
Q: How do you rate the standard of housing in Bogor?
A: Pretty good in our gated community, and for most expats. However, once you walk into a kampung (local village) you'll see a really low and concerning standard of living. 
Q: What's the cost of living compared to home? What is cheap or expensive in particular?
A: Basic living costs (utilities and housing) are about a quarter of the price in comparison to back home. We are able to afford a full-time pembantu (maid/nanny) and even save a bit of money each month. My husband's salary as a consultant is a quarter of what he got back home, but I make relatively the same.
In terms of housing, you get what you pay for. For example, we pay around USD 300/month and our house is pretty big and furnished. For USD 200 you get a much smaller house with less furnishing. I assume that USD 500 can get you a mansion!
Q: What are the locals like; do you mix mainly with other expats?
A:  The locals are incredibly friendly. We're kind of celebrities here... everyone knows our name, especially my daughter's! Our friends are mainly expats, with a mix of Indonesian spouses and children. We try to join activities as much as possible, such as Hash House Harrier runs (we like the family run on Sundays) and local tours around Indonesia.
Q: Was it easy meeting people and making friends in Bogor?
A:  No, not really. We tried having a few dinner parties with new local friends but they felt formal and stuffy. I've noticed that when Indonesians are the majority at a gathering, it's focused around food. When we are with a majority of expats, it's usually a lot more informal and with beer!
About working in Bogor
Q: Did you have a problem getting a work visa/permit for Indonesia?
A:  Not at all, everything was sponsored by my employer. It took a bit of effort compiling all of the necessary documents, but the process was smooth.
Q: What's the economic climate like in Bogor, is there plenty of work?
A: I believe there is plenty of work, and expats tend to jump around schools a bit. It's all about networking here.
Q: How does the work culture differ from home?
A:  It depends on the field of work. My husband works on average 12 hour days; he's expected to stay connected day and night, meet with clients for dinner in the evening, and even entertain them out on the town. 
I very rarely work after 4pm and get 13 weeks of PTO (school holidays)! This has allowed us to travel extensively to Bali (several times), Lombok, the Gilis, Thailand, Singapore, Anak Krakatao, Bandung, Jogjakarta, Pelabuhan Ratu, and a remote Baduy village in western Java.
Q: Did a relocation company help you with your move?
A:  No. We paid for our plane tickets and brought six bags with us. 
Family and children
Q: Did your spouse or partner have problems adjusting to their new home?
A:  My husband came to Indonesia as a "trailing spouse", so he was awarded a KITAS. The KITAS let him stay in the country, but prevented him from working or volunteering. This drove him nuts and he started looking for work immediately. It took him six months to land a job worth getting out of bed for.
Q: Did your children settle in easily?
A:  My daughter settled much easier than I imagined she would. I think it helped that there were kids in the neighbourhood that adored her and that she attends the same school I teach at. We walk to school together every morning, and our routine is set in stone. I think having this routine from the very beginning helped her adjust quickly.
Q: What are the schools like, any particular suggestions?
A:  I know of one other international school and a private Christian school in the area. I'm a bit biased in that I feel my school, Sekolah Bogor Raya, has the best curriculum and teachers!
And finally…
Q: Is there any other advice you would like to offer new expat arrivals?
A:  If you can visit first, I would recommend doing so. This country requires a lot of patience and getting frustrated never helps a situation. One of the first things I learned when I moved here is that the second you show frustration or raise your voice, you lose. And believe me, you will get frustrated a lot! Is it worth it in the end? I would still say yes. The people, food, geographical location and history is amazing. You just have to learn to live on rubber time.

► Interviewed August 2013