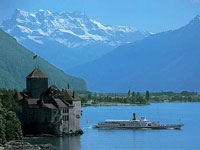 Jennifer Weaver is an American expat who moved to Zug Switzerland in 2012 with her husband and three children. Jen loves her host city of Zug and its family-friendly atmosphere. For her the key to a making a successful transition to life in a new city has been networking with other expats.
For more information read the Expat Arrivals Switzerland country guide or read about more expat experiences in Switzerland.
About you
Q: Where are you originally from?
A: I am originally from a small town in Connecticut. 

Q: Where are you living now?
A:  We live in the city of Zug in Switzerland. Very close to the old town. We live within walking distance to so many shops and the beautiful lake.

Q: How long have you lived in Switzerland?
A: We've lived in Zug since mid-July, 2012.

Q: Did you move to Zug with a spouse/children?
A: Yes, five of us signed up for this move; my husband and me, plus three rather reluctant kids.
 
Q: Why did you move to Switzerland; what do you do?
A:  My husband was offered a long-term temporary position with his company to help in the start up of a new company in Luzern.
About Zug
Q: What do you enjoy most about Zug, how's the quality of life?
A:  I love living in Zug. It is so family-friendly. I love the fact that my kids at 8, 11, and 13 can confidently and safely use public transportation and that so many shopping and recreational possibilities are literally on our doorstep.

Q: Any negatives? What do you miss most about home?
A: We all miss close friends and our pets. We decided to keep our home and rent it out which has made things a little messy but due to the fact this may only be for only three years, it seemed like the right thing to do. Also, finding a flat for us that was large enough AND accepted a dog was difficult. That being said, I love where we ended up, but I looked at hundreds of houses and flats on-line. What I didn't find out until much later was that expats who are leaving Switzerland often let other expats know via online groups for expats. If that doesn't result in a renter, then they will list on the rental sites.
 
Q: Is the Zug safe? Are there any areas expats should avoid?
A: Zug is honestly a delight.  It's safe for walking and biking. Bike trails go all around the lake. By watching web sites like Zug4you; you can keep abreast of all that is going on within the city.
 
Q: How would you rate the public transport in Zug? What are the different options? Do you need to own a car?
A: Public transport is fabulous! This is Switzerland after all. Safe, clean, and frequent. It's hard to beat. We went from having three cars to having one. I do miss driving just for the enjoyment of it. Driving in Switzerland is very expensive. Petrol costs are extortionate.

Q: How would you rate the healthcare in Switzerland?
A: I have found a dentist I love that the whole family goes to and a really lovely paediatrician for the kids. Both have been open for emergency visits and both speak English.
About living in Switzerland
Q: Which are the best places/suburbs to live in Zug as an expat?
A: That's impossible to answer for someone else. You know your family's needs best.  So I would advise expats moving to Switzerland to network, join expat websites and ask questions! You will be surprised by the openness and willingness to share from other expats.

Q: How do you rate the standard of housing in Zug?
A:  Coming from the US, there are differences. A yard or garden may be difficult to come by, screens don't exist, and refrigerators are so small. A lot of expats buy an additional freezer or refrigerator. I like the city-living after living in the country. Our flat is probably half the size of our US home but it was easy to adjust.

Q: What's the cost of living compared to home? What is cheap or expensive in particular in Switzerland?
A: The cost of living is crazy. We went to McDonald's last night and spent about $55 on dinner for 4! The cost of meat is unbelievable as well. It's a shock. Sales are few (twice yearly for the most part - save your money for the after Christmas sales. Well worth the wait). Nothing is cheap in Switzerland. Well, kids travel cheaply on public transport. Buy a junior pass for each child and you will save a ton.

Q: What are the locals like in Switzerland; do you mix mainly with other expats?
A:  Expats are so adept at finding one another. You will have a network in no time but you have to put yourself out there. It's hard to move to another country without a support network; be a support and you'll get support. It's harder to socialize with the locals, not that I don't think they are interested but because you may not travel in the same circles. I am currently trying to find a way to meet more locals.

Q: Was it easy meeting people and making friends in Zug?
A:  It was very easy, because Zug in particular has an expat population of about 20 percent, I believe.
About working here
Q: Did you have a problem getting a work visa/permit for Switzerland?
A:  We didn't because my husband's company facilitated the process.

Q: What's the economic climate like in the city, is there plenty of work?
A: Finding work can be difficult in Switzerland for the trailing spouse especially if you don't speak German.

Q: Did a relocation company help you with your move?
A: Yes. We had the support of Packipex.
Family and children
Q: Did your spouse or partner have problems adjusting to their new home in Switzerland?
A: The first three or four months were rough. No way to sugar coat that. Kids were missing family and friends, familiar foods; schools operate a bit differently as well. I found it difficult to accomplish sometimes the simplest tasks. I just decided to take on one challenge a day to keep my sanity. Ask for help!

Q: Did your children settle in easily to life in Switzerland?
A: It was different for each child. Don't lump the children together and expect each to have the same reaction. Be sensitive to what each child is telling you. My eight year had a tough time initially but is thriving now. My 11-year-old found the transition a much more difficult process and needed a lot more hugs and support. My 13-year-old seemed to do well initially, then retreated, but recently there has been a huge change for the positive. He says he really likes it and loves his school. He's active socially and would stay for the long haul. 

Q: What are the schools like in Switzerland, any particular suggestions?
A: My children attend a private, bilingual school. I love it but it was an adjustment. How to approach teachers, what was expected from the kids, grading scales, helping them negotiate new friendships, all things we are still figuring out.
And finally…
Q: Is there any other advice you would like to offer new expat arrivals?
A: Ask for help! Network! You'll need it but it will be worth it. I promise

~ Interviewed in January 2012