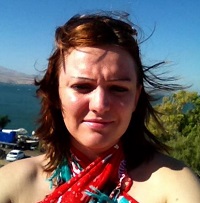 Oana Barker studied Music in Brussels and Germany, and went on to work as a pianist (and piano teacher) at the Staatstheater Schwerin, Germany. At the same time, she developed an interest for trading and investing, and in 2009 she moved back to Bucharest, Romania and became a trader.
She still lives in Bucharest, working as a private trader in the financial markets, and gives us a repatriate's perspective on life in Romania.
About Oana
Q: Where are you originally from?
A: Bucharest, Romania but I lived in Germany for a few years.
 
Q: Where do you live now?
A:  Bucharest, Romania
 
Q: When did you move here?
A:  June 2009
 
Q: Did you move here alone or with family?
A: With my family
 
Q: Why did you move; what do you do?
A:  We moved here for family reasons; I am a futures trader and I work from home
Living in Romania
Q: What do you enjoy most about Bucharest? How would you rate the quality of life compared to Germany?
A: I personally find Bucharest a nice place to live and raise kids! There are lots of parks, malls, bars and restaurants, and there is also a rich cultural life, with many choices if you want to go to a concert, museum, or watch stand-up comedy or a play.
 
What I find really nice about Bucharest is that every weekend there is a fair or open market somewhere in the city with shopping and eating. Depending on the theme you can find typical Romanian, homemade food, arts and crafts, and antiquities – they even have a toys fair once a year.

There are also bigger seasonal markets like the Christmas market, the first of March fair, Easter fair and Children's Day market in June).
 
One of my favourite places is China Town – a huge shopping centre filled with Chinese products and food. Another favourite is Parcul Herastrau, a huge park (one of many), with a nice lake where you can take boat rides from April to October.
 
Along with the state health system there is a pretty good private healthcare system, for which one can get cheap and relatively good health insurance.
 
The same thing goes for education: along with the state kindergartens and schools , there is a large offering of private nurseries, preschools and schools, and many teach in foreign languages (anything from English to Turkish, Arabic and even Hebrew!).
 
Some of these schools are a real bargain – excellence for a really affordable price!
 
Q: Any negatives? What do you miss most about Germany?
A:  The people seem in general friendly and open minded; however, if you spend a bit more time here, you notice that relationships between people are often rather superficial, and there is absolutely no sense of community; in Bucharest, everybody lives for himself!

The traffic is a different story. I have seen worse in the Middle East, but compared to the safety of Germany, traffic in Bucharest could give you nightmares (especially during rush hours). To make things worse, streets are often in bad shape and there's no good parking system – people just leave their cars on the side of the street for a few hours.
 
Since we moved back here I never really had the feeling that there is much serious crime or that it's dangerous to walk the streets. But depending on the neighbourhood it's a good idea to keep a careful eye on your bag or wallet and to avoid suspicious-looking streets, especially at night.
 
Luckily, since I work from home I haven't had much to do with the state offices (like tax and post offices); however, I know for a fact that these offices are dragging Romania down. If you need official paperwork from any government office, you can expect an unpleasant experience.
 
Q: What are the biggest adjustments you had to make when settling back into life in Romania? Did you experience any culture shock?
A: Yes! Romania is part of the EU and will probably join the Euro Zone in the next few years, but the mentality is as far from the German mentality as it is from the Middle Eastern one.

It's somewhere in between Russia, Germany and Turkey – people can be extremely hardworking and reliable, but German efficiency is nowhere in sight. But family is highly respected, almost like I've seen in the Middle East.

People here have a different way of solving problems – it takes longer (partly because of the dreadful state system), and getting things done often involves giving 'gifts' to open doors.
 
I remember in the first few years I was back, every time I went to the supermarket I ended up getting angry; usually because of the unprofessional service. But sometimes we'd have incidents like the power being cut off or finding the car scratched in the parking lot.
 
Q: What's the cost of living like compared to Germany? What's cheap or expensive in particular?
A: Bucharest is not a cheap city. Food here is about a third more expensive than in Germany and rents are low (after the real estate crash), but expenses easily add up if you have a car and like to go out.

Restaurant meals are a bit more expensive than in Germany, but basically every place offers cheap lunch deals.
I would say though that a single person could get by with a monthly income of around 1000 EUR.
 
Q: What is public transport like in Romania? Do you need to own a car?
A: The Bucharest metro is one of the best (and nicest) I've ever seen – fast, civilised and very cheap, it covers most of the city. You need a car if you have kids, but otherwise you can avoid the dreadful traffic and ride the subway. Taxis are also among the cheapest in the world.
 
Q: How would you rate the healthcare in Bucharest?
A: The official state healthcare system is one of the poorest in Europe. No doctor or nurse will blink in your direction without a bribe; and even with one, there is no guarantee that you will get good care at all.
 
In parallel (and probably exactly because the state system is so bad) private healthcare is very good. Private clinics and hospitals open and close here like restaurants, but the few that last are usually okay.

However, since I lived in Germany, where the healthcare is among the best in the world, my own standards are very high. Until now, only private networks like Sanador and Regina Maria have reached the level of service I expect. By the way, the Regina Maria network offers health care to the Romanian Royal Family (yes, we also have a royal family).
 
There's a rich offering of health insurance for the private clinics, but almost no insurance will cover all your needs. You usually get a flat rate for doctors checks and basic tests, and for anything else you'll need to pay a percentage. Therefore, even with insurance, a visit to the clinic or a stay in the hospital will never be totally free.

A few insurance companies have policies that cover everything – the monthly fees are as high as in the West.
 
Q: What are the biggest safety issues facing expats living in Bucharest? Are there any areas expats should avoid?
A: Yes – avoid neighbourhoods like Rahova and Ferentari. And if you go to the markets, or anywhere else that's crowded, keep an eye on your pockets. Otherwise, Bucharest is not a dangerous place.
 
Q: How do you rate the standard of housing in Bucharest? What options are available for expats?
A:  That depends on your location. If you work is in one of the new business areas (like Baneasa, Pipera or Militari), it makes sense to live there.

Baneasa and Pipera are nice, but they are some of the most expensive neighbourhoods in town.
Otherwise, almost every neighbourhood has modern, well-equipped and usually high-rise apartment buildings for decent prices.

My favourite areas are in the Old Town – Universitate, Unirii and Piata Romana. You'll usually find older apartments full of character and charm, with high, often carved ceilings; but some of them are modernised and equipped with air conditioning and central heating.
 
Q: Any areas you'd recommend for expats to live in?
A: Baneasa, Pipera or Tei. If you like the beautiful, older buildings: Carol, Universitate, Romana, Calea or Victoriei.
Meeting people and making friends in Romania
Q: How tolerant are the locals of foreigners? Is there any obvious discrimination against particular religions or women?
A: People here love foreigners! There's an English-speaking community, a strong French community and a growing German-speaking one. Since there are Cultural Institutes of the Spanish and Italian embassies that offer language courses and social events, I assume there are also Spanish and Italian communities.Besides these, there are many Chinese people, and people from the Middle East.
 
Unfortunately, since Romanians are very conservative, if you're too different you might have more difficulties with integrating and adjusting, especially with the older generation.

Q: Was it easy meeting people and making friends? How did you go about meeting new people?
A: Meeting people and socialising is easy, but making real friends is as difficult as it is anywhere else. I find people here can be self- orientated, and have rather superficial relationships. Everybody is focused on their own life.

You can also expect to be judged by your appearance, the car you drive, your clothes and phone – the more expensive they are, the more attention you receive. Somebody once said that people in Romania might not have enough to eat, but they'll drive a BMW.
 
Q: Have you made friends with locals or do you mix mainly with other expats? What advice would you give to new expats looking to make friends?
A:  Given that I'm Romanian, I've known my friends since university. But after I moved back here, I've only managed to make friends with foreigners, or other Romanians who, like me, have lived abroad for many years.
Expats will most likely do the same – mix with other expats, or with repatriated or at least well-travelled Romanians. I sometimes find the older people from here to be too conservative.
About working in Romania
Q: What's the economic climate like in Bucharest? Do you have any tips for expats looking to find a job there?
A: Bucharest is very open towards foreign business and investment; basically, most big multinational firms and international brands are represented here.

However, Romania was badly hurt during the economic meltdown in 2008, and we have been struggling to find a way out ever since.

If you want to find a job it won't be easy but it depends on your expertise. You can apply online through jobs search engines. There's huge need for qualified, competent professionals here, so if that's the case, you will have a good chance in almost any field.
 
Q: How does the work culture differ from home? Do you have any tips for expats doing business in Romania?
A: People here are expected to work long hours, often without extra pay; the working regulations aren't at all comparable to those in Germany; and contractual clauses can be ambiguous.
Family and children
Q: Do you think there are any specific challenges for a trailing spouse?
A: Even if you don't work, your life in Bucharest can be pretty enjoyable if you can accept the fact that many things aren't as they should be in a first-world country. Otherwise, there are plenty ways to pass your time, and if you're sociable it will be easy to meet new people.
 
Q: What are the schools like, any particular suggestions?
A: Private education here is a real bargain. You'll find lots of preschools and schools offering high quality education, often for a very good price.

The teaching language is Romanian, but there are enough schools in English and German and at least one in French.
There is a state school in Spanish, and Arabic, Hebrew and Turkish private schools. A few international schools are half-Romanian, half-English or German, and there's an English Montessori school and preschool.

A typical private school offers classes that follow the national (or an international) curriculum until lunch at 12pm, and there's an optional expanded program until 6pm. Parents can also choose from various optional courses like sports, arts, music and languages (usually at an extra charge).
And finally…
Q: Is there any other advice you would like to offer new expat arrivals?
A:  Learn the language – it could be of immense help everywhere you go!

► Interviewed in June 2015