Ray is a Canadian expat of Chinese origin who is living in Stockholm as part of a Canadian Youth Exchange Program with Sweden. He is a seasoned expat, having lived in Australia before making the big move to Sweden. Ray finds the Swedish government and people quite similar to Canada, which can be comforting, but can also sometimes make him homesick.
Read more about Sweden in our Expat Arrivals Sweden guide or more expat experiences in Sweden.
About Ray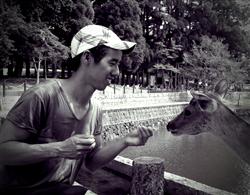 Q: Where are you originally from? 
A: Well, I was born in Vancouver, Canada, but my parents immigrated from Hong Kong and China.
Q: Where are you living now? 
A:  I live in Stockholm, Sweden.
Q: How long have you lived in Stockholm? 
A:  I have lived here since July 2011.
Q: Did you move with a spouse/children? 
A:  No, moving to Sweden was a personal challenge and I moved here with only a few Swedish contacts from my time working and living in Australia.
Q: Why did you move; what do you do? 
A:  I moved to Sweden for many personal reasons and timing of both personal and career seemed aligned at the time. Prior to Sweden, I lived in Sydney, Australia, where I worked on a bank merger for three years and lived in an expat suburb. There I had a chance to meet people from around the world, and where I realised I enjoyed being around Swedish people. Their patriotism brewed curiosity within me to apply for the Canadian Youth Exchange program with Sweden.
My career, like many, was very much based on events that were out of my control. I studied business at the Sauder School of Business at The University of British Columbia in Vancouver. Understanding the need for experience, I participated in the co-operative work experience programme that would allow students to rotate 12 months of degree related work experience within their third and fourth year of study. It was during that time I had an opportunity to work with consultants and realised how well the consulting profession fit my personality. 
Eight years since then, I am still a consultant but in a new industry, still working on projects to help my clients achieve their business objectives.
About Stockholm
Q: What do you enjoy most about Stockholm; how's the quality of life? 
A:  The serenity that lies in Stockholm is a blend of natural beauty and iconic historic architecture. The government is more similar to Canada than Australia, so it feels like a home away from home. Surprisingly, the air and water here are amongst the cleanest in Europe, which adds an extra level of comfort whilst living here. I feel safe here, the full public health care programme alleviates fear and helps remove stress from personal finances. The infrastructure is quite good which allows me to do the things I need in an efficient manner.
Q: Any negatives? What do you miss most about home?
A:  Sometimes I find that there is a very specific defined process that must be followed even if it is not applicable. It also takes a long time to become a citizen and that can be daunting and can deter people from staying. Housing is also very challenging due to the regulated environment.
The Swedes remind me of Canadians and so sometimes I miss my own people. With the significantly larger Asian population in Canada, I also miss the delicious Chinese food available in Vancouver.
Q: Is Stockholm safe?
A: Yes, for the most part I feel safe. There will always be crime, but as long as you are making smart decisions, the city is on the safer side of large cities.
Q: How would you rate the public transport in Stockholm? Do you need to own a car, or is the public transport sufficient for getting around? What are the different options?
I think the public transit is adequate and does not force me to own a car to get around. There are buses, subways and country trains.
About living in Sweden
Q: Which are the best places/suburbs to live in Stockholm as an expat?
A:  I enjoy being in Södermalm because of the diverse demographics. There is access to multiple train lines, country train and buses. There are quaint coffee shops and boutiques for those looking for unique items.
Q: How do you rate the standard of accommodation in Stockholm?
A:  I live in a newer building that has all the necessary amenities, but many buildings are historic ones which have older elevators and wet rooms for bathrooms. My current living arrangement is very high, but not as common as the historic building setup. It is very common to use a shared laundry which was a new experience for me.
Q: What's the cost of living compared to home? What is cheap or expensive in particular?
A:  In relation to Sydney and Vancouver my housing costs are much lower. That is because the rental market is regulated.
Q: What are the locals like; do you mix mainly with other expats?
A:  The locals are friendly if you are introduced to them via another local. There is a general respect for not disturbing strangers. My friends are a blend of expats and locals developed organically via networking through my initial friends. 
Q: Was it easy meeting people and making friends in Sweden?
A: It happened quite organically for me based on playing sport, training, and from my flatmates.
About working in Stockholm
Q: Did you have a problem getting a work visa/permit for Sweden?
A:  It was very straightforward for me as a Canadian and my eligibility for the Youth Exchange Program.
Q: What's the economic climate like in Stockholm, is there plenty of work?
A: It depends on industry, but technology and gaming have been strong industries which have accepted more expats without requiring strong proficiency in Swedish. The fact that the Sweden has kept its own currency (SEK) has sheltered Sweden from some of the Euro Zone issues.
Q: How does the work culture in Sweden differ from home?
A:  I believe the Swedish culture is quite similar to Canadian culture; we are not very aggressive people and our countries have many programmes that protect the people. Oh and both countries have a passion for hockey. In fact, Canada and Sweden are part of the founding members of the Arctic Alliance.
Q: Did a relocation company help you with your move? 
A: No, I researched on the internet and asked a few Swedish friends for advice. Moving money to Sweden was also important for me to avoid expensive banking fees, so I used an online foreign currency exchange service from E-Value Business, which works with an international money exchange company that allows people to convert their foreign money into the local currency to avoid high banking fees and deposit it into their local bank account.
And finally…
Q: Is there any other advice you would like to offer new expat arrivals?
A: Take the opportunity to immerse yourself into all the cultural activities. Join clubs and groups to connect with people of similar interests. Let the experience give you insight and new perspective.
– Interviewed July 2012