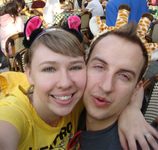 Simon, a Canadian expat living in South Korea, cites life in Bucheon as nearly perfect. He's found all the perks of Seoul's big city pace coupled with a more affordable cost of living and less hustle and bustle. Even his dog seems to be happy. He maintains a blog, along with his second half, about life in South Korea: Eat Your Kimchi.
Read more about South Korea in the Expat Arrivals South Korea country guide or read more expat experiences in South Korea.
About Simon
Q: Where are you originally from?
A: Toronto, Canada
Q: Where are you living now?
A: Bucheon, South Korea
Q: How long you have you lived here?
A: Almost 3 years
Q: Did you move with a spouse/ children?
A: We're living together as a married couple. Does a dog count as a child?
Q: Why did you move; what do you do?
A: We moved here to teach English in Korea
About Bucheon, South Korea
Q: What do you enjoy most about Bucheon, how's the quality of life in Korea?
A: The convenience. I have everything I need within ten minutes walking distance. I can eat at restaurants, go to convenience stores, shop for groceries, buy appliances, go to the park, hop on the subway or a bus. It completely eliminates the need for a car.
Q: Any negatives? What do you miss most about home?
A: It's really busy here, and sometimes we miss just having a quiet, relaxing, non-busy atmosphere. Back in Canada, we can sit in the backyard and swim in our pool and enjoy the silence of our neighbourhood. Here, everything is sooooo crammed.  It's convenient, yes, but sometimes we miss empty space.
Q: Is Bucheon safe?
A: Safer than anywhere we've ever lived in our lives. We can walk through the park at midnight and the worst we'll see is two guys playing frisbee.
About living in Bucheon
Q: Which are the best places/suburbs to live in Bucheon as an expat?
A: We think Bucheon is perfect. It has most of the perks of Seoul without the drawbacks. If you'd like to be right in Seoul, though, we'd recommend Samchungdong or Hongdae. They're really cool areas with really funky scenes going on.
Q: How do you rate the standard of accommodation?
A: Five out of five. In Seoul, you will be paying a lot of money to live in a tiny apartment. We need a bigger place, so we decided to stay in Bucheon.
Q: What's the cost of living in South Korea compared to home? What is cheap or expensive in particular?
A: Eating out and transportation are mind-numbingly cheap. Buying groceries, though, is more expensive.  Expect to pay 16,000 won for 350 grams of beef!  
Q: What are the locals like; do you mix mainly with other expats?
A:  Yeah, we mostly hang out with other expats. We have a few Korean friends, though.
Q: Was it easy meeting people and making friends?
A:  Definitely. There are foreigner bars here that make socialising easier.
About working in Bucheon
Q: Did you have a problem getting a work visa/permit?
A: Not at all. Our recruiters handled it for us.
Q: What's the economic climate like in the city, is there plenty of work?
A: For foreigners, no. The only jobs here for expats are in education. Finding other jobs is exceptionally difficult from what we've been told.
Q: How does the work culture differ from home?
A: Hmmm, well a 9 to 5 here means 9 to midnight often. People who work in Korean offices really work looooong hours, and then stay with their co-workers afterwards to socialise. Expats often don't have to work these hours because of the contracts that they sign, so they don't have to worry about it.
Q: Did a relocation company help you with your move?
A: Yes. We highly recommend going through a relocation company. They know the paperwork you'll need to sign, records you'll have to get, what the immigration process is like, and they'll have the answers to the questions you'll ask. Sure, you can do it on your own, but going through a company saves you a lot of headaches.
Family and children
Q: Did your spouse or partner have problems adjusting to their new home?
A: Not at all. We were both willing and eager to come here.
Q: How would you rate the healthcare in South Korea?
A: Exceptional, and inexpensive. Private and public healthcare options are both available, and the public ones are stellar. Every specialist doctor is required to have studied overseas for a bit, and so they are often proficient in English. The waiting times are nowhere near as long as what we're used to back home, and the technology they have here is state of the art. Prescription medicine costs peanuts.
And finally…
Q: Is there any other advice you like to offer new expat arrivals?
A:  Come with an open mind. Things are different here, but that doesn't make them wrong.
~ interviewed May 2011