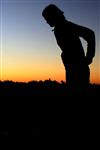 Monique Simons is a South African expat living in Luanda. Things haven't been entirely easy for her and her husband since their move to Angola. In this interview, she provides a calm and patient overview of some of the difficulties (and some of the benefits) expats moving to Luanda can expect to experience, as well as providing some essential pre-trip advice. 
Read more about Angola in the Expat Arrivals Angola country guide or read more expat experiences in Angola.
About Monique
Q: Where are you originally from?
A: South Africa 
Q: Where are you living now?
A:  Luanda Sul, Luanda
Q: How long you have you lived here?
A:  4 months
Q: Did you move with a spouse/children?
A:  Yes, with my husband
Q: Why did you move; what do you do?
A:  My husband works here; I'm 'support'.
About Luanda
Q: What do you enjoy most about your host city, how's the quality of life?
A:  The thing I enjoy most is getting out of Luanda for a weekend, going south along the coast and exploring the beaches. As for quality of life: being an expat means I'm sheltered from the harsh realities of local life in Luanda.
Q: Any negatives? What do you miss most about home?
A:  It's hard to find fresh fruit and vegetables, consistently. The things I miss the most here are fresh produce, health products, good medical services, and freedom to go about as I please.
Q: Is the city safe?
A:  I'm told it's fairly safe, although expats are more frequently targeted with regards to petty crimes and theft.
Q: Which are the best places/suburbs to live in the city as an expat?
A:  Talatona / Luanda Sul.
Q: How do you rate the standard of accommodation?
A:  Good. 
Q: What's the cost of living compared to home? What is cheap or expensive in particular?
A:  It's crazy. Renting an apartment here is ridiculously expensive. Basically, everything is expensive, if you can find what you're looking for at all. Almost everything is imported, so huge premiums are added to make up for transport, bribes and stock losses. For example, an iPod costs at least 3 times as much as in the States.
Q: What are the locals like; do you mix mainly with other expats?
A:  I mix mainly with other expats. The locals are generally quite friendly and open.
About working in Angola
Q: Did you have a problem getting a work visa/permit?
A:  Yes – I am still waiting for my visa, after 4 months. I have to do repeated trips in order to get another entry visa, because my long-term visa is just taking so long. Everyone here has visa problems.
Q: What's the economic climate like in the city, is there plenty of work?
A:  I don't think so. People are poor; wages are low. It's different for expats, of course.
Q: How does the work culture in Angola differ from home?
A:  Here everything works according to African time.
Family and children
Q: Did your spouse or partner have problems adjusting to their new home?
A:  No, we are quite flexible.
Q: How would you rate the healthcare?
A:  Very basic. We went to have a malaria test done once – it took five hours of waiting to have it done. In the end the doctor prescribed vitamins and an antibiotic, which didn't help as the clinic was out of antibiotics. I would try my utmost to avoid having to make use of medical services here.
And finally…
Q: Is there any other advice you like to offer new expat arrivals?
A:  Get in touch with an in-country expat and ask them as many questions as you can. And bring everything you think you'd need as far as clothes, toiletries, etc. go. You either won't find it here, or wouldn't want to pay the high prices. Also, bring a water purifier with you (such as a distiller), and any special food products you think you might need, apart from the basics. And join a Portuguese language class as soon as possible, as you will not be able to use English anywhere. Don't prepare to look fancy or to wear jewellery when you are out – basics are the way to go, as you will want to look inconspicuous.  
► Interviewed March 2011