Youmna is a Lebanese expat who moved to Angola with her husband in 2009. They live in the country's sprawling capital, Luanda, and like most expats living in the city, moved there because of her husband's job. They have since had two children and, despite the high cost of living and the many challenges that come with living in this African city, have had a pleasant expat experience. 
About Youmna
Q: Where are you originally from?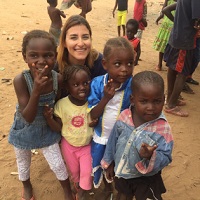 A : I am originally from Lebanon.
Q: Where are you living now?
A: I am now living in Luanda, Angola
Q: When did you move to Angola?
A: I moved here in 2009.
Q: Did you move to Angola alone or with a spouse/family?
A: I moved with my husband.
Q: Why did you move; what do you do?
A:  My husband works in Angola, so when we got married I moved to live with him.
Living in Angola
Q: What do you enjoy most about Luanda? How would you rate the quality of life compared to Lebanon?
A:  The thing I enjoy most about Angola is the beach. In terms of the quality of life, it's expensive!  Luanda is the most expensive city in the world for expats, so living a good quality of life is also expensive.
Q: Any negatives? What do you miss most about home?
A: It's still a country in development, so negatives are always around in regards to medical care, supermarket supplies and all of that, but through all the years it has improved majorly.
Q: What are the biggest adjustments you had to make when settling into expat life in Angola? Did you experience any particular elements of culture shock?
A: The biggest adjustment was not being able to drive at first and not understanding the language, Portuguese.
I would not say culture shock in particular, but there were definitely so many different sightings and encounters that would leave me shocked.
Q: What's the cost of living compared to home? What is cheap or expensive in particular?
A: Angola is very expensive
Q: How would you rate the public transport in Luanda? What are the different options? Do you need to own a car?
A: Public transport is mainly only used by the locals. As an expat you definitely need a car and a driver at first to be able to get around and understand the roads. 
Q: How would you rate the healthcare in Luanda? Have you had any particularly good/bad experiences with regards to doctors and hospitals? Are there any hospitals you would recommend?
A: I did not have any particular bad experience. I used the clinics here for kid's vaccines, blood tests and pregnancy visits. There are some qualified doctors, however in the case of emergency it's preferable to contact your own doctor abroad who would advise on the next steps to take. 
Q: What are the biggest safety issues facing expats living in Angola? Are there any areas expats should avoid?
A: There are no major safety issues in Luanda. However, one must not walk around with big sums of money, or even walk all together in packed areas on the street, especially during rush hours. 
Q: How do you rate the standard of housing in Luanda? What different options are available for expats?
A: Housing is also very expensive. There are two options: apartment buildings and compounds. If you are with family, compounds are highly recommended otherwise apartment buildings in the heart of the city with high security are very expensive and can reach as much as US$12,000 a month.
Q: Any areas/suburbs you'd recommend for expats to live in Luanda?
A:  I would personally recommend Talatona, it's a suburb about 20 minutes away from the city.
Meeting people and making friends in Launda
Q: How tolerant are the locals of foreigners? Is there any obvious discrimination against particular religions or women etc.?
A: I have not witnessed any intolerance or discrimination from the locals towards the foreigners.  However it helps if you are fluent in Portuguese to be able to communicate with them without any trouble or misunderstandings.
Q: Was it easy meeting people and making friends in Luanda? How did you go about meeting new people?
A:  Meeting new people starts with meeting people from your own community and/or workplace. However, when the kids started school, our circle expanded to different nationalities as well.
Q: Have you made friends with locals or do you mix mainly with other expats? What advice would you give to new expats looking to make friends? Any social/expat groups you can recommend?
A:  I would recommend Internations, they do outings for expats on a regular basis. There are several other ladies groups, like TICA and American and British women associations that also do gatherings and events for the expat community to mingle.
Working in Luanda
Q: How does the work culture differ from home? Do you have any tips for expats doing business in Angola?
A: It definitely has its own work culture no doubt! It's important to keep all your papers legal, and up to date, and informed about any changes or law modifications in the industry of the business the expat is in.
Family and children in Angola
Q: Did your spouse or partner have problems adjusting to their new home? Do you think there are any specific challenges for a trailing spouse?
A:  I am myself a trailing spouse. The challenge was definitely not being able to work right away and having to depend on someone else to take me around the city.
Q: Did your children settle in easily? What were the biggest challenges for your children during the move?
A: I have a six-year-old and a three-year-old and both are doing very well as they have been living in Angola since after they were born. 
Q: What are the schools like? Any particular suggestions?
A: There are options. Portuguese/French and American. We put our kids in the French Lycée, which I highly recommend and is up to very good standards of education.
And finally…
Q: Is there any other advice you would like to offer new expat arrivals to Angola?
A: It's challenging at first and needs a whole lot of adaptation. If you are a trailing spouse it's very important  to fill your time during the day. There are many different women expat organisations that do charity work that will give you another perspective of the country and will be a good experience for the time you will be spending in Angola.

►Interviewed in January 2017