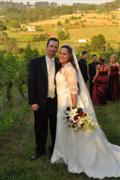 Tonia Warren moved to Melbourne on her 20th birthday. Now a dual American/Australian citizen, she visits America about every two years. After seven years together, she and her Australian husband were married in January 2011 in the Dandenong Ranges.
About Tonia
Q: Where are you originally from?
A: Atlanta, Georgia, USA
Q: Where are you living now?
A:  I am currently in Berwick, but I have lived in Monbulk, Ferntree Gully, Blackburn and Ivanhoe.
Q: How long you have you lived in Australia?
A:  9 years.
Q: Did you move with a spouse/children?
A:  No. I was 20 when I moved here, and have since married an Australian. My family here includes my husband and in-laws, my mother, stepfather, and two younger siblings.
Q: Why did you move to Australia; what do you do?
A:  My mother married an Australian and moved here a year before me. I missed her!
About Melbourne, Australia
Q: What do you enjoy most about Melbourne, how's the quality of life in Australia?
A:  I have worked in the city since I moved here, as well as attended university part-time in the city.  Whether you live in the outer suburbs or inner suburbs, access to public transportation has always been fantastic in my experience. Commuting to the city for work is very easy, just check the public transport in the area first, I know some areas are better than others in this regard.
Melbourne and surrounds is amazing!  It is very multicultural with people from all corners of the globe.  It is family friendly, there are always things to do and see, varying in price from free to expensive.
The quality of life is awesome!
Q: Any negatives? What do you miss most about home?
A:  Halloween is not very entrenched in local culture, and I miss the cheap shopping in America!
Q: Is Melbourne safe?
A:  Extremely.
About living in Melbourne
Q: Which are the best places/suburbs to live in Melbourne as an expat?
A: Ivanhoe and surrounding suburbs are great if you want to be close to the city.  Other than that, anywhere close to the freeway and a train station.
Q: How do you rate the standard of accommodation in Australia?
A:  If you're coming from America, I can say it is different. The type and standard of accommodation depends on where you move, and varies. Most places are built to a much better quality here (one example would be roof tiles – you don't really find shingles here).
Q: What's the cost of living in Melbourne compared to home? What is cheap or expensive in particular?
A: I think the price of housing, whether you're renting or buying, is among highest in the world - big con. However, wages are much higher, which is a big pro. Also, if you are a permanent resident or citizen you have access to the public health system.
Q: What are the locals like; do you mix mainly with other expats?
A:  The only American I really 'mix' with here is my mum! I have made a great many close friends here locally and all of my in-laws are local. I also have a lot of friends who have moved here from many other parts of the world.
Q: Was it easy meeting people and making friends in Australia?
A:  It was very easy to meet people and make friends, but at 20 isn't it always? My mum also found this easy and made many friends through work and neighbours. Melbournians are very friendly!
About working in Australia
Q: Did you have a problem getting a work visa/permit?
A:  I was able to be listed on my mother's visa – initially temp resident (though she married an Australian it was easier for her to go through employer sponsorship initially because of her profession). We then became temporary residents and citizens. It was a long process but not too complicated.
Q: What's the economic climate like in Melbourne, is there plenty of work?
A:  The economy here is among the strongest in the world, and there are plenty of jobs.
Q: How does the work culture differ from home?
A:  The work culture is more laid back, wages are higher and employees have more rights. Also, if you are a permanent employee, you get four weeks of paid annual leave each year – this is my favourite thing about Australia!
Family and children
Q: What are the schools like, any particular suggestions?
A:  Schools in Melbourne, I think, are good, but private schooling is more popular here than in America.
Q: How would you rate the healthcare in Australia?
A:  Fantastic! Sometimes you have to wait a bit longer, but it's easy to access and the treatment is very good.
And finally…
Q: Is there any other advice you like to offer new expat arrivals?
A:  Explore and try out as much as you can! It took me six months to get my first permanent job here, but I got some casual work before that. Even when I had little money, I used to take the train into the city and just walk around and explore things. It's a great place to live!
► Interviewed November 2011