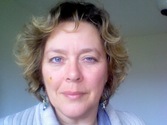 Tove, a Norwegian expat living in Greece, left home to escape the rat race of life as a reporter and to settle down with her Greek hubby. Now, nearly 20 years later, she reflects on a very lengthy expat experience.
She keeps busy running a B&B in a small village in northern Greece.
Learn more about moving to Greece, or read more expat experiences in Greece.
About Tove
Q: Where are you originally from?
A: Trondheim, Norway
Q: Where are you living now?
A: Eleftheres, a village outside Kavala in northern Greece.
Q: How long you have you lived here?
A: Since 1993
Q: Did you move with a spouse/children?
A: No, I moved to marry! :)
Q: Why did you move; what do you do?
A: I moved because I wanted to live with my Greek boyfriend, now husband, in Greece. I had lived in Greece for shorter periods earlier and LOVED the country. Also, I was really fed up with my job as a newspaper reporter. I felt my life was all about work, very fast, with no time for other things that I like to do. So I was ready for a major lifestyle change. Which I got.
About Greece
Q: What do you enjoy most about your host city, how's the quality of life in Greece?
A: It's very, very beautiful. I like to live in a small place. You feel safe, people are friendly. It's a very holistic lifestyle, as we work from home, grow a lot of our own food and always have had time to be around our kids. The climate is fantastic, so we spend loads of time outdoors. And the food is great. I feel very healthy living here!
Q: Any negatives? What do you miss most about home?
A: Sometimes I miss structure and order. The built-in Greek talent for being laid-back is a two-sided coin – I could do with some more initiative, creativity and action from time to time.
Q: Is Greece safe?
A: Very. We never lock the doors. We never have to worry about the children either – there's always someone who keeps an eye on them if we're not around. People care about each other. Once I had an accident late at night on my way home. I cried for help, and the village 'villain' came and led me by hand home and helped me call my husband. In another place, I'd probably have been mugged!
Q: What's the cost of living in Greece compared to home? What is cheap or expensive in particular?
A: Food, clothes and petrol are expensive. Public transport is cheap. It's also cheaper to build your own home here. That said, the living standard is much lower here than in Norway, in the materialistic sense.
Q: What are the locals like; do you mix mainly with other expats?
A: People are friendly, but I'll never be one of the village women. We are too different. My friends are other expats.
Q: Was it easy meeting people and making friends?
A: No, I felt quite lonely in the beginning. I was stuck at home with two small babies and no one to talk to. Learning Greek helped. I had to take a lot of initiative to get to know people.
About working in Greece
Q: Did you have a problem getting a work visa/permit?
A: No, it's more or less automatic when you come from Norway or the European Union countries. The hassle comes when starting your own business – but that's the same for the Greeks.
Q: What's the economic climate like in the city, is there plenty of work?
A: There are NO jobs. And with no jobs, I mean zero jobs. Do not expect to come to Greece to get a job. You can only create your own work. (I am a writer/journalist and run my own B&B).
Q: How does the work culture differ from home?
A: At home, there are big companies where you can get a job in your profession with a decent salary. Here, you get paid very little, no matter your qualifications; that is if you're 'lucky' enough to get a job. I have never even bothered to look for a job here – I'd rather move back to Norway.
Family and children
Q: What are the schools in Greece like, any particular suggestions?
A: The school system is bearable until 6th grade (12 years), but horribly bad afterwards. Really, really low level, extremely old-fashioned. If I had known how poor the system of education in Greece was, I would never have moved here with my children, and I seriously considered leaving so that they would be able to get a better education.
But it's not so easy after many years.
There's no correspondence between what they learn and what society needs. The pupils also constantly have days off because of holidays, strikes, lockouts, teachers missing etc. They're dragged along to church whenever there's a saint celebration – like that's more important than sitting down in class and being taught something.
It's worse than you can imagine. My children are now in their first and second year of senior high school ('lykeio', in Greek) and will then study in Norway – I consider further education here a waste.
Q: How would you rate the healthcare in Greece?
A: I am very pleased. I had one hospital stay, and it was excellent. Excellent, friendly public doctors in the hospital, especially good treatment when you go there with the children for minor things. You hardly ever wait for more than 20 minutes, and it's free!
And finally…
Q: Is there any other advice you like to offer new expat arrivals?
A: Learn the language! I cannot believe people are actually moving to Greece thinking they can get away with English. They end up getting very paranoid and frustrated because they don't understand what's going on. You HAVE to learn Greek. And yes, it's difficult, but you still have to do it.
~Interviewed March 2011