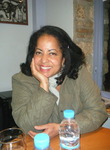 Yadira is a global nomad of note, but now she's finally settled down and moved to Athens, Greece to pursue a life as a wife and mother. She also maintains a site aimed at helping expat parents adjust. Read what she has to say about her expat experience in Greece.
Read more about Greece in the Expat Arrivals Greece country guide or read more expat experiences in Greece.
About Yadira
Q: Where are you originally from?
A: Puerto Rico
Q: Where are you living now?
A: Athens, Greece – Peristeri (western suburb of the city)
Q: How long have you lived here?
A: 3.5 years
Q: Why did you move; what do you do?
A: After working 5+ jobs, visiting 33 countries and living in five of them, I moved to Greece to begin a relationship. Lucky me, I became a mother and a wife in less than 11 months!
That said, I am a mother and wife who would not change one bit of my experience in Greece.
I am also one of the co-creators of the website/newsletter Great Parenthood Greece.
About Athens
Q: What do you enjoy most about Athens; how's the quality of life in Greece?
A: Spring, summer and fall in Athens can be magical – reaching the coast by car or via public transportation or hopping on a ferry to visit a local island is a treat. I am lucky in the way that my in-laws live on an island, and once/twice per year we visit them and get to enjoy the simple life and unspoiled beauty of island life. Quality of life here is what you make it to be and what your income allows.
Q: Any negatives? What do you miss most about home?
A: The city is very spread – long distances and lots of traffic make it challenging to establish relationships.
Athens can be noisy, full of traffic, dirty, corrupt, and local merchants; but if I were to only pay attention to these negatives I would be missing the boat big time.
So, that said, I miss a variety of foods/restaurants at an affordable price.
Q: Is Athens safe?
A: Compared to many other places I've visited/lived in – yes, the city is safe. Like many other places, you need to be more careful in some areas.
Q: Which are the best places/suburbs to live in the city as an expat?
A: Palio Faliro, Glyfada, Pangrati, Kolonaki, Maroussi, Kifissia, Halandri and the neighbourhood near the Acropolis Museum.
The rent prices are above average.
Q: How do you rate the standard of accommodation?
A: There is a wide variety of accommodation, and each upholds a different standard.
Q: What are the locals like; do you mix mainly with other expats?
A: Like anywhere – locals come in all shapes, colours, sizes and moods.
As a mother-to-be, I found the locals quite supportive when out and about. When my daughter was born, the love oozed out of everyone. My daughter is 33 months now, and I must remind people to watch their steps, bags, etc.
Yes, I mainly interact with other expats. As a mother and wife, the exchanges with expats have facilitated adapting, and understanding the local beliefs, behaviour and expectations.
Q: Was it easy meeting people and making friends?
A: Social networks made it easier to meet people. La Leche League was a perfect spot to begin interactions. Now, I've helped others.
About working in Greece
Q: Did you have a problem getting a work visa/permit?
A: No. But getting an extension on the visa was more than interesting – the requirements here are not clear, and one must knock on many doors before all the info is accurate.
Q: What's the economic climate like in the city, is there plenty of work?
A: If you are about to start a business, it's best to know or to hire a trustworthy local to help – particularly one who knows a good/affordable notary to ease the process.
Plenty of permanent work – I would not say so.
Q: How does the work culture differ from home?
A: Economic, professional and cultural expectations are very different. Nepotism is the rule of the day – if you get a job because you've been recommended, you are set. If you get your job after having submitted your resume and your qualifications are more than adequate, get ready to face many challenges. A Greek woman I met commented: 'When working with Greeks, even when they know you are correct, they will make you feel you have made the biggest mistake of your life'.
Family and children
Q: Did your spouse or partner have problems adjusting to their new home?
A: I am still a newcomer in many ways. In my previous travels and in my life in other countries, there was always a sense of touch and go. Athens, at this moment, is permanent; there is no turning back. I am not only making decisions for one person now, the well-being of three people must be considered. More than adjusting to a new home, it has been adjusting to the idea of permanence and the idea that this is for real. I cannot on a whim say, 'I don't like it, let's get out'. What I may not like, I must work on, find the middle ground and deal with. This is easier said than done, but I am getting it done.
Q: What are the schools in Athens like, any particular suggestions?
A: Not there yet, will be soon. I'm now researching daycare centres. The suburb I live in is the largest in the metropolitan area – 500,000 plus residents, and it has less than 12 public daycare centres. The lists for enrolment are long and if you do not have a contact in city hall, the chances of your child being accepted are slim to none.
Q: How would you rate the healthcare in Greece?
A: I have a mixed bag of experiences after giving birth here – from more than nasty to great. If you're dealing with public health care – get ready to see it all. If you can pay for private healthcare – you may also have an array of surprises, but most of the time the level of professionalism is equal to what you may be used to at home.
And finally…
Q: Is there any other advice you like to offer new expat arrivals?
A: Whatever your circumstances – whether it is a planned or unplanned move to any country – learn to be even more objective than you think you are, even more flexible than you think you can be, and appreciate the simple things, enjoy the weirdness and avoid complaining – when avoidable! The rewards await.
~Interviewed March 2011
► Are you an expat living in Greece? We'd love to hear your story, so please contact us.