Oh, the American Dream of attending a prestigious US college or university: students proudly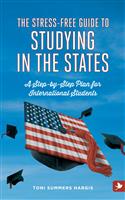 wearing their campus sweaters, joining fraternities and sports teams, the dorm life and ambitious faces, buried in mountains of books before confidently sailing off into their glowing futures…
However, the sparkle of the Hollywood student movie is quickly overshadowed by reality for many international students wishing to study in the United States. 
In The Stress-Free Guide to Studying in the States, author Toni Summers Hargis has written a straightforward research and personal experience-based guide, which definitely backs up her confidence and trusting "been there, done that" tone. 
If only this opportunity could happen with a snap of the fingers, a few signatures, and with all the administrative rigmarole dissipating into the background. So, you have the grades, you've chosen the extracurricular activities, and you might have a noticeable skill in a particular sport. But what if you (or your family) don't have the funds or a gleaming scholarship to get you there? 
Summers Hargis has covered all the need-to-know bases from hidden fees, visas, mandatory documentation and medical care, to social and campus customs, application requirements, wait-times, expectations, and even the emotional impact.
Complete with pages of jargon-translation, and abbreviations explained, anyone could be ready and well-prepared to approach crucial departments, courses and services based on her information. Her convenient links and lists of necessary contacts make it easy to cut back on precious time wasted on searching for the unknown.
The Stress-Free Guide to Studying in the States contains information gleaned from interviews with students and faculty, looking at the process from the point of view of students as well as parents, which shows that she has written this for the benefit of all parties involved. Summers Hargis has definitely done the "grunt work" in an arena where there is nothing in its place. With her warnings, unbiased and realistic suggestions, and wise observations, she has taken the fear and intimidation out of the process of applying to a US college. 
I found this book to be an easy read while giving the reader the inspiration to make it happen and it is written in a fashion that makes you want to find a way to become part of the American college culture. 
Like any good parent, The Stress-Free Guide to Studying in the States leaves no stone unturned and encourages you to think about all of your options while holding your hand every step of the way.