Caroline is an American writer, editor, and teacher. She moved to Istanbul in 2014 and relocated to southern Germany in early 2018. In addition to teaching at high schools and universities, her writing has been published in almost twenty literary journals and on websites such as Book Riot. 
Read some of Caroline's work on her website, or read from her personal blog, Takeoffs and Meanderings.
For an overview of moving to the country, read the Expat Arrivals Turkey country guide or read more expat experiences in Turkey
About Caroline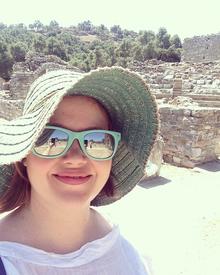 Q: Where are you originally from? 
A: A small town in the southern United States, although it's been a while since I've lived there.
Q: When did you move to Istanbul?
A: I moved to Istanbul in 2014.
Q: Why did you move to Turkey and what do you do there?
A:  My husband is Turkish and we were living in the US, but he got a
job offer in Istanbul so we decided to go. I'm a teacher and had continued teaching in Istanbul.
Living in Turkey
Q: What do you enjoy most about Istanbul? How would you rate the quality of life in Turkey compared to the US?
A: Istanbul is a really vibrant, cultural and historic city— meaning that it never gets boring. The quality of life really depends on what you value. If you love being in an exciting city with lots of stuff to do, then it's great. If you're a homebody who likes peace and quiet and lots of space, then it's not the place for you.
My favourite thing about Istanbul is that it's surrounded by water, which makes for some gorgeous views and relaxing weekends. There is nothing better than eating at one of the many fish restaurants on the Bosphorus.
I also LOVE that it's easy to travel from Istanbul. There are so many wonderful places to see in Turkey and it's very affordable to fly within the country. As an American, being able to take a 45-minute flight and be on the Aegean or Mediterranean coast for the weekend is amazing. It's also quick and affordable to get to Europe from Istanbul and we go for long weekends in our favourite European cities often. Again, in America, to get anywhere out of the country you have to take long flights and pay a lot of money, so this is a huge perk to living in Turkey.
Q: Are there any negatives to life in Istanbul? What do you miss most about the US?
A: The biggest negative is the traffic. It's very congested and it can take a long time to get anywhere. Also, a lot of people smoke, much more so than in the US, which can get irritating if you don't want to be around it. The things I miss from home are generally pretty minor, such as missing certain foods or being able to shop in certain stores.
Q: What's the cost of living in Turkey compared to the US? Is anything cheaper or more expensive in particular?
A: Istanbul is very affordable compared to a lot of other big international cities like New York or London, but the cost of living can fluctuate with the economy, whereas salaries usually stay the same. Unfortunately, the Turkish economy is currently going through a rough patch so everyday things are getting more and more expensive. Food prices have risen a lot since we moved here in 2014.
Q: How would you rate the public transport in Istanbul? What are the different options? Do you need to own a car?
A: You absolutely do not need to own a car - in fact, I don't recommend it. There are lots of public transportation options including the metro, ferries (the ferries are great!) and buses. There are also these yellow vans called "dolmuş" (pronounced like "dole-mush," which means "full" in Turkish) that are kind of like buses, except they run more frequently and fit only about 10 passengers. They're cheap and in my opinion, they're the easiest way to get around the city.
Q: How would you rate the healthcare in Istanbul? Have you had any particularly good or bad experiences with regards to doctors and hospitals? Are there any hospitals you would recommend?
A: Turkey has both public and private healthcare. Each neighbourhood has a "sağlık ocağı" (a little health clinic) that treats people with minor issues for free, and I used them to get required health tests done and when I needed a prescription, and my experience had always pleasant. I went to a private clinic for some other treatments and it was also a pleasant, but expensive, experience. Then I discovered the Türk Kızılayı hospitals, which are the Turkish version of the Red Cross. They're somewhere between public and private hospitals, and the treatment is great and cheaper than private hospitals. I recommend trying those hospitals first. But I've never had any major health issues in Turkey, so I can't speak about the quality of staying overnight in hospitals or the quality of surgery or anything like that.
Q: What are the biggest safety issues facing expats living in Istanbul? Are there any areas expats in Istanbul that expats should avoid?
A: Istanbul has a reputation for being dangerous, but it's not any more dangerous than any other big city. I never felt unsafe here, even as a woman who walked around the city by myself. There are some neighbourhoods that are very conservative and that women should be a bit more careful in, but generally, these are places that you won't find yourself in very often anyway, and once you've been in Istanbul for a bit, you'll know how to navigate them. Even then, you might get stared at but no one will bother you. Safety in Istanbul is similar to most big cities; just use common sense and avoid dark alleyways at night.
There were a lot of terrorist attacks in 2016 (the same year that lots of attacks were happening in France and Belgium) and that was a really tense, dark time, but it passed.  I never felt like I had to worry about that kind of thing.
Q: Are there any areas or suburbs in Istanbul that you'd recommend for expats to live in?
A: The more central neighbourhoods are generally better for expats since they have more things to do and also tend to be more diverse.  On the Asian side of the city, I recommend Moda, Feneryolu, Caddebostan, Suadiye, Bostancı. Basically any neighbourhood along the Marmara seaside in Kadıköy.
Meeting people and making friends in Turkey
Q: How tolerant are the Turkish locals of foreigners? Is there any obvious discrimination against particular religions, identities or women?
A: Turks are tolerant of foreigners, in general, and are usually very friendly. Sometimes communication can be frustrating and I recommend learning at least some Turkish because it will make your life easier. A lot of this depends on where you are in the city. If you're in one of the central neighbourhoods with lots of expats, then you will have zero trouble. If you're in one of the outer residential neighbourhoods and you're the only non-Turk for miles, you'll still be fine, but the locals might look at you like you're crazy or they might just seem amused that you're there. Although Turks are usually very eager to help if you need it, the more Turkish you speak, the more the locals will accept you.
In terms of attire, I never bothered to dress modestly, per se, and during the warm months, I wore short dresses and clothing that showed my shoulders and no one ever said anything to me about it. That said, if you're going to a neighbourhood that you know is more conservative, you might want to wear something that at least comes to your knees and a top that covers at least as much as a t-shirt would, because otherwise you might get stared at a lot.
If you're a foreign woman, you will probably get hit on in the very touristy parts of the city. If you don't like the attention, a short response in Turkish - letting them know you're not a tourist - usually shuts them up.  It's okay not to smile at men and don't be afraid to be rude.
Q: Was it easy meeting people and making friends in Istanbul? How did you go about meeting new people?
A: I found it very easy to meet people and make friends. There is a really large expat community in Istanbul and I met a lot of people through organised meet-ups. I recommend joining expat groups on Facebook to find friends and activities. At first, I mostly mixed with other expats but I met more Turks the longer I lived here.               
Working in Turkey
Q: Did you have a problem getting a visa or work permit for Turkey? Did you tackle the visa process yourself or did you enlist the services of an immigration consultant?
A: My employers took care of my visa/work permit for me. It can be a long and complicated process, but the good news is that I didn't have to do most of the paperwork myself, so it was just a lot of waiting. Turkish bureaucracy can be difficult and guidelines change all the time, so put some pressure on your employer to do it for you, and if not, then it's usually worth it to pay someone to help you.
Q: What's the economic climate like in Turkey? Do you have any tips for expats looking to find a job in Istanbul? Which resources did you find most useful?
A: Do your research. It's not difficult for foreigners to find jobs in Istanbul, especially jobs teaching in schools, but some companies or schools have really bad reputations so it's worthwhile to find out which ones to avoid. There are Facebook groups dedicated to these kinds of things. "Istanbul Greenlist" and "Istanbul Blacklist" are two such sites. 
Q: How does the work culture in Turkey differ from the US? Do you have any tips for expats doing business in Turkey?
A: Turks are not nearly as straightforward as Americans, so don't expect them to be and there is a lot more nuance to office politics in Turkey. I recommend paying close attention to the work environment and just observing for a bit to get a feel for it at first. Turkish workplaces also tend to be more hierarchical than American workplaces, which I struggled with.
And finally…
Q: Is there any other advice you would like to offer any new expats arriving in Turkey?
A: I think moving abroad always comes with different stages - at first everything is exciting and new, then that wears off and things get hard, but after a while, you settle in and learn the language and everything gets easier. Don't feel discouraged if you struggle in the first year, it's normal, and it does get better.
~interviewed June 2018