Erica is a South African who moved to Saudi Arabia in 2009 to pursue a job at a new university of technology just outside the coastal city of Jeddah. Nearly three years on, she is having fun and has yet to tire of the view of the Red Sea from her office window. 
Read more about expat life in the Kingdom in the Expat Arrivals guide to Saudi Arabia, or read more expat experiences in Saudi Arabia.
About Erica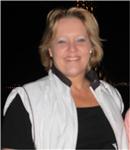 Q: Where are you originally from? 
A:  Johannesburg, South Africa
Q: Where are you living now? 
A:  Jeddah (well, 80km north of Jeddah)
Q: How long have you lived here? 
A:  Nearly three years
Q: Did you move with a spouse/children?
A:  On my own (do not have a spouse or children, just so you don't think I left them behind…)
Q: Why did you move to Saudi Arabia; what do you do? 
A:  I was offered an opportunity to work as a secretary at the new (only opened officially in September 2009) University of Science and Technology, so decided to take the plunge! They say a change is as good as a holiday, and here I have even been able to have several holidays. 
About Jeddah
Q: What do you enjoy most about your host city, how's the quality of life? 
A:  Quality of life… I am very fortunate to live on campus, where the lifestyle is not as restricted as in the rest of Saudi Arabia.  I definitely have a quality lifestyle, with my office overlooking the Red Sea, I've learnt to play golf (yes we have a golf course). We have sports facilities, restaurants, takeaway outlets and a supermarket on campus. We use campus buses for getting around, and people with cars are great at offering lifts when they know you are stuck. No crime, no crime, no crime!
Q: Any negatives? What do you miss most about home? 
A:  Obviously family and friends. Familiar foodstuff (e.g. boerewors, a South African sausage), mayonnaise and chutney. We can get just about anything from anywhere, but frozen pies imported from the US definitely don't taste anything like a fresh chicken and mushroom pie from the Woolies shops at the petrol stations!
Sometimes I miss my independence of being able to drive, but then I remember how much I am saving by not driving or owning a car and I get over the feeling quickly. I enjoy driving when I visit South Africa but am lucky when I do visit I do not have to drive during peak traffic times.
I missed hearing a radio station in English, but thanks to the internet I can connect to radio stations in South Africa.
Q: Is the city safe?
A:  Campus, absolutely! Jeddah is also safe, but then I do not put myself in a position of feeling uncomfortable or threatened. We mostly go out with two or more of us when shopping in the older Jeddah, but at the malls, I would shop alone.
About living in Saudi Arabia
Q: Which are the best places/suburbs to live in Jeddah as an expat?
A: Not too familiar with the suburbs in Jeddah, but guess newer Jeddah is preferable, as opposed to the old Jeddah.
Q: How do you rate the standard of accommodation in Jeddah?
A:  The expat compounds are great – I have been to a few to visit and there they also have pools, tennis courts, gyms and often shuttle services to and from Jeddah shops. The houses/units themselves are also of a good standard and usually quite spacious.  As always though when renting a place, some could do with a regular freshening-up touch of paint.
Q: What are the locals like; do you mix mainly with other expats?
A:  Locals are very friendly, especially so when they hear my attempts at speaking Arabic. I get on very well with the locals at work and on campus, but always keep in mind the cultural differences when socialising. But yes, socially I do mix mostly with expats.
Q: Was it easy meeting people and making friends?
A: Again I am very lucky to be working for the university where there are so many facilities so there are always people around. There are many ladies here in the same boat (single) and we have a great social group. We often have dinner parties at home, or if anyone hears of an event happening, it is amazing how the word gets around. Also, when I got here, the university was still new and for the first few months we lived in Jeddah, travelling daily to/from the university and networking/making friends (male and female) on the bus made things much easier.
About working in Saudi Arabia
Q: Did you have a problem getting a work visa/permit?
A:  No, but again that is because of where I work. 
Q: What's the economic climate like in the city, is there plenty of work?
A:  I don't think I could answer that sufficiently, as I am not really exposed to the city and work environment, but there are a lot of positions advertised in the local newspaper.
Q: How does the work culture differ from home?
A:  It is different. I found the sense of urgency (lack of it) a bit frustrating at the beginning, but now just go with the flow, as I am after all living in another country so follow their rules (you know, when in Rome…)!  I get the job done, but maybe my approach is different from what it would have been back home. Another thing to bear in mind is that there are so many different nationalities and Saudis working here that I guess it would be difficult and maybe unfair to assume it is Saudi culture alone that has influence.
Q: Did a relocation company help you with your move? 
A: The university has its own relocation department – and they were great.
And finally…
Q: Is there any other advice you like to offer new expat arrivals?
A:  Definitely do lots of reading. What I did was look on Skype for females, South African, living in Saudi Arabia and found a really helpful lady who was nursing in Riyadh.  It is one thing to read up on the Internet, but some information can be outdated; but the internet definitely helped!  I was interested in hearing about life in Saudi from a South African and obviously female who could relate and compare South Africa and Saudi (in fact she came from Pretoria, so we could compare Saudi and Gauteng not just SA!) She was really great (making the unknown a little less daunting), and I think added a lot to my decision to accept the offer and move here.
~ Interviewed June 2012