Jasjit is an Australian expat living in Singapore with her husband and two children. She moved to Singapore due to her husband's job. Although she misses the beautiful beaches of Sydney, Jasjit enjoys the quality of life in Singapore and the fact that there is always something to do, people to meet and great food to enjoy.
For more information on expat life in Singapore visit the Expat Arrivals Singapore Country Guide or read more interviews with expats in Singapore.
About you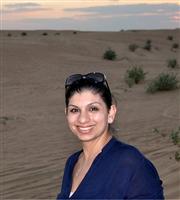 Q: Where are you originally from? 
A: Australia
Q: Where are you living now? 
A:  Singapore
Q: How long have you lived in Singapore? 
A:  2.5 years
Q: Did you move with a spouse/children? 
A:  I moved here with my husband and two kids 
Q: Why did you move to Singapore; what do you do?
A:  We moved for my husband's work
About Singapore
Q: What do you enjoy most about Singapore, how's the quality of life?
A:  Singapore's quality of life is of a very high standard. We love the weather and don't miss the cold one bit! The food is unbelievable, and the buzz of the city means there's always something to do.
Q: Any negatives? What do you miss most about home? 
A:  Sometimes the humidity can be too much to take! We miss the gorgeous beaches of Sydney!
Q: Is Singapore safe? Are there any areas expats should avoid?
A: The city is one of the safest by global standards. As with any other city, expats should avoid walking alone late at night.
Q: How would you rate the public transport in Singapore? Do you need to own a car, or is the public transport sufficient for getting around? What are the different options?
Although having a car is easier especially in the rain, it is by no means a necessity and can also get quite expensive when you include parking and ERPs. The public transport is exemplary and definitely sufficient to get around. You are spoilt for choice with buses, trains and taxis being readily available and inexpensive.
Q: How would you rate the healthcare in Singapore?
A:  The healthcare system is of a very high standard. Both the private and the public hospitals are easily accessible and have a high standard of healthcare.
About living in Singapore
Q: Which are the best places/suburbs to live in Singapore as an expat?
A:  There are many different areas like Holland village, East Coast, and virtually all of Districts 9,10 and 11. However, one of the best things about Singapore is that it's a small island, so getting around is easy no matter where you choose to live.
Q: How do you rate the standard of housing in Singapore?
A:  The standard of housing is great, there are places to suit every need and budget. You just have to find your piece of heaven.
Q: What's the cost of living compared to home? What is cheap or expensive in particular?
A:  The cost of living in Singapore is quite high. In particular, housing, schooling and food (groceries) can really add up. These are definitely things to consider when negotiating your package.
Q: What are the locals like; do you mix mainly with other expats?
A:  The locals are very friendly and open to diversity.  We tend to mix more with the parents from school from all over the world.
Q: Was it easy meeting people and making friends in Singapore?
A:  It was very easy to meet people and make friends. There are so many groups and social activities to choose from and the city is always hosting local and international events.
About working in Singapore
Q: Did you have a problem getting a work visa/permit for Singapore?
A:  My husband had a job before we came. I have not yet tried looking for work.
Q: What's the economic climate like in Singapore, is there plenty of work?
A: Unemployment is low, and there is a demand for skilled labour and professions given the wide range of industries here. In my field of Biotech, I have been approached by agencies on numerous occasions through my LinkedIn profile because I reside in Singapore.
Q: How does the work culture in Singapore differ from home?
A:  It feels more dynamic, in my view not surprisingly given the significance of Asia as the hub for emerging markets of the world.  There's an exciting pace about it all.
Family and children
Q: Did a relocation company help you with your move? 
A:  No, we moved ourselves.
Q: Did your spouse or partner have problems adjusting to their new home?
A:  Not at all, having lived on expat assignments for over two years each in Bangkok and Shanghai, Singapore was very easy given no language barrier, and world class efficiency and availability in services, including domestic help.
Q: Did your children settle in easily?
A:  Yes they loved it, made friends very easily and in fact call themselves Australian Singaporeans sometimes!
Q: What are the schools like, any particular suggestions?
A:  Schools are of an international standard with a good mix of academia and extra-curricular activities. There are choices depending on curriculum such as IB, proximity to home and even special needs.
And finally…
Q: Is there any other advice you like to offer new expat arrivals?
A:  Enjoy your time in the little red dot. It really does have a lot to offer - culture, travel, food just to name a few. It is the perfect blend of East and West!

~Interviewed September 2013