Laura Keller is a German-American expat who moved to the Big Apple for a change of scenery after completing her Bachelor's degree in Germany. Laura has settled in well and says that the key to an enjoyable expat experience is exploring ones new home. As Laura approaches her three-year anniversary as an expat in New York she tells Expat Arrivals all about her move to the city. You can read more about Laura's expat life in New York on her blog German-American Abroad.
About Laura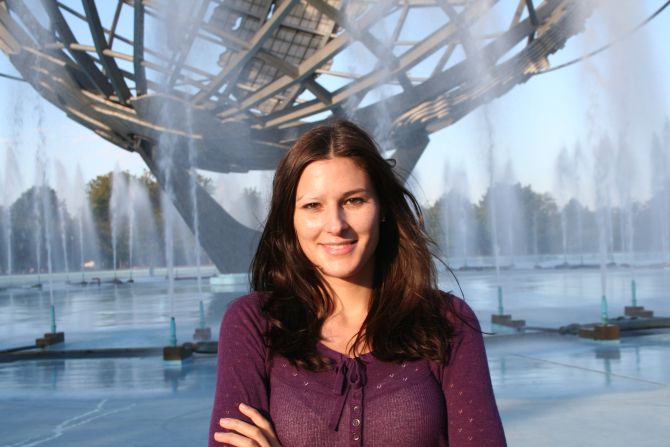 Q: Where are you originally from?
A: I am originally from a small Eifel town in the Southwest of Germany, which people seldom know when they hear the name. I therefore usually say I am from Heidelberg, the city I studied in and also spend a good few years of my adult life in.   

Q: Where are you living now?
A: I live in beautiful Park Slope, which is a part of Brooklyn. I also commute to Manhattan every day, where I work.

Q: How long have you lived in New York?
A:  I have lived in my current apartment since June of 2012. But I moved to New York and Brooklyn in March 2010, so I am drawing close to the 3-year-anniversary.

Q: Did you move with a spouse/children?
A:  I moved here by myself and my entire family, both parents and my friends, are still overseas in Europe.

Q: Why did you move; what do you do?
A:  My main reason was because I needed a time-out from school after finishing up my Bachelor's degree in Germany. I felt burnt out and needed to get away to see more of this world. New York seemed like a great opportunity because you don't need a car to get around (an additional cost I wasn't ready to consider) and because, secretly, it's always been my dream to live here.
I currently work in the Empire State Building for an Austrian company. I am their translator and work in customer service. I am also a freelance writer and photographer, with gigs on the side.
About New York
Q: What do you enjoy most about New York, how's the quality of life?
A:  I really enjoy that you can do anything at any time you want; learning a new language, dancing Salsa, hitting up a party – it's a madhouse sometimes! Getting to know people at a bar and going out by yourself.  Sharing accommodation with singers and actors, who are trying to make it. Strolling down the streets of the West Village and taking in the gorgeous buildings.

Now, the quality of life? It depends on what you are looking for. I came here when I was 22. I didn't have very high expectations. But the healthcare issue really was a problem from the start. The same goes for having to pay so much money for decent food. I guess you really do take for granted what you grew up with until you lose it.

Q: Any negatives? What do you miss most about home?
A:  I miss the quality of food and the low prices, mostly. Of course I also miss my family and friends. Perhaps most of all, I do miss driving around a bit. I haven't been inside a car in almost a year!

Q: Is the New York City safe? Are there any areas expats should avoid?
A: It depends on where you go. I wouldn't recommend Bedstuy or Canarsie in Brooklyn late at night as a girl by herself. Every borough has its bad areas and its best to avoid these after a certain time (or be with a group of people). I certainly feel safe in Park Slope, which is where I currently live. I used to live in Flatbush, which was close to the ghetto. Flatbush was one of those neighbourhoods where you hurry home when you get off the subway late at night.

Manhattan is safe overall but I do know of people who have been mugged in the Lower East Side. It all depends on how you carry yourself, I suppose. Try keep your eyes and ears open when you are in an area you don't trust.

Q: How would you rate the public transport in New York? What are the different options? Do you need to own a car?
Probably the main reason I moved here was that you don't need a car. With monthly parking rates that can rank as high as rent for an apartment, it really is convenient to just hop on the subway. It runs 24/7, usually in intervals of 10 minutes, except for rush hour. During the night and at weekends, you can catch a train every 20 minutes. I believe this is a better underground system than anywhere else in the USA and even Europe. If you live in different states, you can get around via bus or the PATH train, which connects parts of New Jersey to the Big Apple. Overall, I rate the public transport experience as very high. I've also been able to take a bus from here to Boston, Philly, DC and Montreal at a very decent price.

Q: How would you rate the healthcare in the USA?
A:  Disappointing! Coming from Germany, a country with one of the best healthcare systems in Europe, New York has severely disappointed me. The first 1 ½ years I was here, I didn't have healthcare because my job didn't offer it. Going to a doctor was nearly impossible. The fees are outrageous: USD 200 for one simple exam and more on top of this if you have to deal with X-Rays or complicated procedures. I have never been to a dentist here (Lucky me: I still do my annual exams in my home country!) but my Russian friend once received an estimate of USD 2,000 for a visit, X-Rays, and filling in one cavity. Overall, it really is nothing to be proud of unless you have the money to spend on top-notch doctors.
About living in New York
Q: Which are the best places/suburbs to live in the city as an expat?
A:  I love Brooklyn and the lifestyle this borough offers. I heard Queens is also a nice compromise to Manhattan as more and more bars and restaurants are blowing up in Astoria. Jersey City and other parts of New Jersey close to the Path train might be a great alternative. I have friends living there and they love the quick commute, however they were rather isolated during super storm Sandy, for longer than necessary. Be aware that Manhattan and Brooklyn can both be equally expensive depending on where you are. Also, if you move to New Jersey but work in New York, you will be taxed twice.

Q: How do you rate the standard of housing in New York?
A:  Rents are pricey if you live in a good neighbourhood and more affordable if you get out of that comfort zone. You should get used to a decrease in room size and an increase in rent, at least if you are used to normal German standards.
It is not necessarily hard to find a place to live but it can be more difficult if you know what you want and narrow it down by area/roommates/price.
Oh, and in the winter your home will often be over-heated so that you will have to tear your window open even though it's minus 10 Celsius (14 Fahrenheit) outside.

Q: What's the cost of living compared to home? What is cheap or expensive in particular?
A:  Housing is more expensive than anywhere I've lived in Germany. Food is another issue I've had hard times dealing with. It's much easier to find healthy and affordable food in a German supermarket than here. Whole Foods would be an option but who wants to spend 5 bucks on a few apples and pears? I found Trader Joes to be a compromise but I really do miss my more reasonable food options back home. At least there you don't have to worry about hormonized dairy and meat products...
Clothing is a bargain in New York compared to Germany. You can get swell designer stuff that is on sale or offered in outlets.
Oh by the way, there is always some sort of sale going on in this city. It's either the sample sale mania, or 2 for 1, or Buy 3 get 1 free… And if that is just too average for you, you have a handful of great vintage stores throughout Manhattan and Brooklyn. So far, I haven't had too many troubles finding unique and chic clothing in this city.

Q: What are the locals like; do you mix mainly with other expats?
A:  The locals are diverse. People from New York are mostly down to earth, unless you take a look at the rich and snobby. I've also found that some locals can be socially disadvantaged and randomly yell at you on the train. After almost 3 years, I mix mainly with Americans or other Europeans. In the beginning, I was hanging out with more Germans than now but they tend to leave after their internship/visa is over.
I tried going to a Meetup group once but was turned off by the Germans who tend to become arrogant because they live in New York and think they are the greatest people walking this planet.
So far, I've found Americans from California and the Midwest to be particularly nice, not wanting to attach a cliché to these things.

Q: Was it easy meeting people and making friends?
A:  It depends. In the beginning I met a lot of people just by sitting on the train and talking German with a friend. New Yorkers will always find something in common with you, be it German ancestry, having a friend in Berlin, or other things. Those friendships don't necessarily last very long. Same goes for people you meet at a bar and never again.
I don't have a large group of friends but those I have, I cherish. If you do it right, you can keep in touch with your acquaintances and create a humongous networking circle, which comes in handy when you build up your own business (such as my photography passion I developed over here).
I met a good deal of friends through work and then through friends of friends. It really depends on what type of person you are, too. This city can be very lonely if you don't know anyone which is why it's a good idea to not waste an opportunity to go out and experience social life in New York.
About working in New York
Q: Did you have a problem getting a green card for the USA?
A: I have dual citizenship, which is the main reason why I packed my belongings and spontaneously moved here. My German friend needed to be sponsored by a company before he was allowed to make a move. Halfway through, after one and half years, they let him go and he had to find another company to sponsor him quickly. After two months he was lucky to be hired by one and stayed in New York. I believe expats from certain countries might have a harder time in obtaining a work permit than others.

Q: What's the economic climate like in New York? Is there plenty of work?
A: I once heard that New York is the most competitive city in the US. After being here for almost three years, I have to agree. Just trying to find a job as a waitress one month after arrival was pretty insane. Restaurants want to see a resume and two or three references.
Needless to say, that I couldn't show them any references since I had just arrived here. Some Irish bar gave me a a chance and let me work two 12-hour-shifts without paying me until they took me.
After this, I did temporary work for one year until I was able to get my first full-time job on salary and with healthcare after one and half years of being here. So yes, it definitely is competitive.
Lots of people want to work and see you as a competitor they have to get rid of or back stab. I had first- and second-round interviews with 5 other candidates in the same room. Of course these types of situations can make you feel very uncomfortable.

Q: How does the work culture differ from home?
A:  I found it surprising how many people were freely answering calls or texting on their cell phones in 2010 already. In Germany, this would have been unacceptable, especially for waitresses in restaurants.
Aside from this, I guess it depends on the business you work in. You certainly have your fair amount of companies who expect you to work overtime every other day and don't give you much leisure time. Others, especially non-for-profits, give their employees lots of free time and I even had a co-worker watch movies on his work computer – regularly. I find it easier to bond with like-minded people at work, who love to travel and perhaps are from a different culture.
I have the feeling that it is easier to get promoted here in sense of salary increase than in Germany. Back home, you would probably have to wait two years or more to be appreciated. Here it is an average of one year before you get your 10 to 20 per cent increase, depending on the company. I love that you can climb the career ladder faster but, at the same time, this system also has its pit falls. You can be let go from one day to another, no matter how long you have worked for a business. You can also quit your job from one day to another without any legal repercussions. In Germany you have to give six weeks of notice ahead of time.
Q: Did a relocation company help you with your move?
A:  No, I moved by myself and found a room after two days post-arrival already. I never aimed towards having an actual apartment (the costs are outrageous) and got a room instead.  If you want to rent your own apartment, you have to go through a tedious process of credit history and lease. It is often difficult for someone who has just arrived in the country to obtain these documents.
And finally…
Q: Is there any other advice you would like to offer new expat arrivals?
A:  Explore, explore, explore! Get out of your comfort zone, even if it means going sightseeing by yourself.
I really appreciated not having to jump right into a job after I got here because it meant I could be a full-on tourist for one month straight. True, it also made me very broke but essentially I got to see more of New York than other people, who are forced to go to work as soon as they get here.
Take your free time – be it the weekends or other days – to simply explore the streets and look at great New York things. And don't be afraid to go to areas that are not mentioned in the tourist guides. My friend and I went to Harlem, Bushwick and Bedstuy in the beginning (during the day). It was helpful to gain an overall impression of the Big Apple and to not only see the glamorous side Europeans often brag about. There is a huge social gap dividing the poor and rich in this city and the rest of America. It is worth checking out New York's extremes in order to understand the different mind sets and cultures that make this city out. 
– Interviewed January 2012