Laura Peruchi is a Brazilian writer and content creator living in New York City. In her expat interview she tells us about what she loves about America and its vibrant, melting-pot culture, and what she still struggles to deal with, like not having access to universal healthcare.
Keep up with Laura's latest adventures on Instagram or via her website.
About Laura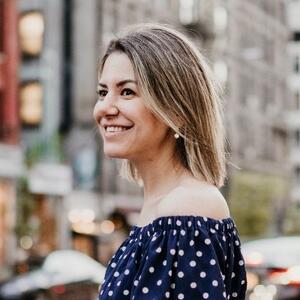 Q: Where are you originally from?
A:  Brazil.
Q: Where are you currently living?
A:  New York City, USA.
Q: When did you move here?
A: January 2014.
Q: Is this your first expat experience?
A: Yes.
Q: Did you move here alone or with a spouse/family?
A:  With my husband.
Q: Why did you move; what do you do?
A: My husband got a job here at a tech startup. I'm a journalist and content creator.
Living in New York City
Q: What do you enjoy most about NYC? How would you rate the quality of life compared to Brazil?
A: What I love about NYC are the endless possibilities when we consider social life. We have tons of restaurants, parks, a busy cultural life, remarkable tourist attractions – and a lot of things are free! Also, I love the amount of public transportation – subway, ferry, bus, bikes. I came from a very small town in Brazil, so it feels good living in a city with so many things to do. And there is always something new.
For me, the best thing about living here is safety. I feel safe, I don't worry about my belongings when walking around or getting the subway. Not having to think about this issue is a privilege.
As an immigrant, I also think it is so amazing living in a city like NYC, which is a melting pot with people from all over the world. We feel at home.
Q: What are the biggest adjustments you had to make when settling into expat life here? Did you experience any particular elements of culture shock?
A: I think I had two big adjustments. First, getting used to speaking English. Although I already had a good knowledge, living in another language every day is completely different. It takes some time to get used to accents, speeds and new words. I was not 100 percent comfortable when I got here. And speaking English as a second language, you will always be learning something new.
I couldn't say that I experienced cultural shocks, because I feel that we have a lot of influence from the American culture in Brazil.
I think one of the biggest challenges for me was starting from scratch in my career and seeing myself financially dependent on my husband.  
Q: What's the cost of living compared to Brazil? Is there anything particularly expensive or particularly cheap in the USA?
A: New York City is one of the most expensive cities in the world. Rent is very expensive and, again, I don't like the surprises with the healthcare system. In Brazil we have a public healthcare system – with flaws, of course – but at least you can ask the doctor how much the appointment will cost before you decide if you wanna go.
Q: How would you rate the public transport in NYC? What is your most memorable experience of using your city's transport system?
A: I absolutely love the public transportation here. We have a lot of subway lines, 24 hours a day, plus bus service, ferry service and bikes. I think the subway stations need a lot of improvements, especially regarding accessibility.
My memorable experiences using the city's transport system are when the subway crosses the Manhattan Bridge (Brooklyn bound) and we can see the city skyline and the Brooklyn Bridge. Also, the musicians at the stations always make me happy.
Q: How would you rate the healthcare in NYC?
A: Healthcare in the US is so confusing. I will never understand why we don't know how much we are going to pay for a service before actually using it and why we are so overcharged. And I know I'm not alone in this opinion...
Q: What are the biggest safety issues facing expats living in the USA?
A: I never had a problem as an immigrant, but I know I'm privileged. Truth be told, immigrants will always face some kind of prejudice, so I feel it is important to work on your self-esteem and not let other people define who you are.
Q: How do you rate the standard of housing in NYC? What different options are available for expats?
A: If you want to live in NYC, you have to remember that rent is expensive and space is a luxury. You get what you pay for. Location is everything. You need to know what you want, do a lot of research and be fast when choosing the place!
Q: Any areas or suburbs you'd recommend for expats to live in?
A: I would say that it is a good idea to be near a subway station!
Meeting people and making friends
Q: How tolerant are the locals of foreigners? Is there obvious discrimination against any particular groups?
A:  NYC is a melting pot, so I would say that, in general, it's a very welcoming city! It is one of the best places to live as an immigrant, because you are not going to feel alone.
Q: Was meeting people and making friends easy? How did you go about meeting new people?
A:  It was not easy. I feel that when you move you have so many things to figure out that friends will not be your priority right away. Also, making friends as an adult is not easy, but you shouldn't be intimidated. Be open and remember that not everyone you will meet will be a good match. But you have to give yourself permission.
Courses, meetups, even social media – these are all good ways to connect with people.
Q: Have you made friends with locals or do you mix mainly with other expats? What advice would you give to new expats looking to make friends with the locals?
A: Most of my friends are other expats. But after some years I was able to connect with locals too. I think it is important to understand that people are different, and it can take a while to build a strong friendship, but it is so worth it to connect with people from different backgrounds. You will learn a lot!
Family in NYC
Q: How have you adjusted to your new home? Do you think there are any specific challenges for an accompanying spouse?
A: I was the accompanying spouse, my husband had a job when we moved here. I think it is important to know your permissions (some visas don't allow spouses to work) and having a plan. If you can't work, what can you do? Studying, volunteering, a hobby?
Also, remember: don't compare your journey with other people's journeys. We never know the challenges they are facing.
If you are going to look for a job, make sure to understand how things work. I say this because, for example, applying for a job in Brazil is very different from here. We don't have the 'selling yourself' concept in Brazil and I had to learn this. Sometimes we think we are failing but it is not true, maybe we need more research and some adjustments. Don't let yourself down for a no.
Q: What are your favourite family attractions and activities in the city?
A:  I love to ride a bike at Central Park – and also having a picnic. I also love to explore different cuisines through the hundreds of restaurants in the city. Rooftop bars are also my favourites!
Final thoughts
Q: Is there any advice you would like to offer new expat arrivals to the USA?
A: I didn't know much about this so-called 'immigrant' title. Although I will have the opportunity to become an American citizen one day – this will not erase my past, nor the fact that I am an immigrant or Brazilian. In New York, I have found a place to call home, and several things in the city make me feel like I belong. Maybe it's the fact that I know that there are millions of people here like me. It is as if we all live in a parallel and cosmopolitan country that has given my life a new meaning.
But to be an immigrant is to be different, in some way. It is not to be better or worse, just different. I don't feel the emotion they feel when I listen to the national anthem. I also don't know how to sing all the Christmas songs that they listened to when they were kids. I have no references or affective memory about some American foods. I've taken a different line to enter this country many times. Before getting my permanent residency, I was reminded several times by the immigration system of my limitations while living here. I also have an accent when speaking English, and I learn new words every day. My family lives in another country. I still cheer for Brazil in the World Cup or any other sports competition.
On the other hand, I also learned to be grateful and look forward to Thanksgiving the same way I used to look forward to Christmas in Brazil. I started to celebrate every achievement. I know how to make better choices in how and with whom I invest my time. I learned to appreciate every season and every minute of sunshine. I also created memories: I saw the snow for the first time; I married the same person again; I tried oysters, caviar, and other foods that I never thought I would eat, for the first time; I saw idols that my teenage self never dreamed of seeing; I wrote books; I went blonde; I learned how to make bread, pizza, and pasta; I set up furniture; I made incredible friends; I cried on the subway; and I saw the sunset from unexpected places several times. In this city, I learned to be aware of my privileges, understand differences, and respect stories different from mine.
So, my advice is: be open minded! Don't compare your new life with your old life, learn how to appreciate your new experience. Even with the struggles, you will see how you will grow through the experiences.
– Interviewed in May 2021